Illustrator Rockin' Jelly Bean (RJB) may wear a mask, but he does not attempt to hide his tastes; he's got a penchant for a certain kind of woman, and a talent for drawing them, be they naked or bikini clad. In the second half of our interview, we talked with RJB about the creation of his first art book, as well as his thoughts on future work.
TOM: Tell us about your latest art book. I understand that it's called The Birth of Rockin' Jelly Bean and it traces your development as an illustrator. And it's over 240 pages! That's amazing.
RJB: As my first art book, I'd say it's pretty great. I can now die happy (laughs).
TOM: Eighty percent of the works collected in the book are in vivid color and were drawn in various mediums, such as lead, acrylic, and markers. Are there any works in particular that you would like readers to appreciate?
RJB: Hmm, well I'd really like them to appreciate all of them, from cover to cover!
I've dreamt of publishing my own art book for a very long time. This has been 23 years in the making. I was REALLY particular about what I put into it, so I hope readers like all of the illustrations, as well as the writing, from the prologue to the epilogue to the credits—every nook and cranny.
The printing itself is quite remarkable as well. We used high-quality paper for the special pages, and a printing process that uses six different colors rather than the typical four. You could almost say that the pictures are better than the originals. I'm not sure such an extravagant art book could be made anywhere else but Japan. From the beginning, I felt that I wanted to publish in America, but when I thought about the quality of printing, I knew that I wanted it to be made in Japan. To get more specific about the quality of the book, there are pages where I took tracing paper and recreated the master copy. I was really particular about it.
I think it'll certainly satisfy the designers out there. I think that even girls I don't know at all will look at it and think "That's cute!" In any case, I think it's a collection that can be enjoyed by a variety of people.
TOM: In terms of your illustrations, is there anything that you constantly keep in mind when doing your work?
RJB: I suppose that I try and go beyond drawing pictures of girls that are just cute or beautiful. I try and show more of the girl's more human mischievous and lascivious side. Even if the girl is naked, there's nothing very sexy or interesting if they are simply objectified as just a pair of boobs and a butt. I think there's much more realism if you can show what kind of person they are, why they are wearing that swimsuit, and create a context for it. Conveying personality in my illustrations is important to me. Also human-ness, funny elements—I put little jokes in everything and try to convey humor in my work as well.
There are some people that see my work and take it very seriously, but for me pretty much everything I do is done in good humor. It's a dead serious joke. It makes me happy to have people grin and laugh when they see my work.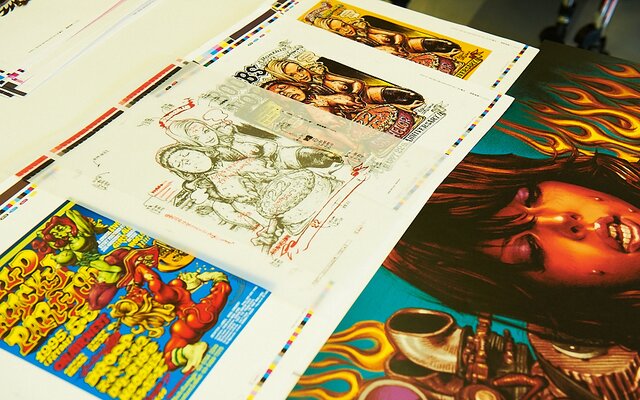 TOM: One of the first things I noticed after seeing the art book in person was just how thick it is!
RJB: Believe it or not, we actually cut quite a bit out. I wanted to include more works and make it into a real tome. I kept the editor, Fukushima, waiting for about eight years.
RJB: Yep. Fukushima came to a signing and offered to make an art book for me. It's been eight years since that offer, and I spent most of it worrying about which pieces to include in the book and which to leave out. So I kept Fukushima waiting that whole time.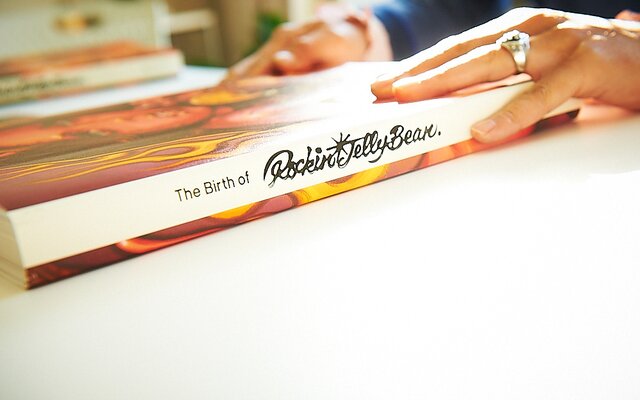 TOM: It's almost like a love story.
RJB: In a way it was (laughs). To put it a different way, this art book is my baby—it's like a daughter to me. Also, if I'm gonna talk about this art book, I can't neglect to mention editor Akio Handa. He's been a close friend since we were in art school, before I started work as an illustrator. So this art book is our shared dream, and he provided the text for the book. He's always been there to watch over and help me with my work. I want to tell him that we finally did it. The idea we've been hanging on to for so many years has finally come to fruition.
TOM: Do you have any final comments?
RJB: First off, I have a message for the aspiring creators who are hoping to have their own art book some day.
I think that otaku are one of many cultural prides of Japan. I myself enjoy looking at illustrations of beautiful girls and "moe kyara." However, I cannot draw them, even though I would like to. The inquisitive nature of otaku almost puts them in the realm of the artisan. I, of course, strive to be an artisan myself. In doing this, I make sure that what I make is not just for myself, but created and distributed for something else. I want more creators like myself to have this will and sense of responsibility in what they do.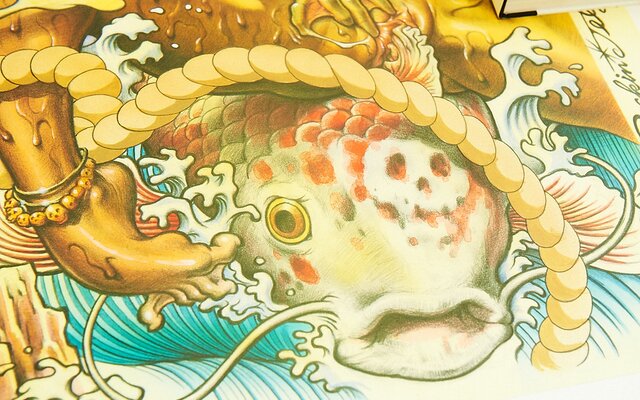 For me, I regard being able to draw as a sacred thing. That's why I don't want to hurt anyone with my art, I want to bring them joy. I hope that future creators surprise and move people around the world with their awesome creations. Well, so long as they don't do it better than me! (laughs)
TOM: I get the impression that you're a very determined person, RJB, and you really have a passion for people.
RJB: Oh! Is that so? Well I suppose you could say I have a passion for women (laughs).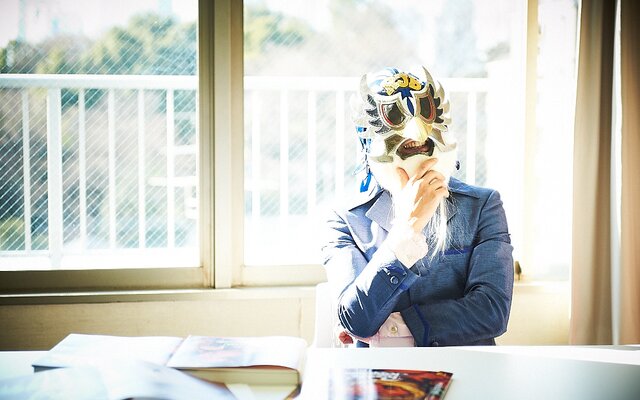 [Exhibition Information]
To celebrate the release of his first art book, RJB will be holding his first exhibition in the Tokyo area in 10 years. It will include some of his posters from an exhibition in Osaka last year, as well as the original pieces featured in the art book and sculpted works. In addition to an advanced copy of the book, there will also be limited edition goods available only at the event.
Event Title:
The Birth of Rockin'Jelly Bean -The Story of the Masked Illustrator - Art Book Sale Celebration
Place:
Tokyo Cultuart by Beams
150-0001 Tokyo, Shibuya Ward, Jingu-mae 3-24-7, 3rd Floor
Tel 03 3470 3251
Date and Time:
Friday, March 7 - Wednesday, March 19
11:00 open - 20:00 close
Signing event and talk show on Saturday, March 15 featuring Akio Handa, Rockin' Jelly Bean, Hajime Sorayama, and Katsuya Terada (tentative).
This is a Tokyo Otaku Mode original article written by Kohji Sakurai and Photos by Tetsuya Hara.