A 1/1 scale replica of the 3D Maneuver Gear, equipment used by the main characters in the popular anime Attack on Titan that lets them fly through the sky every which way during battles with Titans, will be released in January 2015.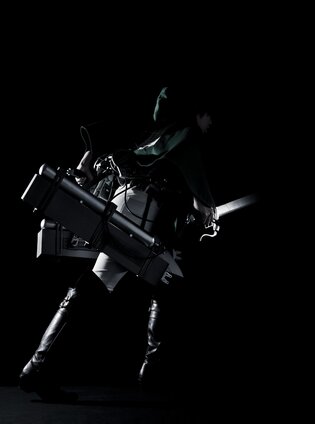 The replica is made from aluminum and silicone, and its dimensions are 37 x 32 x 14 centimeters. The length of the sword blade is 67 centimeters (the replacement blade is 70 centimeters). The replica weighs 10 kilograms, meaning fans can experience what it's like for the characters to wear it. Each replica is manufactured over a long period to reproduce its elaborate construction.
Tokyo Otaku Mode is also preparing for its release. Look forward to January!
■ Size
Body: approx. 37 x 32 x 14 cm
Blade + Grip: approx. total length of 88 cm
(Blade Length: 67 cm / Replacement Blade Length: 70 cm)
Arm Cartridge: approx. 71 cm
■ Materials
Equipment Body: ABS, aluminum, silicon, squeeze (iron insert) diecast, PP resin
Grip: aluminum (one portion ABS)
Blade: squeeze (ABS, diecast insert)
Arm Cartridge: squeeze, ABS
Case Connector Arm: silicone (diecast insert), PP resin
Belt: PU fabric (synthetic leather), one portion nylon fabric
■ Weight
Total Weight: approx. 10 kg
This is a Tokyo Otaku Mode original article.