A person's heart is complicated and weak. At times, pushed by feelings of anger and circumstances that, try though one might, cannot be stopped, one might do something one does not desire. When holding one's ground, the strength of one's heart is tested.
After receiving praise for his performance in the live-action Rurouni Kenshin (2012) film as a protagonist torn between being "Kenshin Himura who has vowed to never kill" and the "Hitokiri Battousai," Takeru Satoh will again deliver a spirited performance in the new series. He shared with us his thoughts on Kenshin Himura and the series, as well as a message to fans around the world.
[Takeru Satoh Profile]
Japanese actor. In 2007, drew attention in his lead actor debut on the drama Kamen Rider Den-O. Appeared in TV dramas Rookies (2008), Bloody Monday (2008), Mei-chan no Shitsuji (2009) and Ryomaden (2010) and the film Beck (2010). In 2011, received the Élan d'Or Award for Newcomer of the Year. Appeared in notable productions the following year, including Rurouni Kenshin (2012) and a stage production of Romeo and Juliet (2012). Starring in two-part series Rurouni Kenshin: Kyoto Inferno/The Legend Ends, to be released summer 2014.
──Could you share your feelings now that you have finished Rurouni Kenshin: The Great Kyoto Fire Arc/The Last of a Legend Arc?
Satoh: It was a happy set. As an actor, I think a set that provides a happy environment like that doesn't come along often.
──What do you mean by a happy environment?
Satoh: They created a great environment through the art and the costumes. Also the shooting schedule. We were given ample time to prepare and we were able to work with the best crew. To put it simply, in the Japanese film industry, it's difficult to invest this much money into a production. Within that, we were able to take on this big project.
Also, Ohtomo, the director, let us do what we wanted. The situation was like, "This is the environment we crew people have prepared," and "Please do what you want in this environment and act." It was extremely worthwhile as an actor and it was a happy set.
The area between "Kenshin Himura" and "Hitokiri Battousai"
──What idea did you have in mind when playing Kenshin Himura in this series?
Satoh: It was like this with the previous film as well, but I had this clear idea in my mind that, "I want Kenshin to be like this." It's just a matter of how well I embodied that.
──From your perspective, where are the unique qualities or highlights of this series?
Satoh: It's difficult to choose... It's all high calorie-burning, high energy scenes that seem produced like we meant it 120%. No matter what is cut, the films will be jam-packed. The action scenes in the previous film put a lot of emphasis on showing the battle stances. Compared to that, it feels like we got to say better lines this time.
Satoh: Kenshin has some good things to say in this film as well. They're words that as a person seem correct. I love that side of Kenshin. With the things he says to people he just met or the things he says to enemies, he says really good things.
With the last film, I felt that I wasn't able to bring out that side of Kenshin, those words, but I think it went well this time. I feel that I was better able to express that it's not just your skill, it's the strength of your heart.
──In this series, Kenshin crosses swords with strong opponents such as Makoto Shishio, "Heaven's Sword" Sōjirō, and Aoshi Shinomori. You just mentioned strength of the heart, but his heart is wavering between between "Kenshin Himura" and "Hitokiri Battousai." It seems like it would be extremely difficult to play.
Satoh: It was incredibly difficult. It's a key point in the subject matter of Rurouni Kenshin, so I handled it delicately.
In the previous film, I tried to clearly show the gap and the catharsis when Kenshin goes "oro" and transforms suddenly. However, this time, there's an aspect to it where neither Kenshin nor myself playing him can tell which personality it is as he charges in. In that sense, it's more complex than the previous film. There are several times when he's plowing through and you can't tell if his Battousai personality is out or if he's holding it in. That was something I personally found interesting.
──In the Kyoto Inferno, there's a scene where Kenshin gets the Sakabatō Shinuchi when he's facing off against one of the Ten Swords, "Sword Hunter" Chō. When he takes it, Kenshin doesn't know whether it's a reverse-blade sword and he hesitates about unsheathing it. Your hand is quivering with the sword in it. I thought the performance was excellent.
Satoh: I was super pleased. It was actually a scene that was debated a lot from the writing stage. I think what made it turn out as a good scene was that the director's cut was fantastic and you could see it that way. Producing Rurouni Kenshin is doing very delicate things over and over again. In that scene, there's Kaoru's timing, and the moment he gets the Sakabatō Shinuchi, Kenshin actually may have even realized that it was a reverse-blade sword. Taking in all of these possibilities, I struggled with how best to play him in the story. I spoke with the director about that scene quite a bit. Hearing you say that it was a good scene makes me very happy.
What I wanted to do with that scene was have Kenshin turn back into the Hitokiri for a moment. And then I wanted to show a sad Kenshin. I wanted the profile of his face and his back with the burden of this sadness that he slayed someone to show on Kaoru. I could envision this as becoming a dramatic part of the story.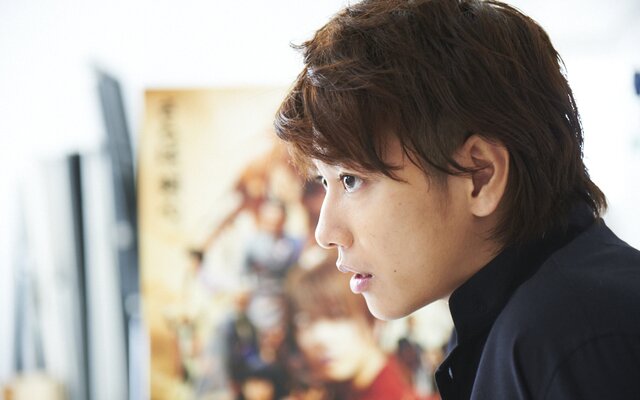 In the small space of one second, Kenshin forgets himself and turns back into the Hitokiri. As a result, he catches a glimpse of himself in Kaoru and thinking, "I ended up killing someone after all," and "I am the Hitokiri," Kenshin feels saddened by himself in Battousai mode. With that vision in my head, I passed by Kaoru.
──Passing by Kaoru was ad libbed?
Satoh: Yes. In the script, all that was written was that it was a scene showing him sad that he slayed someone. However, for me, even though they were reunited, they both went away without saying anything. That's what I wanted to do.
About that scene, the director said, "I'll decide whether I'll use it all after watching it," and when I saw the film, he used it all. The cut went along with my idea of what the cut would be and it was amazing.
I too am a fan of Rurouni Kenshin
──This is a bit on a different topic. We go by the name "Otaku Mode," so I hope you don't mind an otaku-type question. Including those in the original version, what is your favorite technique of Kenshin's?
Satoh: That would be Amakakeru Ryū no Hirameki.
──The ultimate secret technique.
Satoh: Right. First of all, there's a...ring to the name. I like the sound of it when it's said out loud. Amakakeru Ryū no Hirameki.
The techniques were a difficult part for myself and the action crew to put into live-action. In the manga and anime, there are scenes where Kenshin unleashes a technique while shouting. I thought about how best to do that in the live-action and the best way to have it viewed as I performed. I hope you'll take notice.
──Do you have any words for the fans around the world?
Satoh: It was because all of you fans waited for this that we were able to produce these sequels. I'm incredibly grateful. I'm incredibly happy.
I'm also on your side, so to speak. I'm a fan of Rurouni Kenshin. I'm someone who likes to read the manga version in-depth... I may also be something of an otaku, but I love it.
Making them into films that fans of the original would appreciate was a focus. We won't know if that was achieved until it actually goes on Crank-In. However, having finished everything, including the battle with Shishio, at this point, I feel it went well and I am confident in it. You can expect it to be good.
This is a Tokyo Otaku Mode original article.