On June 20, The Pokémon Company revealed that Sableye will have a Mega Evolution in the games Pokémon Omega Ruby and Pokémon Alpha Sapphire to release on Nov. 21.
Sableye is a unique Pokémon whose eyes turn into gems when it eats gems. Because they live in dark caves, they are rarely seen. The energy of its Mega Evolution is concentrated in the red gem on its chest which becomes gigantic and seems to separate from its body. It is said that Mega Sableye will have a gigantic gem shield that is as big as its body which it uses to hide behind while fighting.
The Mega Evolved form of Sableye, Mega Sableye!
Mega Sableye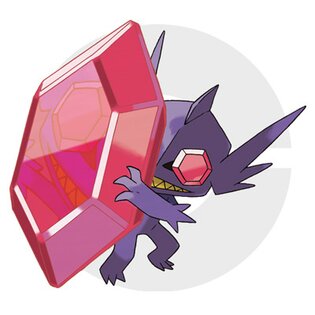 Classification: Darkness Pokémon
Type: Dark/Ghost
Height: 0.5m
Weight: 161kg
Special Move: Magic Mirror
The red gem on its chest that enlarges to become a shield in its Mega Evolved form has high strength and is said to block even the strongest of attacks.
His body is mostly hidden behind this gigantic gem, which it peeks out from behind of between its opponents attacks.
When it Mega Evolves, Sableye receives a huge boost in its Defence and Special Attack stats. However, possibly due to its large gem, its Speed stat decreases a bit. It also has the special move "Magic Mirror" which deflects non-damaging moves back at its opponent.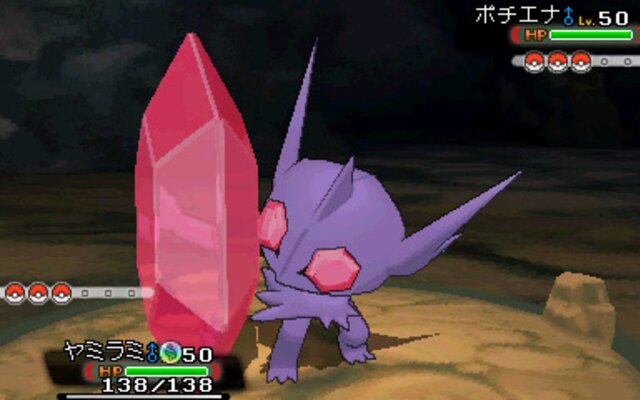 The Pokémon Sableye before its Mega Evolution!
Sableye

Classification: Darkness Pokémon
Type: Dark/Ghost
Height: 0.5m
Weight: 11kg
Special Moves: Keen Eye/Stall
This is a Pokémon with a unique appearance whose eyes become gems when it eats gems. Because it lives in dark caves, it is rarely seen. It is feared for stealing the souls of humans when its eyes shine from the darkness with an ominous glow.
Source: 4Gamer
Source article written by Gueed
© 2014 Pokémon
© 1995-2014 Nintendo / Creatures Inc. / GAME FREAK inc.
Pocket Monsters and Pokémon are registered trademarks of Nintendo, Creatures, and GAME FREAK. The Nintendo 3DS logo and Nintendo 3DS are trademarks of Nintendo.