At first, Tokyo Otaku Mode Special Creator Takayama Toshiaki was worried people might not show up for his art show, but he can't get the smile off his face. The exhibition, "10 Years of T.com," is Takayama's first. It opened on May 1, in Tokyo's Nakano Broadway. The event hall, Pixiv Zingaro, is covered wall to wall with 13 years worth of illustrations. It's a comprehensive collection, covering Takayama's first drawings as a freelance artist, to his most recent projects. The event was held until May 13.

Takayama explains what led up to this exhibit: "I've been getting offers to hold an art show for a while now. Recently, the publisher Graphicsha published a book of my work [Title: The Work of a Card Artist: From Dragons and Mecha to Character Design. Released April 30.], and so in terms of how my career is going, I just felt it was about time to do it." The event hall, Pixiv Zingaro, often features game content and is located in Nakano, a well known hub of subculture activity. These reasons led Takayama to chose this location, feeling it "synched well" with his work. The private exhibition opened in the evening, and has been packed with crowds of fans since its first day.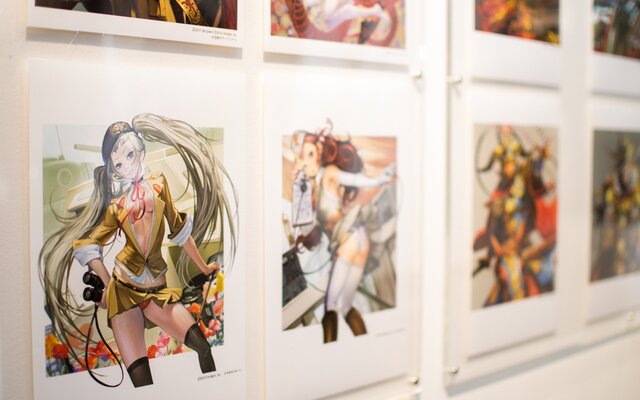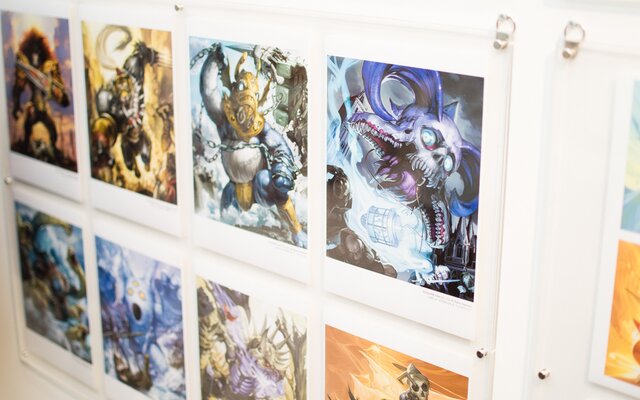 We asked Takayama for a message to his fans overseas: "Art abroad tends to have dark tones, low intensity colors, and is focused on being realistic. Even concept art features the scenery more than a particular subject. The defining characteristic of Japanese art, on the other hand, is the use of a bright, primary color to represent a particular character, and then a focus on conveying the personality and individuality of that particular character rather than what's around them. If you take those differences into account when you look at Japanese art, I think you will come to appreciate it. The roots of Western illustration are grounded in fine art, almost academic elements. In Japan, manga and comic book form tends to be the foundation for most illustrations. Even within the same genre of illustration, this fundamental difference is apparent. I hope that through my art, people can come to understand the unique evolution of the Japanese illustrative style." After making this comment, the exhibit opened, and soon fans were lined up in front of Takayama. He began an impromptu signing event immediately.

Takayama's popularity shows no sign of diminishing. If you're interested in checking out some of his work, click here!
Takayama Toshiaki's Profile
Graduated from a design institute in Japan, majoring in super real illustration. Joined Kasaikobo, an illustration production company, after graduation, creating advertisements, architectural designs, and package illustrations with an analog airbrush. Quit his job to become a freelance illustrator, placed second in the 3rd Dengeki Awards' mecha illustration category. Started doing digital work for the card game and anime Dragon Drive. Drew over 200 dragon illustrations and became in charge of dragon design for the anime series. Currently doing freelance illustration work for toys, games, printed works, and more.
This is a Tokyo Otaku Mode original article.