Female Titan is a character who appears in Attack on Titan. She possesses superior intelligence, and many fans were likely left with an intense view of her after seeing her trample so many helpless characters from the series. Florea Flavia is a resident of Romania and makeup artist who blew up on Facebook for her impressive full-face Female Titan makeup.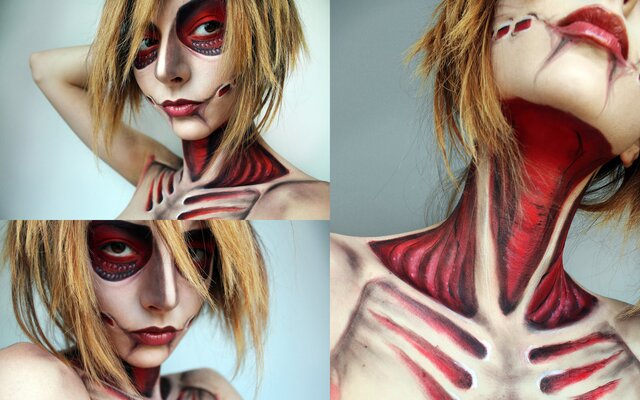 We sat down with Flavia to find out the details on how she became a makeup artist and why she decided to challenge herself with creating Attack on Titan makeup.
TOM: Can you tell us about your career as a makeup artist and painter?
Flavia: I started painting at a young age and as I grew older I discovered makeup as an adolescent as being my magical wand. I finished art school and decided to be my own teacher at the age of 18, no university or makeup studies, other than self-teaching afterwards. Since then, I've been working hard to compete with people who had diplomas, but I never lost hope. I had galleries as a painter, participated in contests, worked in theater as a makeup artist, collaborated with several studios and made a lot of women happy.
TOM: What made you set your sights on this path?
Flavia: Everything around me. I discovered as time passed by that a lot of beautiful, simple things are forgotten and lost day-by-day because of the burden of being in a rushed society and in order to get back to them you have to use fantasy and play with your creativity. Once you manage to do that and get just a glimpse of happiness and thankfulness from the people around you, you know you don't live for nothing. There's nothing more beautiful than offering happiness, relaxation, and confidence.
TOM: How do you decide on the theme of your makeup?
Flavia: Everything happened pretty spontaneously, other than the cosplay makeup I do, the others just get to be created out of the simplest things in the world - a rainy day, the hands of a stranger in the subway, a reflection on the window of a car, a cloud form, etc. That's my trigger.
TOM: What do you always bear in mind when doing makeup?
Flavia: The power of colors. I'm telling you, it's fascinating.
TOM: What do you consider "beauty" to be?
Flavia: That's a tough one, haha. Well...happiness.
TOM: Do you often watch anime?
Flavia: I'm a sucker for cartoons in general, but anime happens to be my favorite type so I watch them as often as I can, and that happens to be at least once or twice per week.
TOM: Who is your favorite character from Attack on Titan?
Flavia: Annie Leonhardt.
TOM: What made you decide to create Attack on Titan cosplay makeup?
Flavia: I think everyone finds a part of themselves in a character. I found big parts of me in the ones I did and I wanted to be even closer to them, to be them.
TOM: How long did your Attack on Titan cosplay makeup take?
Flavia: To be honest, I don't usually watch the clock when I start creating so I'm going to approximate: Eren took me around 1 hour and Annie around 1 and a half hours, maybe two.

**TOM: What was difficult about your Attack on Titan cosplay makeup?**
Flavia: To create the facial expressions of both of them, the anger and the bitterness. If I'm thinking strictly compositional, the lines around the eyes and mouth.
TOM: How have the reactions to it been?
Flavia: Unexpected. I've never felt so much appreciation.
TOM: What cosplay makeup do you want to challenge yourself with next?
Flavia: I'm going to keep this one as a surprise. All I can say is that it's going to be a lot of work on the details.
This is a Tokyo Otaku Mode original article.