Jump Festa 2014, an event to express gratitude to the fans, was held on Dec. 21-22 at Makuhari Messe, in Chiba Prefecture. In the course of two days, roughly 145,000 people attended, 10,000 more than last year. At this event, various content themed around One Piece, Dragon Ball, Toriko, and other works published in Shueisha's four magazines––*Weekly Shonen Jump*, V Jump, Jump Square, and Saikyo Jump––were displayed at booths bustling with people.
The event's theme was "Enjoying the World of Jump to the Max!" As the name shows, the hall was filled with Jump. There were Jump-related character events, original work exhibitions, the newest information regarding games and anime, and game demo booths as well. In addition, at "Jump Super Stage," manga authors and voice actors from the anime versions of Jump works gathered to interact with fans.
At the Jump Digital Booth, a special edition of the Weekly Shonen Jump app was advertised. On the app, titled Jump LIVE No. 2, users can enjoy videos, games, and special manga drawn by the creators. The app will be in effect for a month starting from Dec. 20.



At the Namco Bandai Games booth, the forthcoming PS3/PS Vita game J-Stars Victory Vs, which is being produced in order to commemorate the 45th anniversary of Weekly Shonen Jump and the 20th anniversary of V Jump, was available to demo. The game is a team battle-action game that features heroes from successive Jump generations all together, making it possible for players to realize their dream battles. A representative of Namco Bandai Games expressed his opinion regarding the high interest in the Naruto: Ultimate Ninja series shown by overseas fans: "The content of works such as One Piece, Naruto, and Dragon Ball are enjoying worldwide support. With all our efforts, we are making games that the fans of those works can enjoy. Aren't the fans the judges of that?"

A staff member of MegaHouse, a company that produces exquisite figures, spoke about their consideration regarding production, saying, "Since we are in a position of looking after the characters, we endeavor not to betray the expectations of the fans. The whole development team consists of people who love Jump characters. Nevertheless, we aim for figures the fans would appreciate without expressing our own emotional attachments too much."


Banpresto, the very same company that provides the no-lose character lottery "Ichiban Kuji" that is available to play in convenience stores and hobby shops throughout Japan, was also offering figure content. With low prices of only ¥500 and ¥800, Banpresto offers high-quality figures to customers.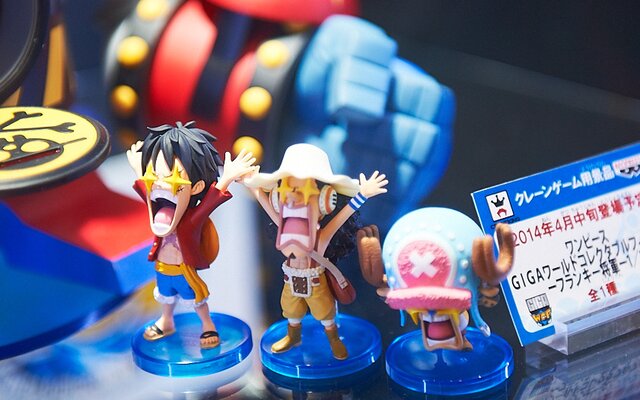 Also show at the Banpresto booth was a stop-motion anime that was made using a figure of Chopper from One Piece. Regarding the anime, a staff member from Banpresto commented, "Since we are living in the era of YouTube and other video sharing services, we are thinking of providing new means of playing with figures to our customers." The Banpresto Figure Colosseum, another core event of Banpresto, is a project in which modelers compete in creating One Piece and Dragon Ball figures in a style of their choosing. Many people were enchanted by the countless appealing figures.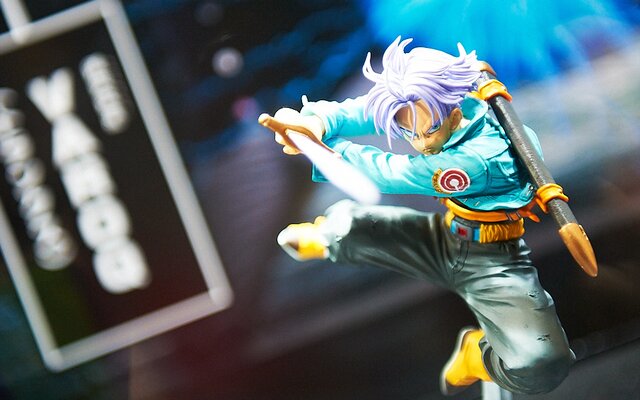 Ikeda from Shueisha's digital department commented the following on Jump Festa: "I think this is a wonderful occasion to interact with the readers we usually don't connect directly with. A place where we can see the faces of our readers is precious to us." Weekly Shonen Jump welcomed its 45th anniversary this year and V Jump welcomed its 20th. The strength of such Jump content that is passed down from generation to generation lies in the high quality of the works featured. Regardless of the era, there are hit works that come out one after another, such as Dragon Ball, Slam Dunk, One Piece, or Kuroko's Basketball. The numerous charming characters appearing in those works are also loved by fans. Maybe that is why Jump content is so popular and continues to be supported in various mediums, whether manga, web services, games, or figures.
© Shueisha Inc.
© J-Stars Victory Vs Project
© Tadatoshi Fujimaki / Shueisha, Kuroko's Basketball Production Committee
© Bird Studio / Shueisha Inc., Fuji Television, Toei Animation
© Bird Studio / Shueisha Inc.
© 2013 Dragon Ball Z Production Committee
© Mitsutoshi Shimabukuro / Shueisha Inc., Fuji Television Network Inc., Toei Animation Co. Ltd.
© Eiichiro Oda / Shueisha Inc., Fuji Television Network Inc., Toei Animation Co. Ltd.
© Masashi Kishimoto, Scott / Shueisha Inc., TV Tokyo Corporation, Pierrot Co. Ltd.
© 2013 NBGI
© NBGI
© Banpresto Co. Ltd.
© MegaHouse Corporation
This is a Tokyo Otaku Mode original article.