Give your friends and family a hand this holiday season (and avoid those ugly sweaters and socks 😂 ).
TOM Senpai, or should we say TOM Santa, might just notice you in the process, too!

Share your Favorites for a chance to win the full price of one of your favorite items in TOM Points! ✨

Between Dec. 1−7 (PST), share your Favorites list with the hashtag #TOMfavs for a chance to win the full price of one random item on your Favorites list in TOM Points!
10 winners total will be announced here on Dec. 8!

Winner 1: Wish list! Mostly Idolish 7 because reasons.
Random item: The Ancient Magus' Bride MAG Premium Vignette Collection - Elias

Winner 2: Kyaaaaa!
Random item: Sega Hard Girls Rubber Straps - 1 Box

Winner 3: Plushies
Random item: Hige Manjyu Kuromame Fuku Cat Plush Collection (Big) - Kuromame

Winner 4: Pricey Favourites
Random item: Comfy KIMONO Pajamas - Goldfish

Winner 5: Wishlist
Random item: Nendoroid Haikyu!! Season 3 Daichi Sawamura

Winner 6: My Grocery List
Random item: Meiko ~Hanairogoromo~ 1/8 Scale Figure

Winner 7: Gifts for friends
Random item: Snow Miku Plush

Winner 8: Christmas Wishlist
Random item: FLAPPER Book Shoulder Bag - Brown

Winner 9: Wished!
Random item: Amuse Character Smartphone Shoulder Bag - Gray Stripes

Winner 10: Bone of my Sword
Random item: Fate/stay night [Heaven's Feel] Excalibur: The Sword of Promised Victory 1/1 Scale Replica Deluxe Edition

Important Information

・Winners will be announced on this page with a link to their qualifying Favorites list, the qualifying item, and the amount of TOM Points awarded.
・Your Favorites list must be public to count as a valid entry.
・You must share your Favorites list in a public post to count as a valid entry.
・If sharing on Twitter, posts must be made from a Twitter account that follows the official Tokyo Otaku Mode account so that we may contact you via direct message should you win.
・Winners will be contacted individually within approximately 48 hours after the submission deadline.
・In the case that we do not receive a reply within 1 week of contacting a winner, their prize will be automatically forfeited.
・An account on otakumode.com is required to receive the prize.

HOW TO USE "FAVORITES" LISTS

You can create multiple Favorites lists - start by deciding the theme of your list. Holiday Wishlist to share with friends? Collection of your dream kawaii items? List of figures you've acquired? Create a new list either from your Favorites page, or by adding an item to your Favorites and creating a new list from there.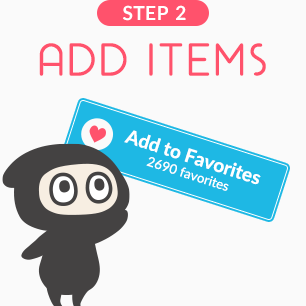 Click the "Add to Favorites" button on a product page, or the grey heart symbol at the bottom right of a product thumbnail.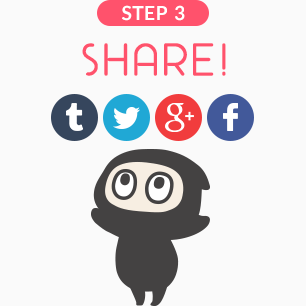 At the top-right side of your Favorites list, click on any of the four social media buttons to share your list! (If you want people to be able to buy things for you directly from your list, go to "List settings" and add a shipping address!)
You've reached the max order limit for this product.
No more can be added to your cart.