Nisio Isin Daijiten Monogatari Series Shinobu Oshino CG-i Art Print
A radiant, gallery-quality art print of Shinobu Oshino among sunflowers
Product Name: Nisio Isin Daijiten Monogatari Series Shinobu Oshino CG-i Art Print

Series: Monogatari
Illustrator: VOFAN
Manufacturer: Banpresto
Specifications:

High quality artwork using CG-i output
Includes frame produced by Bumpodo's Framemeister

Dimensions (approx.):

Frame: 590 x 460 x 20 mm | 23.2" x 18.1" x 0.8"
Artwork: 301 x 423 mm | 16.7" x 11.9"

Limited to 300 (includes serial number)
Shinobu Oshino smiling in a field of sunflowers beautifully bathed in light by the summer sun drawn specially to be the Last One prize in February 2015's Ichiban Kuji commemorating the fifth anniversary of the Monogatari series.
A clear summer sky, sunflowers in full bloom, and Shinobu's delicate skin as she stands amongst them. An art print radiating with light that shines down on everything in view.
Highlights include, or course, an overall vividness to the blues, yellows, reds, and her skin color which is composed of a beautiful color gamut able to be expressed in CG, as well as details studded throughout including brilliant gradations, her hair, and the coloring of her bustier dress.
Highlights of CG-i Output
・Beautifully shiny hair and delicate skin
The superior output of CG-i can be best seen in its vividness and brightness. The gradations of Shinobu's hair and the vividness of the sunlight hitting her cheeks and shoulder are each reproduced through the coloring.
On the other hand, the reproducible color gamut is adjusted in CMYK, creating generally subdued tones due to compressing the original colors of the illustration.
・Beautiful and prominent black that doesn't interfere with the whole
Shinobu's black bustier dress is a remarkably eye-catching part of the illustration. The calm and beautiful brilliance of black can take on a reddish tinge in CMYK output that interferes with other colors, but with CG-i the output of the black stays true to that of the CG illustration in being a slightly blueish black.
・Bright, saturated blues, yellows, and greens
CG-i output creates colors as close as possible to the brightness and saturation of the original CG illustration. The differences in CG-i output compared to CMYK are evident particularly in this this artwork that features blues, yellows, and greens used throughout.
Frame Details
The Japan-made frame was selected by Bumpodo's Framemeister and uses Alframe manufactured by Origin for an elegant, refined look. The frame is custom made under supervision from Framemeister to match the size of the artwork and is crafted one by one by Bumpodo.
About CG-i
"CG paper artwork that's even more beautiful than on a monitor"
CG-i is an original output for CG illustrations developed by Banpresto. CG-i brings to fans artwork that faithfully captures the colors and feel of illustrations on a monitor just the way the creator intended.
---
Comment here! Discuss your excitement with other TOM users!
---
Your Recommended Products
---
---
---
---
Celebrating 10,000+ Premium Members!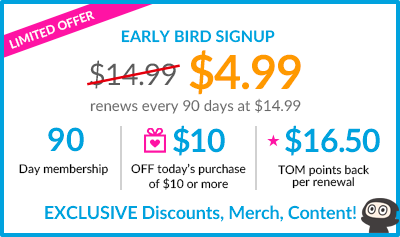 TOM Premium is normally $14.99 for 90 days.
Join now to experience your first 90 days for the promo price of $4.99!
Your 90 day subscription will AUTO-RENEW at $14.99.
In exchange, you will receive $16.50 in TOM Points every time.
Details may be subject to change.