---
Step into the world of Fate with this Diatomite Bath Mat
Enter the magic circle to experience a drying experience like never before.
To commemorate the premiere of the film Fate/stay night [Heaven's Feel] THE MOVIE, Lives Inc. and Tokyo Otaku Mode have joined forces to produce the Fate/stay night [Heaven's Feel] THE MOVIE: Diatomite Magic Circle Bath Mat.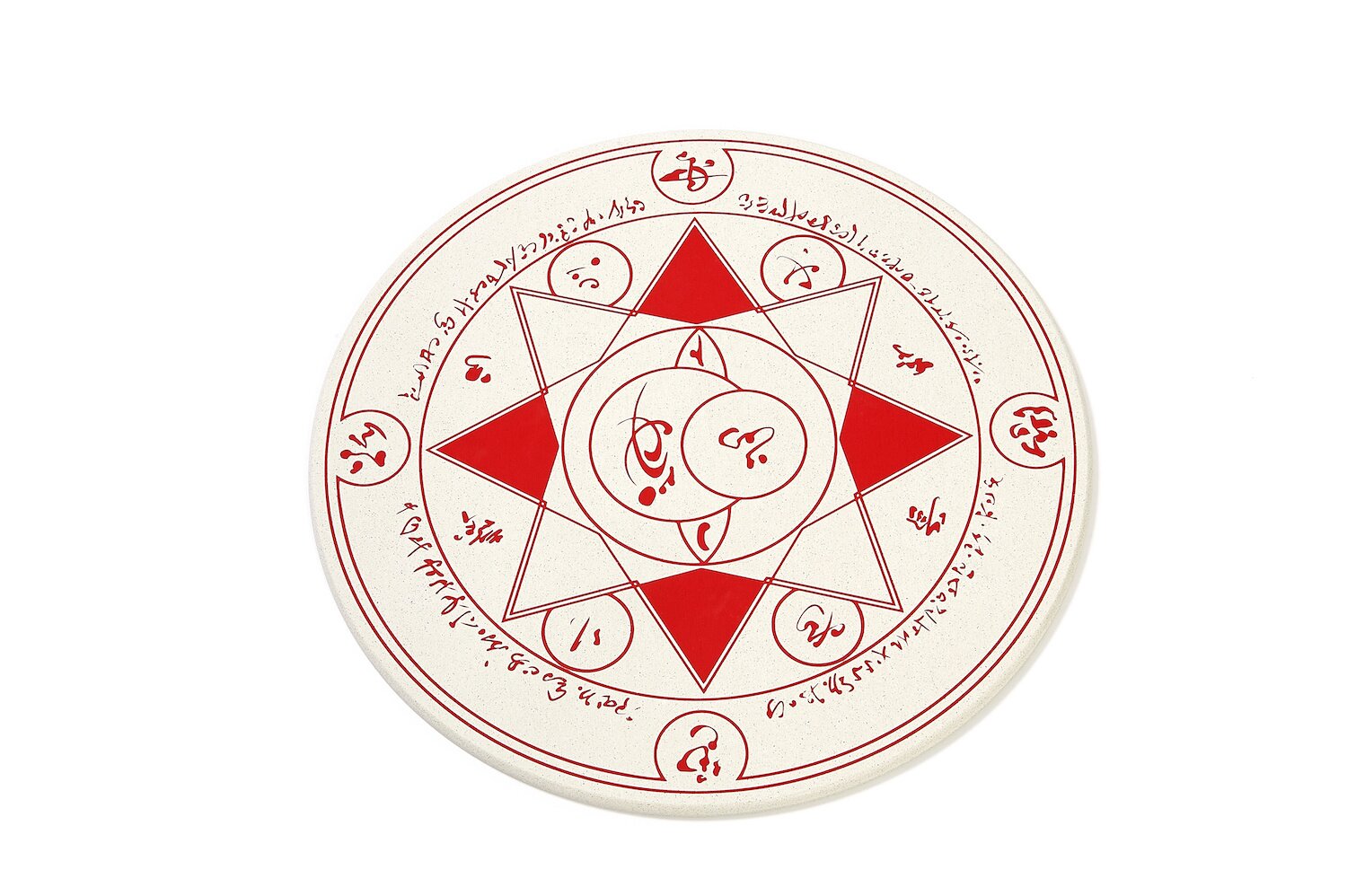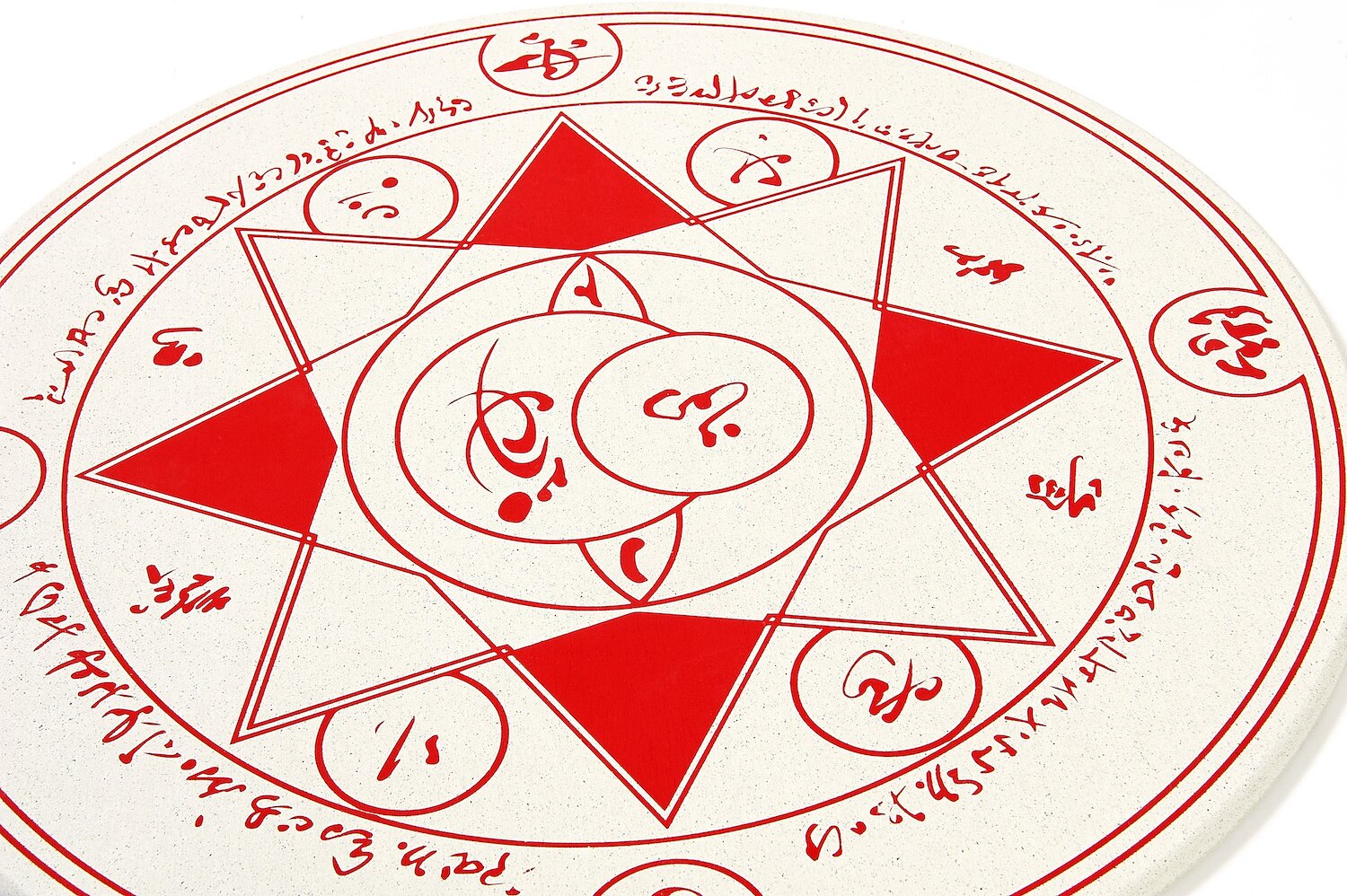 The natural diatomite used is breathable, excellent at retaining moisture, and perfect for those with allergies or sensitive skin. After swiftly absorbing water, the bath mat gradually dries off on its own and returns to its original smooth finish. Each and every bath mat is carefully crafted by experienced plasterers who treat the diatomite. The result is a product that is not only gentle on the skin, but also offers uncomparable absorption. Stand on the diatomite Magic Circle Bath Mat and experience what it's like to be a Servant of the Fate/stay night series.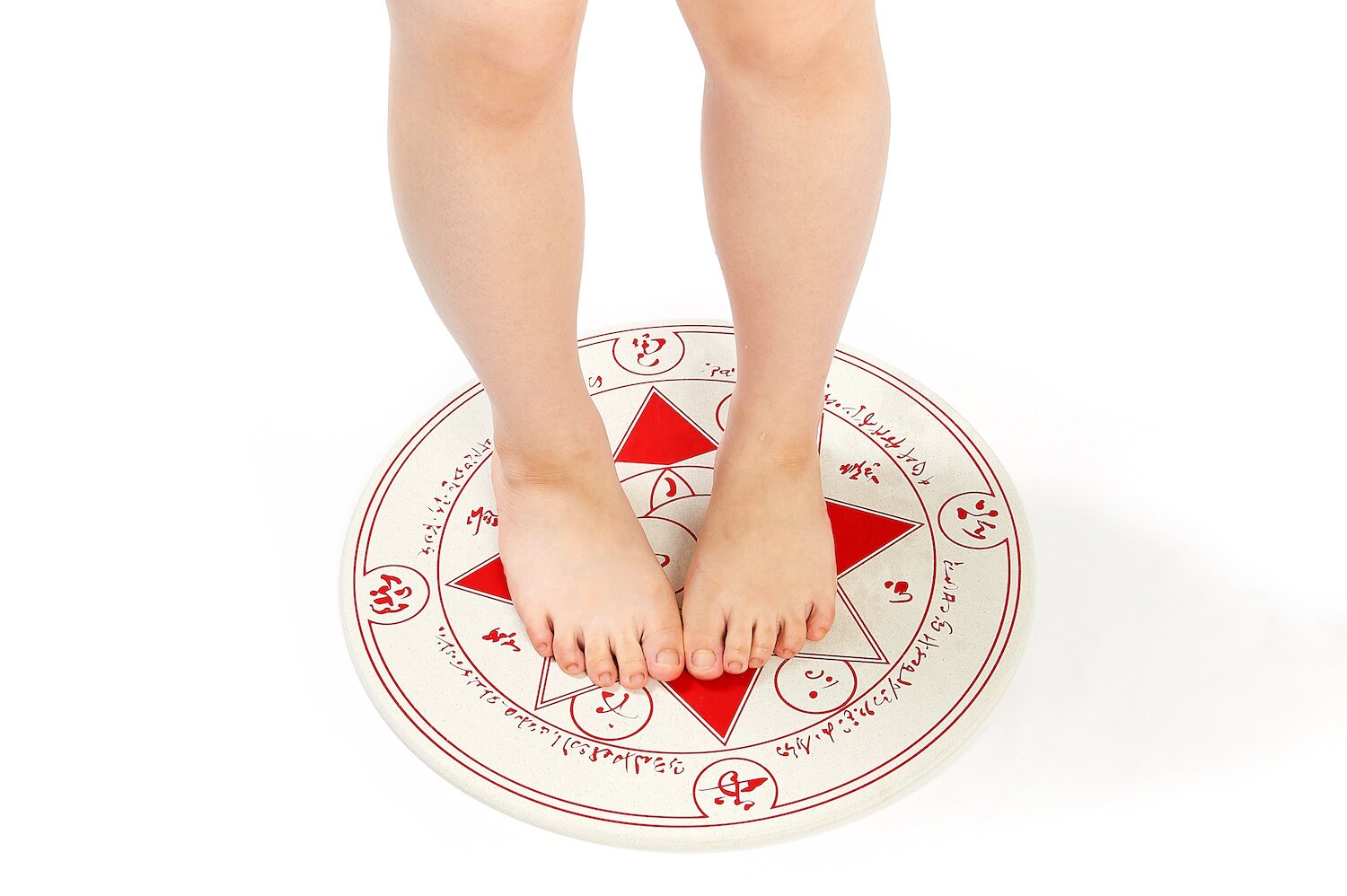 ---
Diatomite is a type of sedimentary rock extracted from strata of earth that have formed from the buildup of single-celled algae that inhabited ancient oceans and lakes. In Japan, Hokkaido, Tohoku, and the Noto Peninsula are notable producers of this soil. When diatomite is fired, it becomes porous (having countless tiny micrometer-sized holes), transforms into a substance that is highly absorptive and capable of retaining moisture. Because the bath mats are not sintered, they are still "natural" and will return to their original soil state if buried.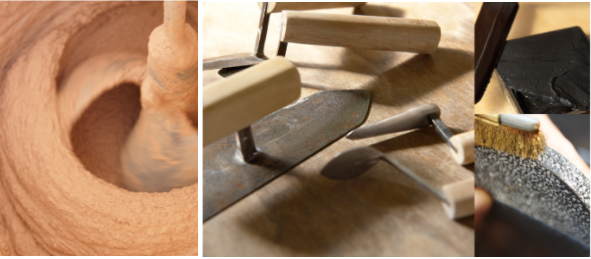 ---
Prepare yourself for summoning after bathing!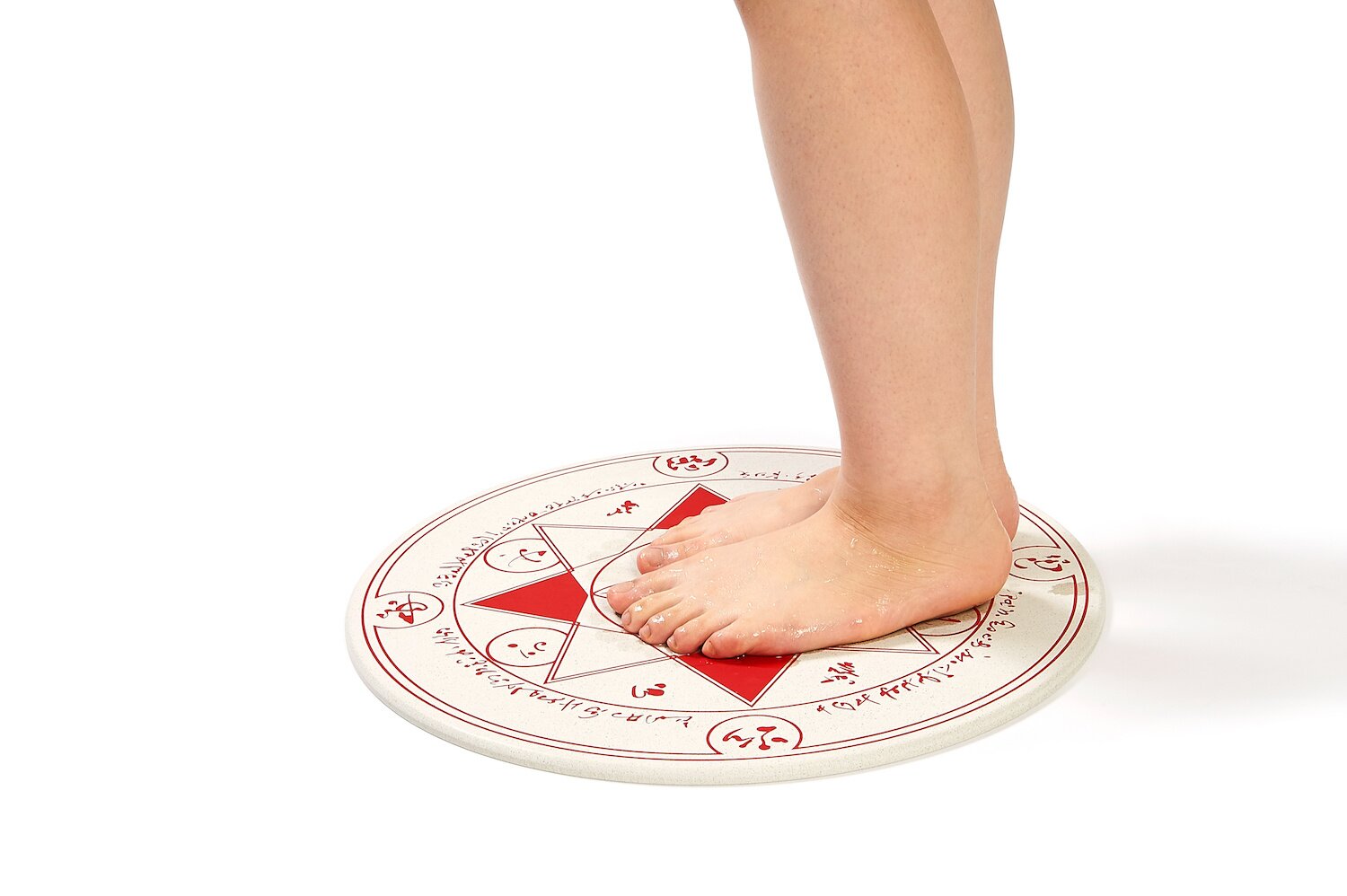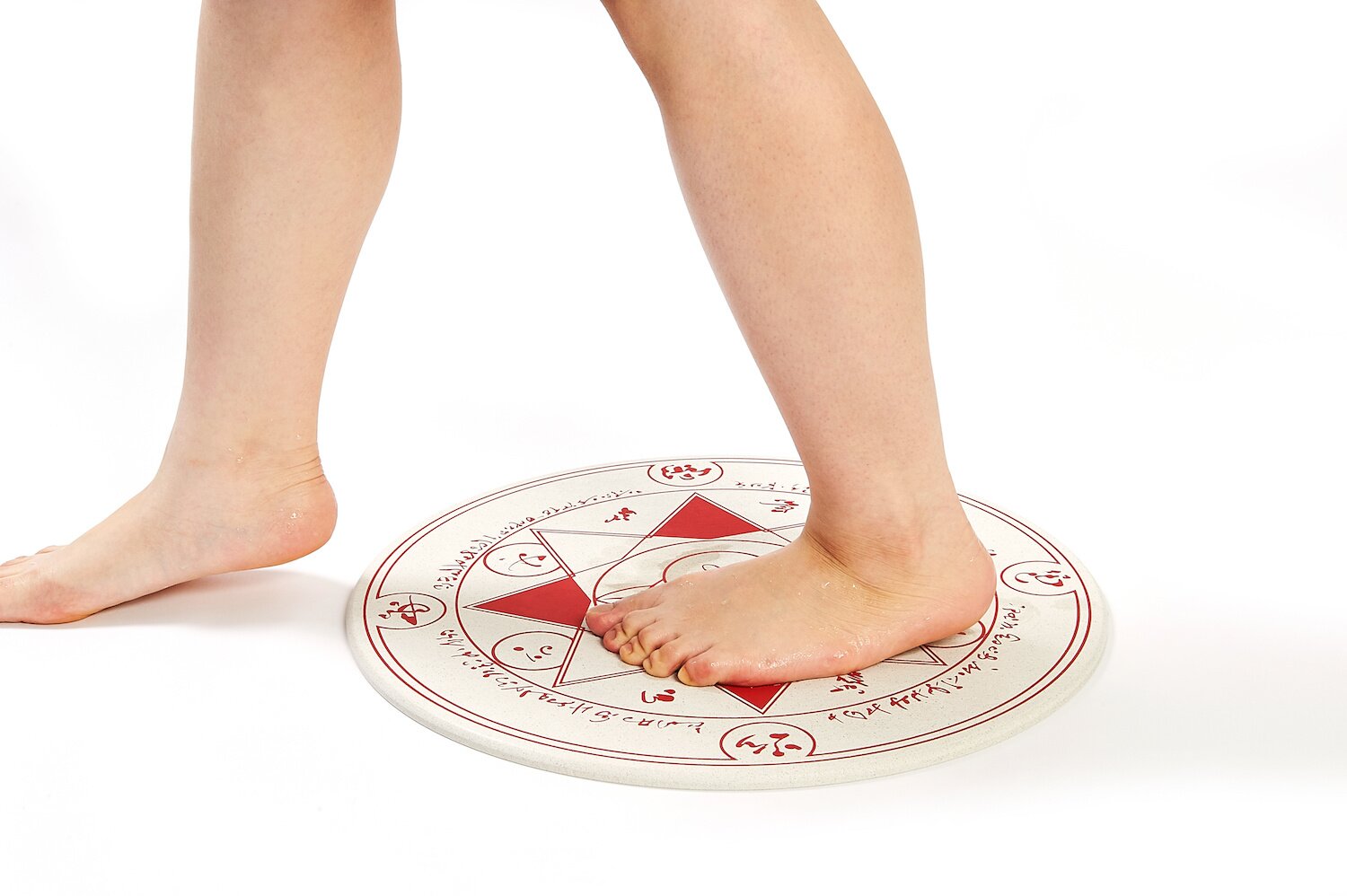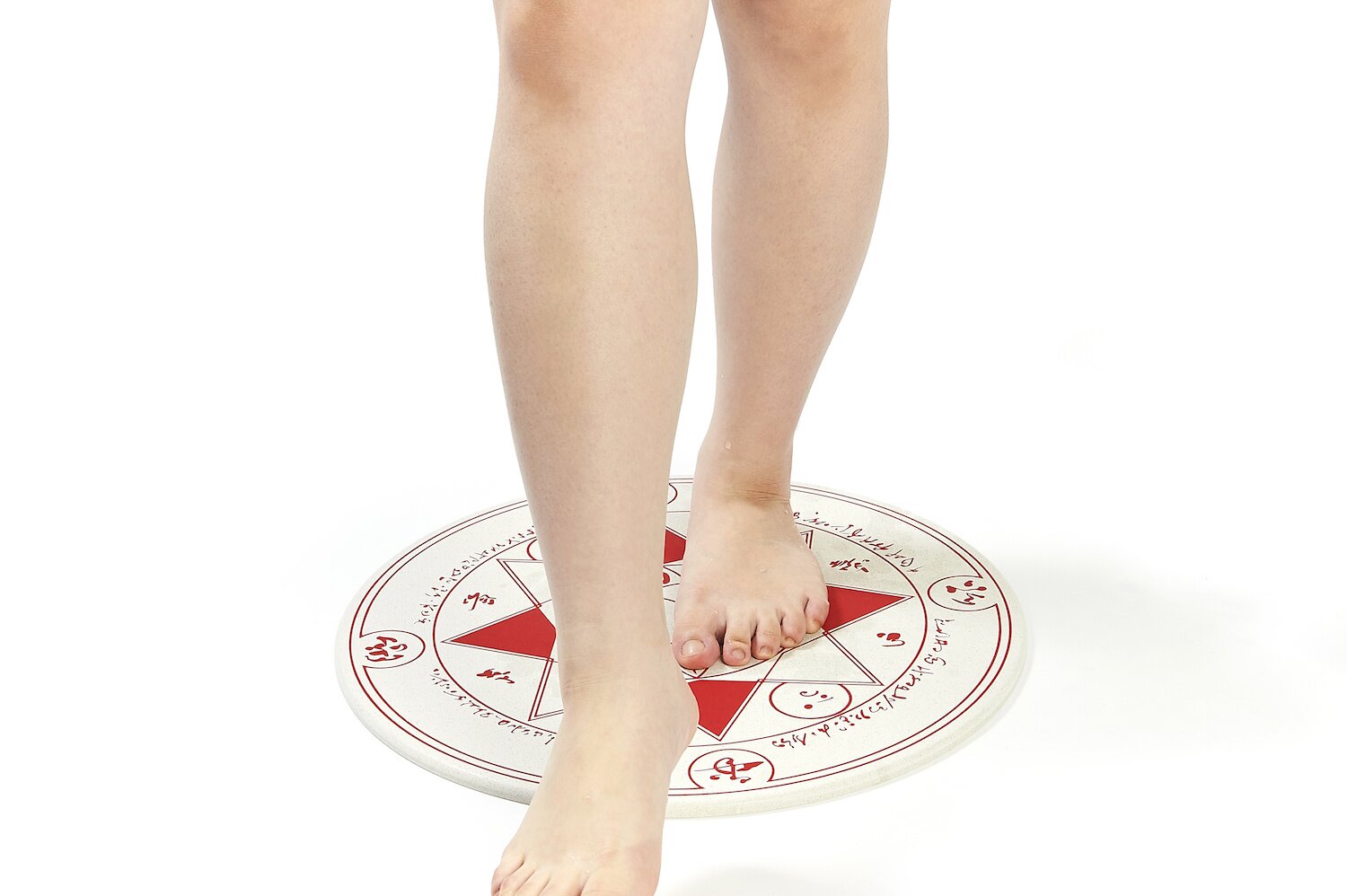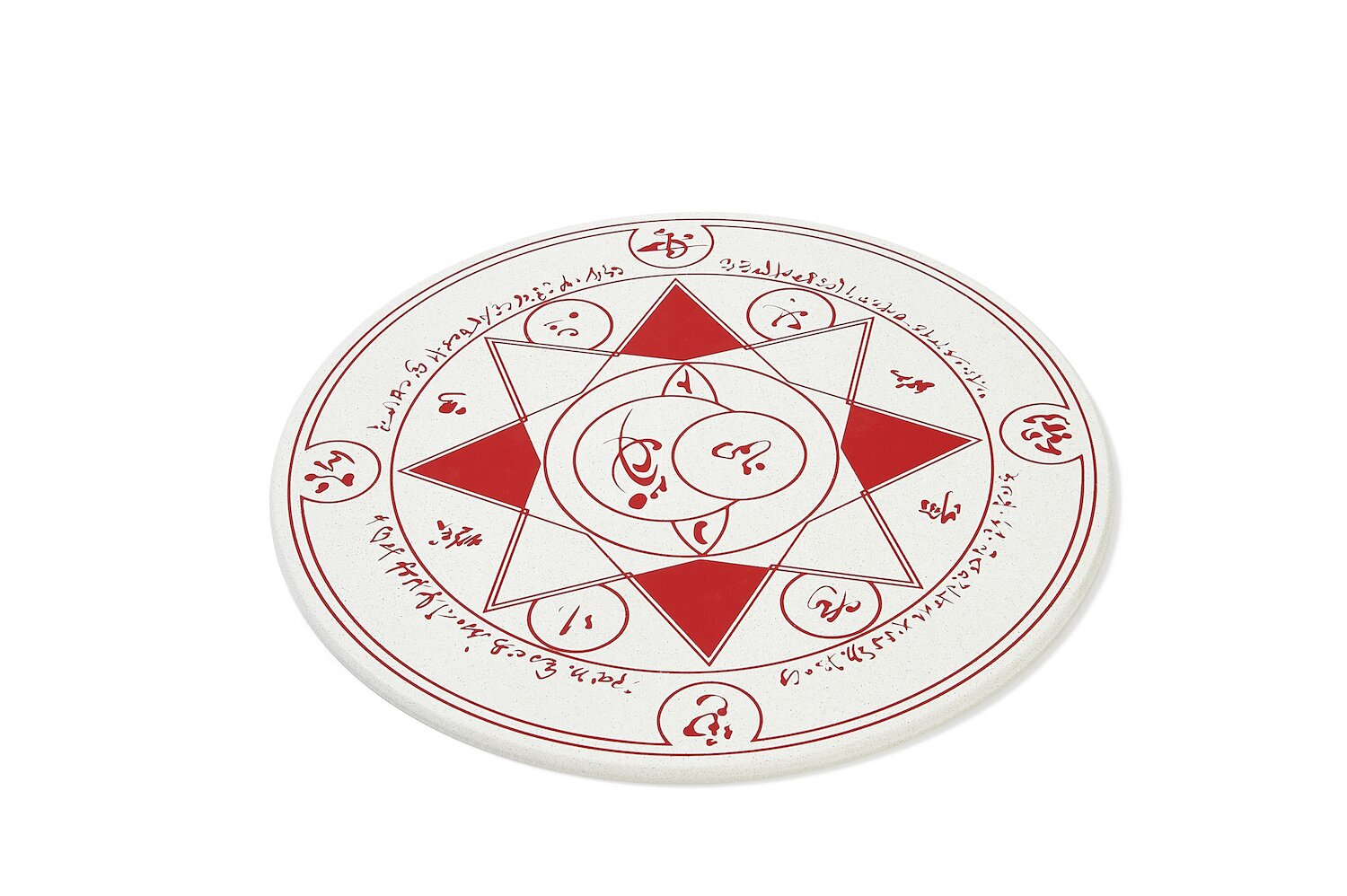 ---
Carefully Crafted in Japan
This product is carefully crafted using diatomite, a natural substance with incredible absorption that is gradually becoming a trend in Japan. Although there other diatomite bath mats being sold at lower price points, we can say with confidence that the quality of our Fate/stay night [Heaven's Feel] THE MOVIE: Diatomite Magic Circle Bath Mat is greater than others.
In terms of product composition, we chose to use an original mixture of diatomite from Akita Prefecture and vermiculite. This allows for the formation of countless pores of varying sizes that is more complex than other porous materials, which helps the bath mat absorb moisture with greater speed. After rounds of testing and improvements, we have succeeded in making the bath mat lighter and also more durable.
While other products resembling this bath mat may contain crude materials or components of a lower quality, rest assured that every Fate/stay night [Heaven's Feel] THE MOVIE:Diatomite Magic Circle Bath Mat is produced using only the best materials. Our bath mats pass through strict quality inspections during the manufacturing processes in Japan, and are products that we recommend with great pride.
---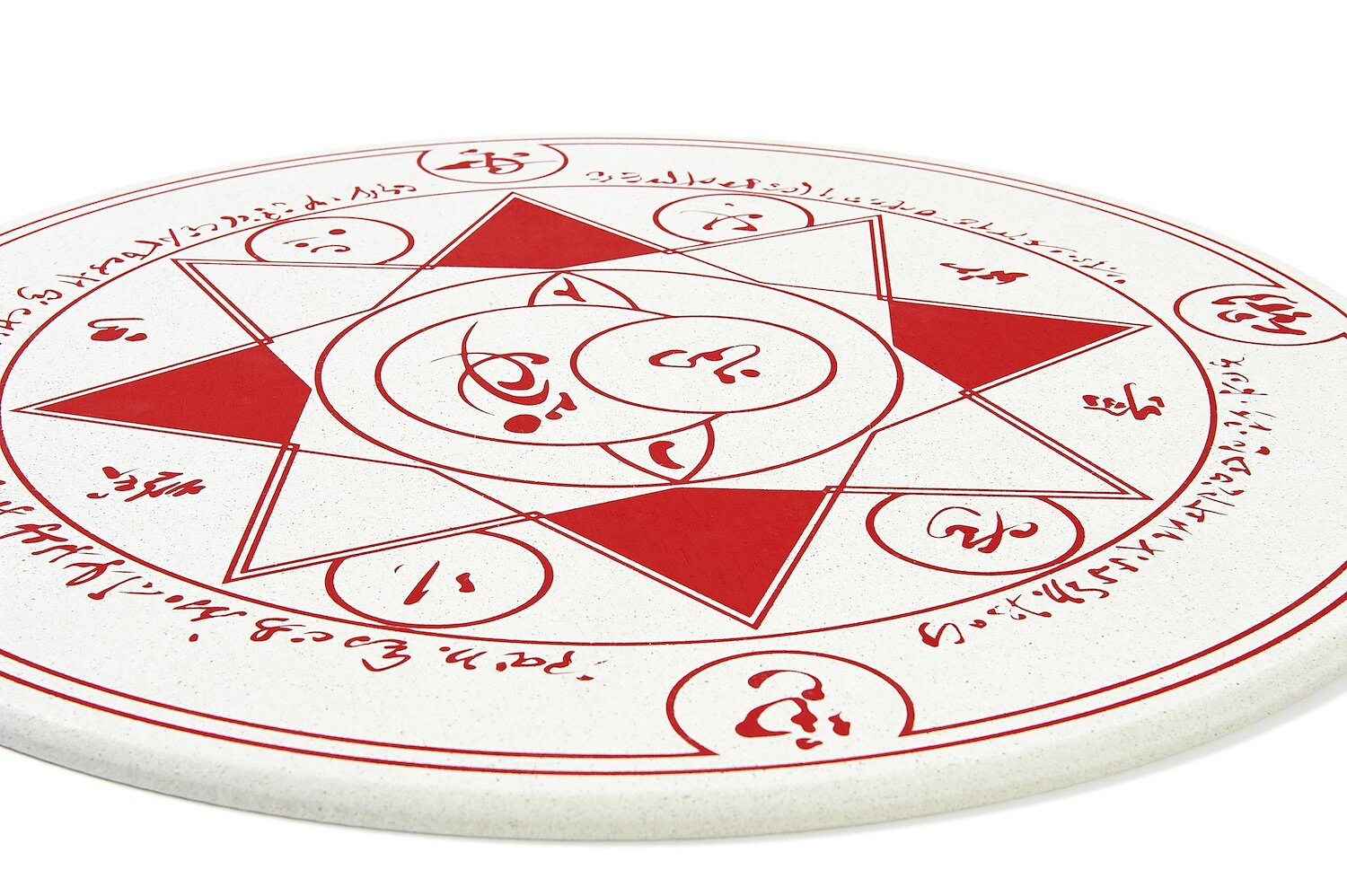 Diameter: 44.0 cm / 17.3 in
Thickness: 0.95 cm / x 0.4 in
Weight: Approximately 1300 g / 2.9 pounds
Please use the bath mat with the magic circle side up.
Please dry the bath mat in a shaded and well-ventilated area.
---
Q1: What's the main material used in this bath mat? A
: The main material is called diatomite, a product of fired phytoplankton fossils.
Q2: What are the traits of diatomite?A
: Diatomite is porous. It has countless microscopic holes that allow it to absorb moisture.
Q3: Is the bath mat artificially colored? A
: All colors on the bath mat - except those used for the printed design - come from the natural materials used. The white in the base comes from the diatomite collected in Akita Prefecture.
Q4: Why are there spots of color on my bath mat? A
: As each bath mat is handcrafted, some products may appear to have patterns or spots that are lighter or darker. This occurs naturally when the mixed materials are solidified and does not affect the performance of the product.
Q5: Will my bath mat crack if I drop or put pressure on them? A
: Yes, it may crack or break. To preserve the natural performance of diatomite, the bath mats are not sintered after production, which means that it may crack or break from impact. If your bath mat breaks, please handle the small broken parts with great care.
Q6: How should I move my bath mat? A
: Please move your product by carrying it with both hands after it has completely dried. As diatomite can absorb a large amount of water, moving it when it is still wet may cause it to break. Please refrain from leaning it against a wall when drying.
Q7: If my bath mat breaks, can I put it back together with glue?A
: We regret to say that the bath mat cannot be reassembled with glue and other adhesives.
Q8: How can I dispose of my bath mat? Can the materials inside be reused? A
: To dispose of the product, please treat the product like a pottery product and follow the waste disposal regulations of your area. The materials inside can be reused as a drying agent to absorb moisture. To reuse the product, please place it in a breathable bag made of cloth or other breathable materials. Please handle broken pieces with care to prevent injury and be careful of any powder that may leave the diatomite.
Q9: How do I take care of my bath mat?A
: Please dry the bath mat in a shaded area. To avoid warping, please do not dry the bath mat under direct sunlight. Please note that using the bath mat after it has warped may lead to breakage. Also, the printed design on the bath mats may gradually fade after use.
Q10: Can I wash my bath mat with soap? A
: Please refrain from washing your bath mat with soap and other solutions as they may clog the pores of the bath mat and lead to the growth of mold.
Q11: Should I be worried about radioactive contamination in the diatomite? A
: The diatomite used by soil Inc. Ltd., the manufacturer of the bath mats, are collected from 40 meters (131.2 feet) underground in Akita Prefecture and Ishikawa prefecture. The amount of radioactive contamination detected by the providers of the diatomite is close to zero. No cesium contamination has been detected.
Q12: How much weight can the bath mat handle?A
: The bath mat can handle up to 130 kg (286.6 lb).
Q13: Can I place another bath mat or a different material underneath and use it with the bath mat? A
: To preserve the natural performance of diatomite, the bath mats are not sintered after production, which means that it may crack or break. Please refrain from placing the bath mat on rugs or mats with deep pile lengths, cushioned and soft flooring, and places that are not flat.
---
Manufacturer: soil Co., Ltd.
soil Co., Ltd. was established as part of a new branch of business by isurugi Co., Ltd. a company that has been active in plasterwork since the Edo period. isurugi Co., Ltd. was founded in Kanazawa, Japan, and has a history that spans over more than a century. Not only has it participated in large-scale national projects such as the World Expo held in Osaka, but it has also developed many exceptionally skilled craftspeople who have received "Excellent Skill Awards" from the national government. soil Co., Ltd. is dedicated to the creation of new designs that feature the authenticity of traditional techniques.
http://soil-isurugi.jp/
---
Japan Crafts Premium Collection
This project allows us to share both the culture and appeal of Japan with the rest of the world by combining the popularity of the internationally-known Fate series and traditional Japanese handicraft produced by the most skilled craftspeople. We are focused on creating products that are not only strongly connected to the world of the series, but are also of the highest quality.


Lives Inc. has dedicated over a decade towards the establishment of a vast network of manufacturers and craftspeople in various handicraft producing areas in Japan. Utilizing their network, the company is active in the development of custom-made products.
Tokyo Otaku Mode operates one of the largest Japanese pop culture media outlets in the world and has delivered products to over 100 countries and regions through their international e-commerce platform. This project is a collaborative effort that utilizes the strengths of both Lives Inc. and Tokyo Otaku Mode.
The appeal of Japan to the rest of the world, Lives Inc.:http://www.lives.ne.jp/
Let's Enjoy OTAKU Life! Tokyo Otaku Mode Inc.:https://otakumode.com/
---
Q: When will I be charged?A
: You will be charged immediately upon backing the project.
Q: When will rewards be shipped out?
A: Rewards are scheduled to be shipped out in JAN 2018.
Q: Where will rewards be shipped from?
A: Rewards will be shipped directly from Tokyo Otaku Mode in Japan.
Q: How will you ship the rewards?
A: Rewards will be shipped by EMS.
Q: I noticed that all prices are displayed in Japanese Yen. If I am paying with foreign currency, how will exchange rates affect my payment?
A: Rates may differ between credit card companies. Please contact your credit card company for further information.
Q: Will I need to pay any additional import duties, VAT, customs taxes, or local handling fees when receiving my reward?
A: Depending on your country's customs laws, you may be required to pay a tax before obtaining your package. In some areas, such as the United Kingdom and France, the local postal service may charge an extra handling fee for processing packages affected by customs taxes. Payment of customs taxes and any possible handling fees is the responsibility of the purchaser.
Q: Why can't I click the "Reserve" button?
A: Please ensure that you have filled out your payment method and shipping information and try again. Instructions are available here.
Q: Are the rewards that ship to Japan and ship internationally different?
A: No. The rewards are the same. The only difference is the shipping cost.




©TYPE-MOON・ufotable・FSNPC