Following the Cardcaptor Sakura - Clear Card - Silver Necklaces comes the second line in our new Cardcaptor Sakura - Clear Card - accessories series. These silver rings are also made by U-TREASURE, a jewelry company that designs genuine character jewelry for adults.
Like the necklaces, the silver rings are also based off of the character motifs of Sakura, Syaoran, and Yue. Each ring features cute and beautiful delicate designs that perfectly match each character.
![file](https://d3ieicw58ybon5.cloudfront.net/ex/960.640/project_description/14a2cd7084e64d59b1525c7e6c8d0f30.jpg) A ring that embodies Sakura-chan's cuteness and kindness in the image of cherry blossom flowers. Her words, "Everything will be all right," seem like they will protect you. The openwork pattern is a cherry blossom and stars with a pink sapphire jewel in Sakura-chan's image color in the center. The cute design is full of Sakura-chan's adorable character. The delicate and fine design has little volume and its sweet, feminine image will transfer to you when you wear it. ![file](https://d3ieicw58ybon5.cloudfront.net/ex/960.640/project_description/0f398b6298624892bf8f75986f639cc4.jpg) A ring which delicately recreates Syaoran's Rashinban. Kind and serious Syaoran will use his Rashinban to guide you. The ring's motif is based on the Rashinban and holds a peridot jewel in the center in Syaoran's image color. The delicate pattern is sure to captivate your attention, making you feel like Syaoran is always by your side. The ring is simple but not too casual, making it the perfect accessory for an adult woman's everyday wear. ![file](https://d3ieicw58ybon5.cloudfront.net/ex/960.640/project_description/22a1d17aea5b4506ba3f73e2e43e8dcd.jpg) Yukito and Yue are two entities who can never part. This ring was made in the image of these two inseparable beings who share a body, accepting each other's presence. The delicate snow crystal and crescent moon motif gives off a calm and elegant impression. An amethyst in the characters' image colors has been used, giving the ring a mysterious aura.
Images are of products in development. The actual product may differ from images.
Each ring comes in a special jewelry box and includes a bookmark as well as an original diatomite coaster that is not for sale. The illustrations on the coasters feature the same characters as the ring.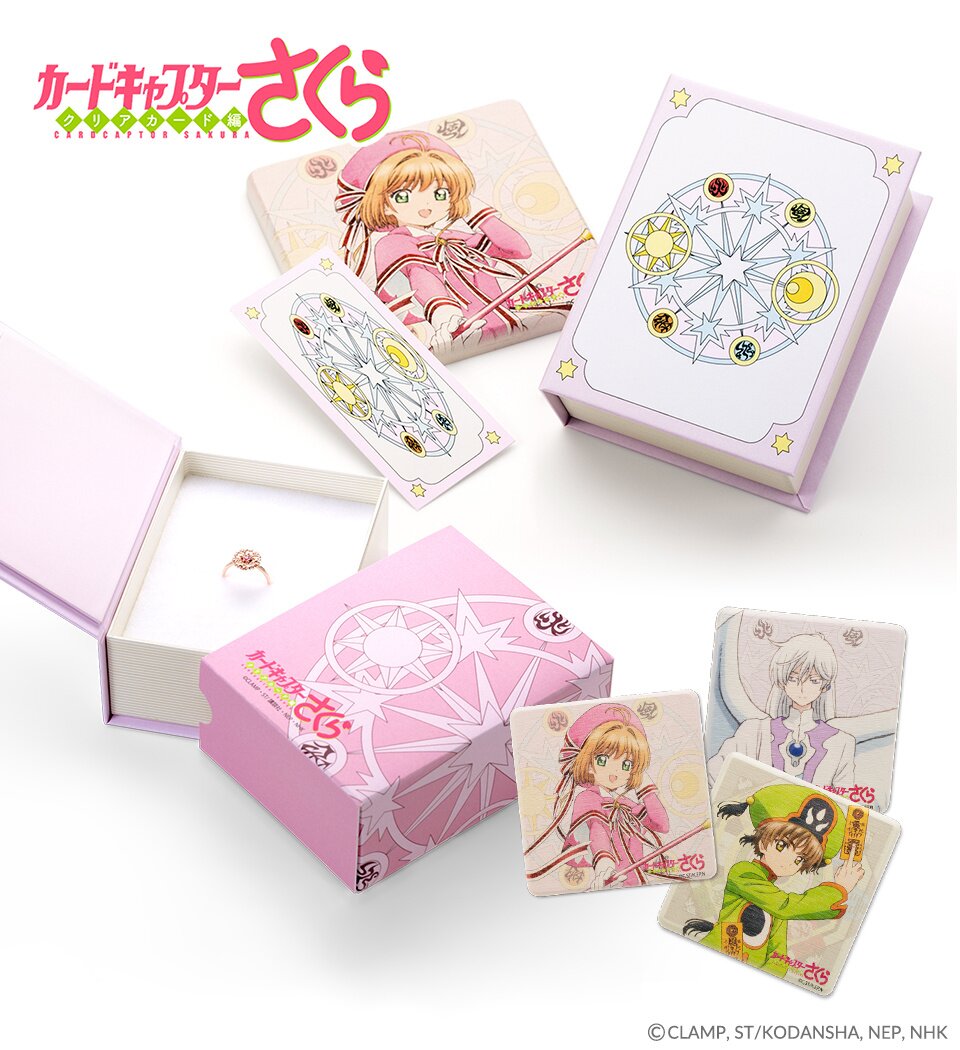 Materials: Silver, rhodium coating
Sizes: 5~18
Comes with a jewelry box, bookmark, and diatomite coaster.
| Sizes (Japanese) | Sizes (US & Canada) | inside diameter (mm/Inches) | inside circumference (mm/Inches) |
| --- | --- | --- | --- |
| 5 | 3 1/2 | 14.4/0.567 | 45/1.77 |
| 6 | 3 5/8 | 14.56/0.573 | 45.74/1.8 |
| 7 | 4 | 14.86/0.585 | 46.68/1.84 |
| 8 | 4 1/2 | 15.27/0.601 | 47.97/1.89 |
| 9 | 5 | 15.7/0.618 | 49.32/1.94 |
| 10 | 5 3/8 | 16/0.63 | 50.27/1.98 |
| 11 | 5 1/2 | 16.1/0.634 | 50.58/1.99 |
| 12 | 6 | 16.51/0.65 | 51.87/2.04 |
| 13 | 6 1/2 | 16.92/0.666 | 53.16/2.09 |
| 14 | 7 | 17.35/0.683 | 54.51/2.15 |
| 15 | 7 1/2 | 17.75/0.699 | 55.76/2.2 |
| 16 | 8 | 18.19/0.716 | 57.15/2.25 |
| 17 | 8 1/2 | 18.53/0.729 | 58.21/2.29 |
| 18 | 9 | 18.89/0.748 | 59.34/2.35 |
[Expected Shipping Period]
March 2019
Finally, we have received great praise for our Cardcaptor Sakura - Clear Card - Silver Necklaces and will be reopening sales for them! We will also be accepting pre-orders for ring and necklace sets. We will be accepting orders for necklaces through the Tokyo Otaku Mode Shop. ![file](https://d3ieicw58ybon5.cloudfront.net/ex/960.640/project_description/340329bbdf7d427a81a8d368561433f9.jpg)
[Project Page]
https://otakumode.com/projects/CCSakura_Silver_Necklace
[Cardcaptor Sakura - Clear Card - Silver Necklaces Pre-order Period]
November 19, 2018 - 11:59 PM (JST) on December 25, 2018
Please understand that we may extend or shorten the pre-order period without warning.
---
![file](https://d3ieicw58ybon5.cloudfront.net/ex/720.507/project_description/201d2c108c8741bdab672054b49a0c93.jpg) Sakura, after gathering the Clow Cards and stopping them from bringing misfortune onto the world, changed them to her own cards using her own power. Now it's April, with the cherry blossoms in full bloom, and she's a first-year middle school student. There, she meets Syaoran again after his return from Hong Kong. Though they delight in being able to go to school together, Sakura discovers one night that the cards she gathered have changed...! Throughout the town of Tomoeda, mysterious things keep occurring. Led by the key that she obtained in a dream, Sakura once more begins to gather the cards. Among all of this chaos, a new girl transfers to her class...
[Staff]
Original work: CLAMP
Director: Morio Asaka
Series Editor and Screenwriter: Nanase Ohkawa
Costume and Card Designer: Mokona
Character Designer: Kunihiko Hamada
Music Director: Masafumi Mima
Music: Takayuki Negishi
Animation Production: Madhouse
[Cast]
Sakura Kinomoto: Sakura Tange
Keroberos: Aya Hisakawa
Tomoyo Daidouji: Junko Iwao
Syaoran Li: Motoko Kumai
Akiho Shinomoto: Minori Suzuki
Yuna D. Kaito: Natsuki Hanae
Fujitaka Kinomoto: Hideyuki Tanaka
Touya Kinomoto: Tomokazu Seki
Yukito Tsukishiro/Yue: Megumi Ogata
Eriol Hiiragizawa: Nozomu Sasaki
Kaho Mizuki: Emi Shinohara
Spinel Sun: Yumi Touma
Nakuru Akizuki/Ruby Moon: Ryouka Yuzuki
Takashi Yamazaki: Issei Miyazaki
Chiharu Mihara: Miwa Matsumoto
Naoko Yanagisawa: Emi Motoi
Cardcaptor Sakura Official Site: http://ccsakura-official.com
![file](https://d3ieicw58ybon5.cloudfront.net/ex/148.85/project_description/7031142a12f4464ab37b38e46b03df86.png) Your memories become treasures… For those of you who want to collect character merchandise proudly, and for those of you want to wear fashionable yet playful items even as an adult…
This brand was made to make those desires into reality.
Even the smallest detail is made to perfection with the skills that only seasoned artisans hold.
Please enjoy these authentic character jewelry, accessories, and merchandise made for adults.
U-TREASURE Official Site: https://www.u-treasure-onlineshop.jp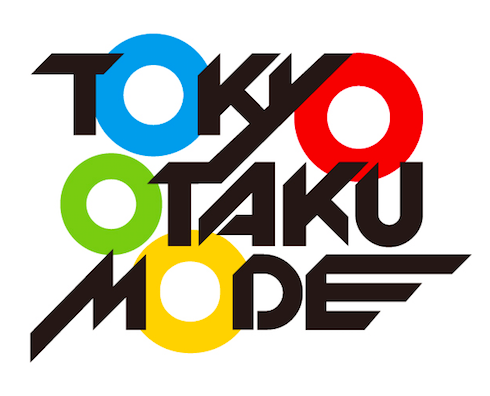 Tokyo Otaku Mode (TOM) shares with the world the latest Japanese pop culture news through its Facebook page, which has over 20 million likes, and sells products related to Japanese anime, manga, games, music, and fashion through its website, the Tokyo Otaku Mode Shop.
Corporate Website: https://corporate.otakumode.com/
©CLAMP, ST/KODANSHA, NEP, NHK
Q: When will rewards be shipped out?

A: They are scheduled to be shipped starting in March 2019 after production is complete.
Q: What payment methods are there?

A: We accept credit/debit card and Paypal.
Q: Where will rewards be shipped from?

A: Rewards will be shipped directly from Tokyo Otaku Mode in Japan.
Q: Why can't I press the "Reserve" button?

A: Please ensure that you have filled out your payment method and shipping information and try again.
Q: Are the rewards that ship to Japan and ship internationally different?

A: No. The rewards are the same. The only difference is the shipping cost.
Q: How will you ship the rewards?

A: Rewards will be shipped by EMS.
Q: Will I need to pay any additional import duties, VAT, customs taxes, or local handling fees when receiving my reward?

A: Depending on your country's customs laws, you may be required to pay a tax before obtaining your package. In some areas, such as the United Kingdom and France, the local postal service may charge an extra handling fee for processing packages affected by customs taxes. Payment of customs taxes and any possible handling fees is the responsibility of the purchaser.
Q: Can I change my Shipping address?

A: Shipping address can be changed via your My Projects page. Please note that the shipping address is no longer changeable after we enter shipping preparations. The option will disappear once we enter shipping preparation.
Q: Can I cancel any order?

A: We do not accept cancellations.
Q: Will this item be sold in shops other than Tokyo Figure and Tokyo Otaku Mode?

A: The products will also be offered for wholesale to local distributors in select territories, and we expect that they will in the future become available from retailers with access to these distribution channels.