Since it was first broadcasted 22 years ago, the Evangelion has continued to be loved by fans all over the world. Through this project, we have created a product worthy of the beloved Evangelion that fans can cherish for the rest of their lives.
EVANGELION × Ring Watch comes in two Plug Suit-based designs: the Rei Ayanami & tentative name: Rei Ayanami Model as well as the Shinji Ikari & Kaworu Nagisa Model. We were very particular about not just the designs, but also about the materials used. The base of the Ring Watches is made of 925 Sterling Silver, and a ruby has been set onto the crown.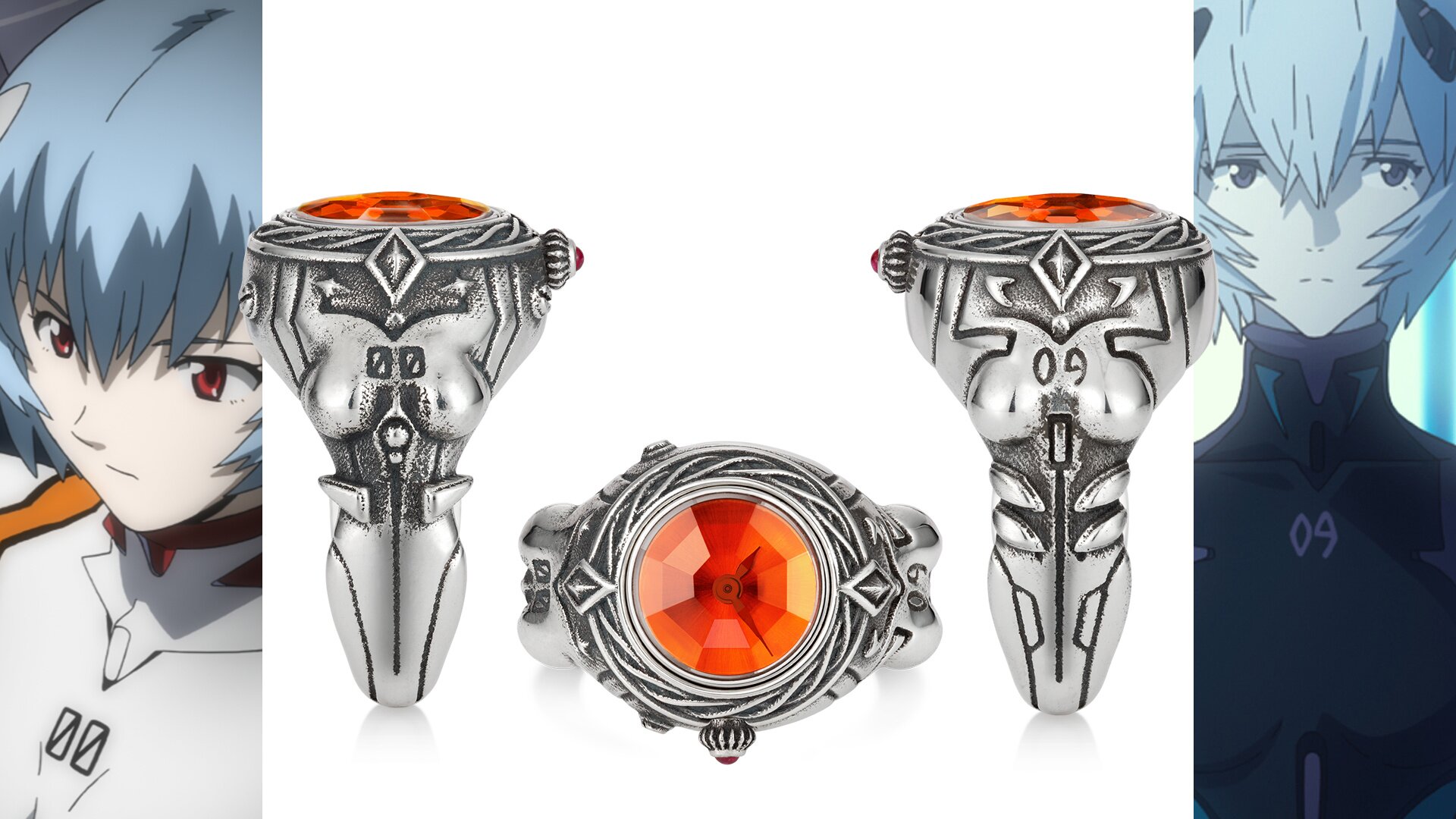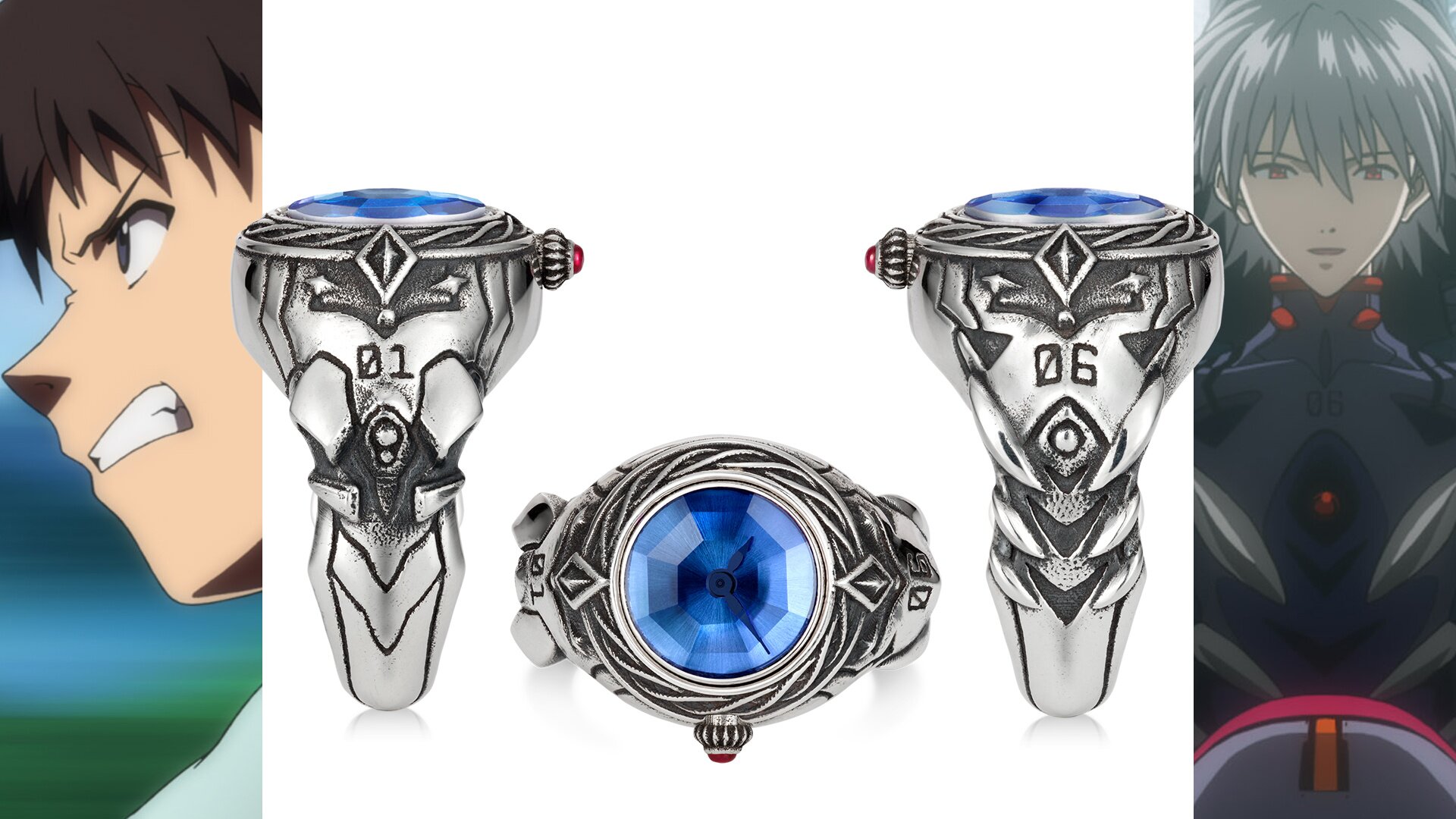 ・Rei Ayanami & tentative name: Rei Ayanami Model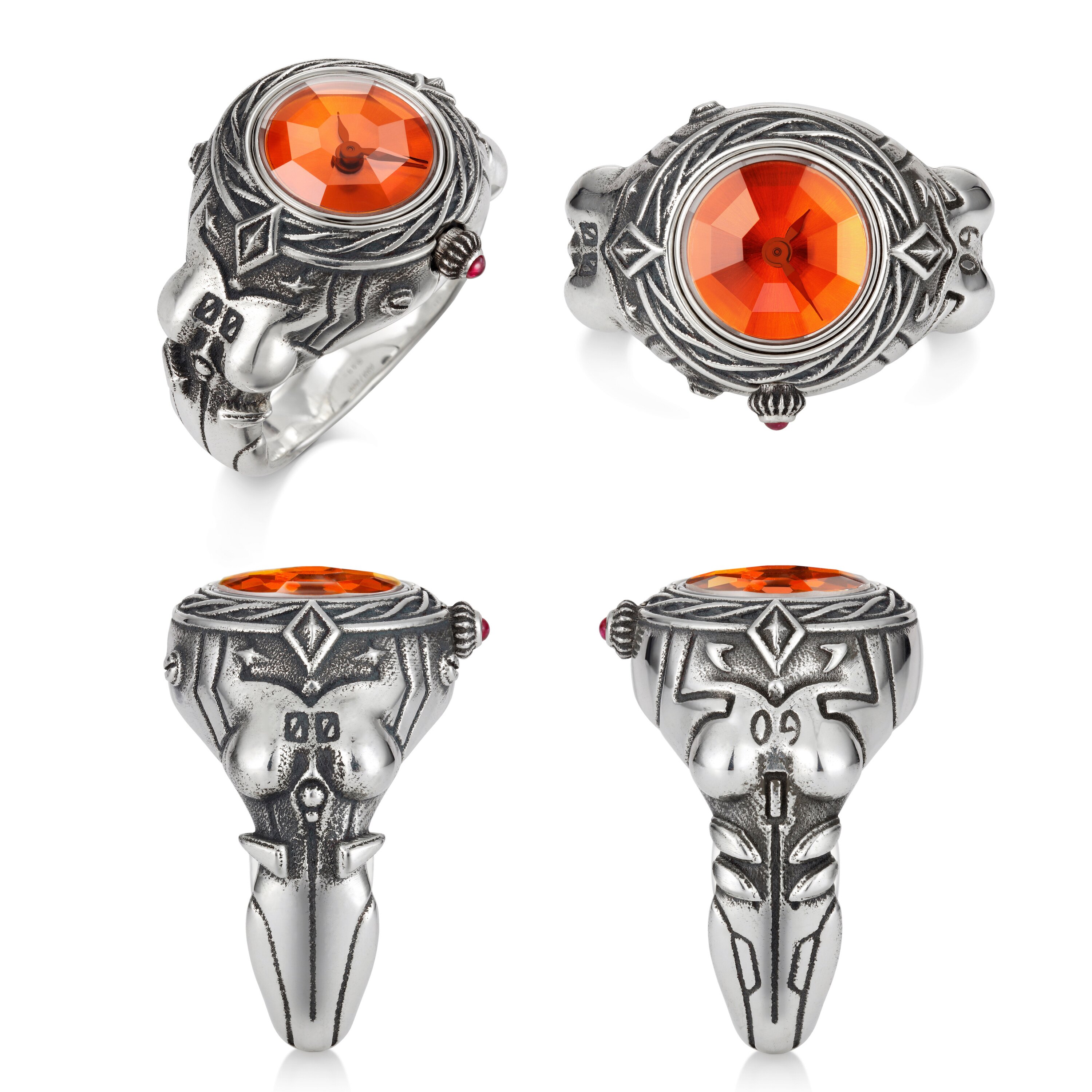 EVANGELION × Ring Watch Rei Ayanami & tentative name: Rei Ayanami
*Limited to 100 units with serial numbers
・Shinji Ikari & Kaworu Nagisa Model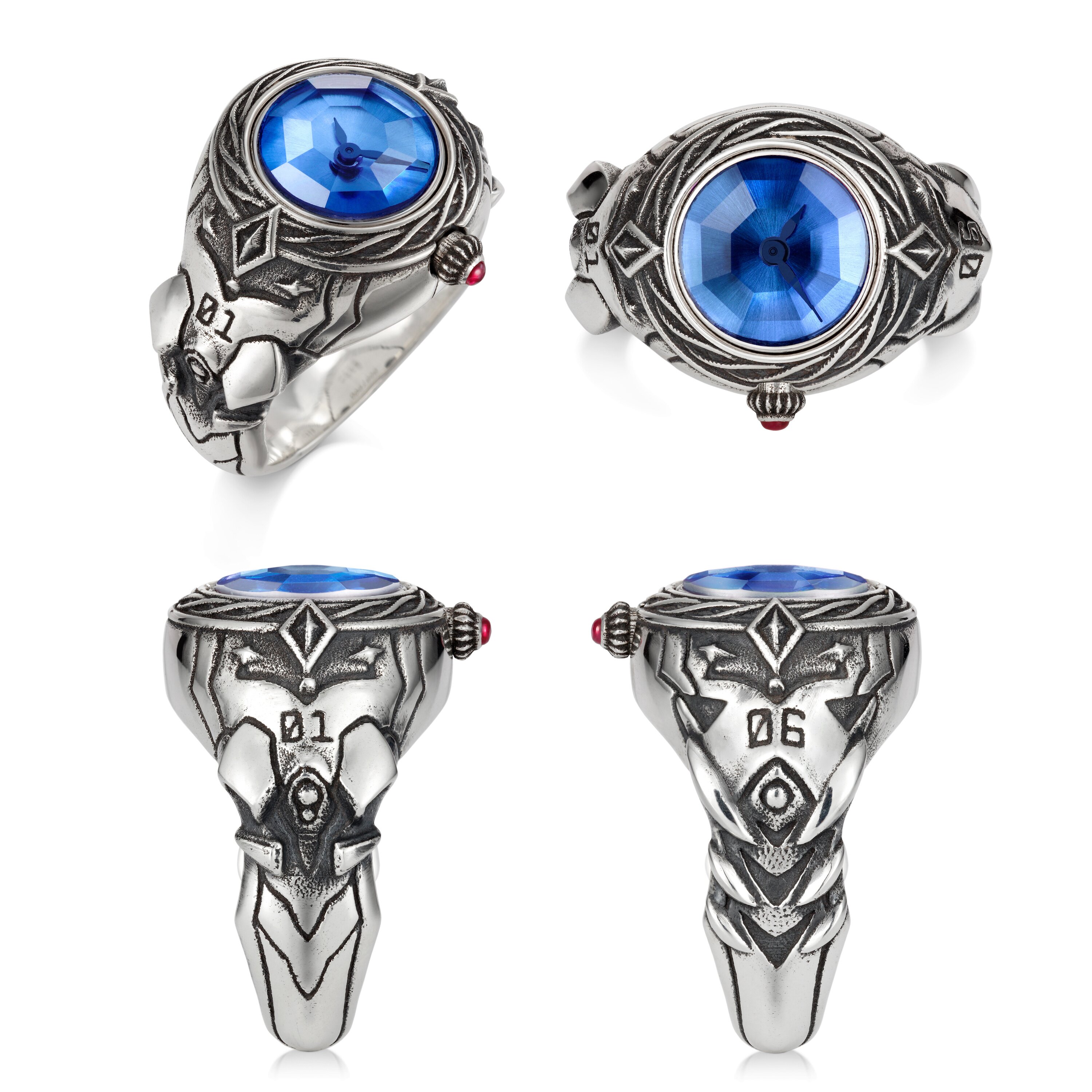 EVANGELION × Ring Watch Shinji Ikari & Kaworu Nagisa
*Limited to 100 units with serial numbers
· Ring Sizes: 10~20

· Type: Analog watch with two hands (hour and minute)
· Movement: Japanese quartz movement
· Accuracy: Average monthly difference within ± 20 seconds
(at temperatures from 5 to 35°C / 41 to 95°F )
· Material: 925 Sterling Silver, stainless steel (watch case), sapphire glass, ruby (1 piece), Japanese quartz movement
· Water Resistance: -3 ATM (for daily use)
· Other Details: Coin cell batteries (lifetime ~2 years), limited to 100 units with serial numbers per model
· Made in Japan
On the shank of each Ring Watch are realistic three-dimensional representations of each pilot's figure in their Plug Suits. The ruby set on the crown corresponds to the chest section of Plug Suits.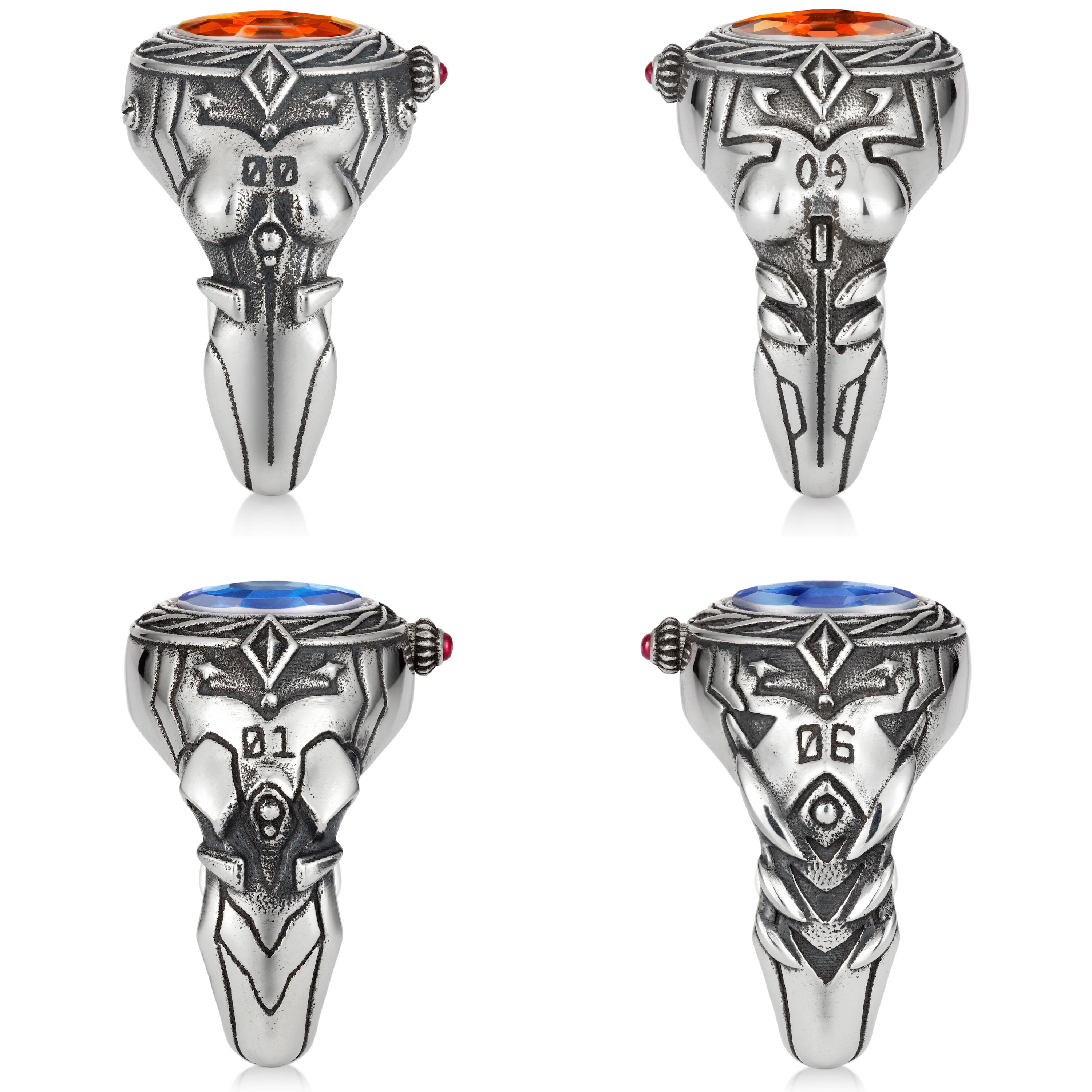 The glass casing resembles the octagonal form of A.T. Field, and the bezel (frame of the casing) features pulse waves designed in the image of Synchronization Rates.

Special Bonus: Jewelry Cloth (not for sale and available only in limited quantities)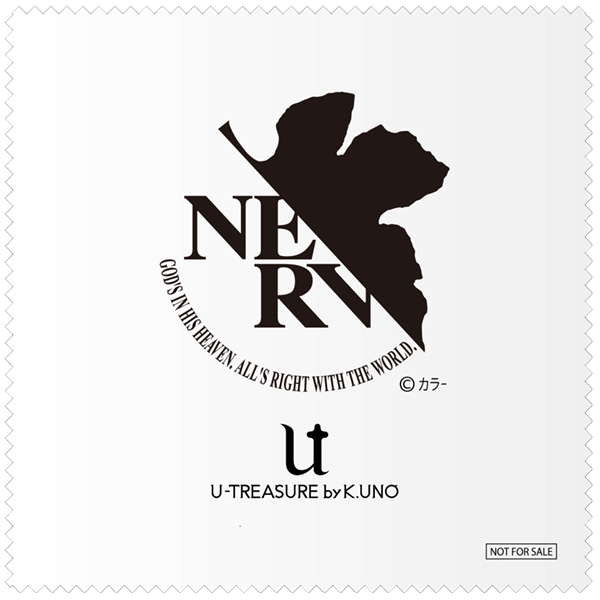 Images of the Product on Our Model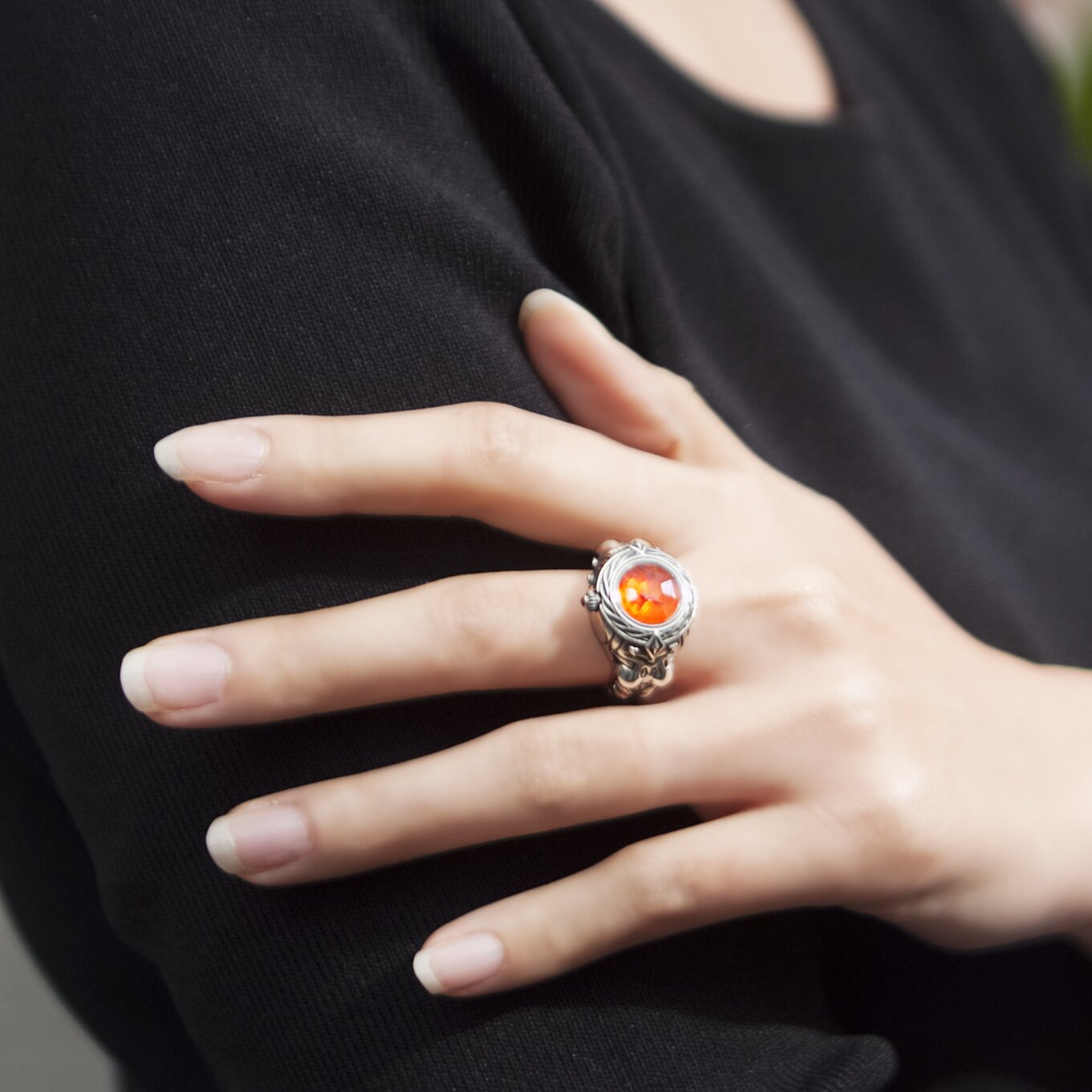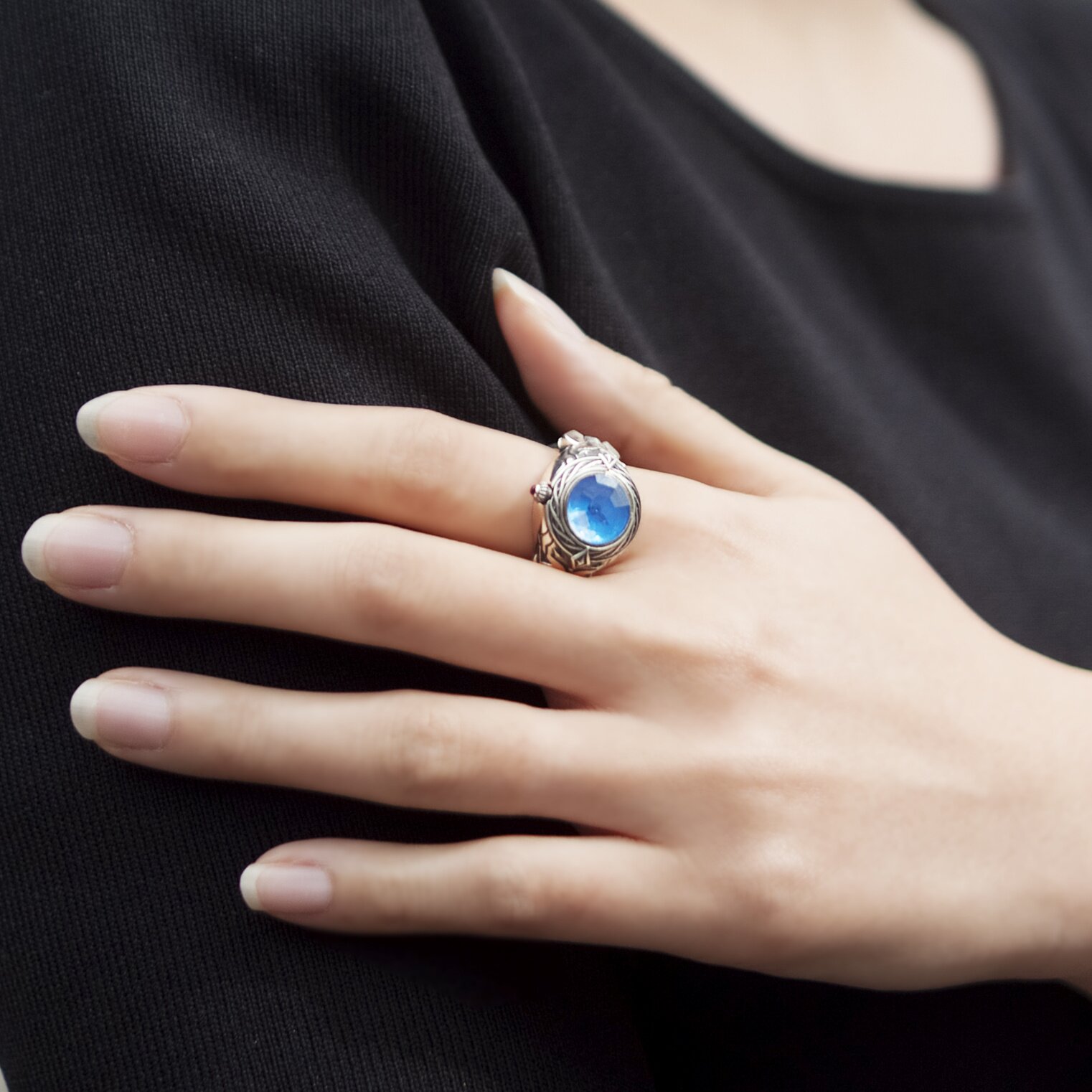 Pre-orders open from 10:00 am (JST) on December 22, 2017 Pre-orders period ends at 11:59 pm (JST) on February 19, 2018 Rewards are expected to be manufactured and shipped from March 2018 Pull the crown from its normal position and turn it to set the hour minute hands to the appropriate time. Then, push the crown back to its original position.
EVANGELION
Evangelion, which started with the TV series Neon Genesis Evangelion that began broadcasting in 1995, is one of the most popular anime worldwide. Set after the global cataclysm Second Impact, the series depicts the young boys and girls who pilot Humanoid Decisive Weapons called Evangelion and their fight against mysterious invaders called Angels. In 2007 a new movie tetralogy began, capturing the hearts of fans of all ages. Three movies in the tetralogy have been released to date.
U-TREASURE http://www.u-treasure-onlineshop.jp
A brand specializing in genuine character-based jewelry and goods for adults. In addition to faithfully reproducing the characters, it combines functionality and beauty to create masterpieces with great detail. U-TREASURE fulfills the dreams of those who wish to "collect character jewelry which they can secretly boast about" and of adults who want to "stylishly wear playful items."
Q: When will rewards be shipped out? A: They are scheduled to be shipped starting April 2018 after production is complete.
Q: Where will rewards be shipped from?
A: Rewards will be shipped directly from Tokyo Otaku Mode in Japan.
Q: I noticed that all prices are displayed in Japanese Yen. If I am paying with foreign currency, how will exchange rates affect my payment?
A: Rates may differ between credit card companies. Please contact your credit card company for further information.
Q: Why can't I click the "Reserve" button?
A: Please ensure that you have filled out your payment method and shipping information and try again.
Q: Are the rewards that ship to Japan and ship internationally different?
A: No. The rewards are the same. The only difference is the shipping cost.
Q: How will you ship the rewards?
A: Rewards will be shipped by EMS.
Q: Will I need to pay any additional import duties, VAT, customs taxes, or local handling fees when receiving my reward?
A: Depending on your country's customs laws, you may be required to pay a tax before obtaining your package. In some areas, such as the United Kingdom and France, the local postal service may charge an extra handling fee for processing packages affected by customs taxes. Payment of customs taxes and any possible handling fees is the responsibility of the purchaser.