The live-action Tokyo Ghoul film premiered in Japan on July 29. To celebrate, a special event was held at Shinjuku's Piccadilly where the director and cast members went on stage in front of a fan-packed crowd!
Director Hara Kentarou and cast members Kubota Masataka, Suzuki Nobuyuki, Oizumi You, Murai Kunio, Sakurada Hiyori, Ogasawara Kai, and Shiraishi Shinya commented on the current success of the film and their enjoyment in working on the project. Afterward, they were split into two teams and pit against each other to test their knowledge of Tokyo Ghoul with a surprise quiz battle!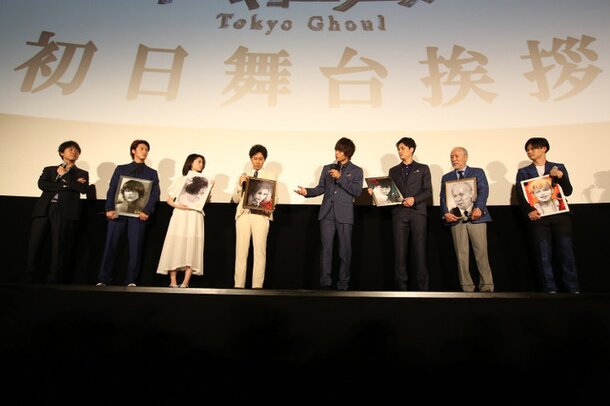 "Team Ghoul" (Kubota, Murai, Sakurada, Shirashi) and "Team Human" (Suzuki, Oizumi, Ogasawara, Hara) were all asked difficult questions related to the series like "What's the name of the coffee Yoshimura recommends?" and "What's the name of Mado Kureo's wife?"
While it was a close call, it seems "Team Human" had brushed up just a bit more on their Tokyo Ghoul history!
During the final stage of the event, each cast member was overjoyed to be gifted illustrated versions of themselves by none other than Tokyo Ghoul author Ishida Sui! Let's face it, who wouldn't be when receiving an awesome gift from a talented manga artist like Ishida?
(C) 2017 Tokyo Ghoul Production Committee
(C) Ishida Sui / Shueisha