Nintendo has announced the release of the Nintendo Classic Mini Super Famicom, a new compact version of the popular Super Famicom console that came out in 1990. The Mini Super Famicom will be sold for 7,980 yen (before tax), hitting the shelves on Oct. 5.
It will come with two controllers of the same size and the same button layout as the original for a nostalgic gaming experience as well as an USB cable for charging (AC adapter sold separately) and a HDMI cable for connect the console to a TV or monitor.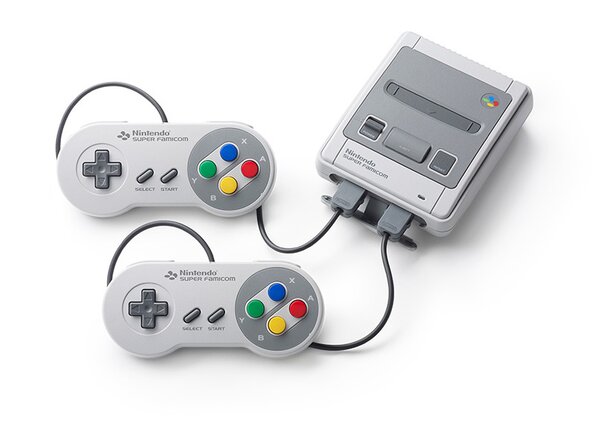 The Nintendo USB AC Adapter will release the same day as the console, retailing for 1,000 yen (before tax), but you can also use the currently available Nintendo Mini Family AC Adapter for Computers.
But most importantly, the game library! The Mini Super Famicom will include 21 popular titles of the '90s including Star Fox 2, which was cancelled just before its completion, making this the game's first release. Although you can't expand the library with cartridges or downloads, 21 of the most iconic Famicom games should be enough to send you back in time and help you relive your glorious childhood years!
Games included:
Super Mario World, F-Zero, The Legend of the Mystical Ninja, Super Ghouls 'n Ghosts, The Legend of Zelda: A Link to the Past, Super Soccer*, Contra III: The Alien Wars, Super Mario Kart, Star Fox, Secret of Mana, Mega Man X, Fire Emblem: Mystery of the Emblem, Super Metroid, Final Fantasy VI, Super Street Fighter II, Donkey Kong Country, Super Mario World 2: Yoshi's Island, Panel de Pon, Super Mario RPG, Kirby Super Star, Star Fox 2
©Nintendo.
©Capcom Co., Ltd. All Rights Reserved.
©Konami Digital Entertainment
©Square Enix Co., Ltd. All Rights Reserved.
©Spike Chunsoft Co., Ltd. All Rights Reserved.