Also known as Momo no Sekku ("Peach Flower Festival") or Hinamatsuri ("Doll Festival"), Girls' Day is celebrated each year in Japan on March 3. It's a special day on which families with daughters pray for their health and happiness. If you want to join the festivities, the Royal Park Hotel in Tokyo has a special treat in store at the Royal Delica delicatessen on the first floor! Orders for the Royal Delica's Hinamatsuri Cake can be placed from Friday, Feb. 10, and it's a fun and cute way to celebrate Girls' Day.
■ This Unique Cake Features a Strawberry Roll Cake, a Plain Roll Cake, and a Matcha Roll Cake All Joined Together!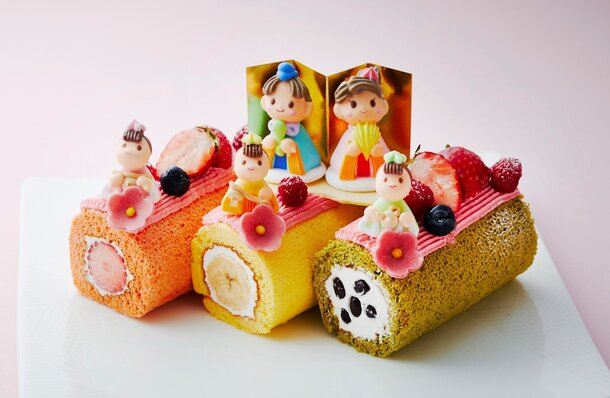 Based on the concept of "Girls' Day sweets that can be enjoyed by children and adults alike," this unique and beautifully decorated cake features a strawberry roll cake, a plain roll cake, and a matcha roll cake joined together. The delicatessen's patissier insists on adding honey to both the sponge cake and the fresh cream, resulting in a cake that's both moist and fluffy. The honey gives the cream a natural aroma and a subtle sweetness, creating a truly refined cake.
■ Cakes Based on the Emperor and Empress Dolls and the Diamond-Shaped Hishimochi Rice Cake Are Also Joining the Menu!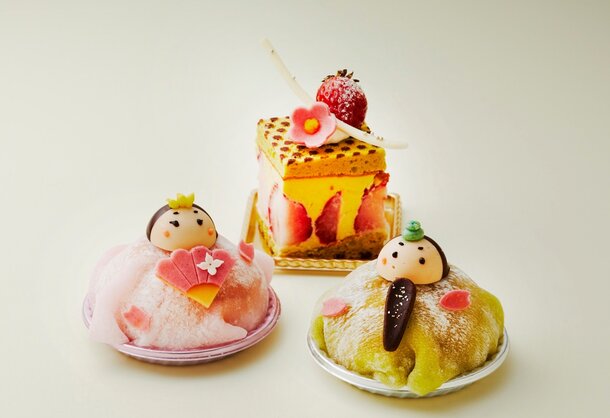 Make Girls' Day even more colorful this year with a range of adorable cakes! Modeled on the emperor and empress dolls from the Girls' Day doll set, these cakes feature Turkish delight for a wonderfully soft texture that's especially popular with children. This collaboration between Eastern and Western confectionery is sure to delight adults, too. There's also a sponge cake inspired by the diamond-shaped hishimochi rice cakes that are a popular Girls' Day treat. This playful and fun cake features a pistachio sponge cake with chocolate polka dots.
■ Hinamatsuri Cake Details
Order Period: From Friday, Feb. 10
Available in Store: Mar. 2−3
Store Location: Royal Park Hotel 1F delicatessen Royal Delica
Prices:
・Hinamatsuri Cake: ¥3,500 (¥3,780 including tax)
・Assorted Cakes: ¥500 each (¥540 including tax)
These cakes are only available for take-out.