You don't need Akashi's Eagle Eye to see that these messenger bags are seriously cool! The Kuroko's Basketball anime series teamed up with the bag brand Anonym Craftsman Design to create this collection of messenger bags inspired by the six high schools that appear in the anime series, and they're available through Bandai's apparel division. The **Kuroko's Basketball** Messenger Bags retail at ¥10,548 each (including tax, not including shipping and handling), and pre-orders started on Premium Bandai at 11:00 a.m. on Friday, Jan. 6, 2017.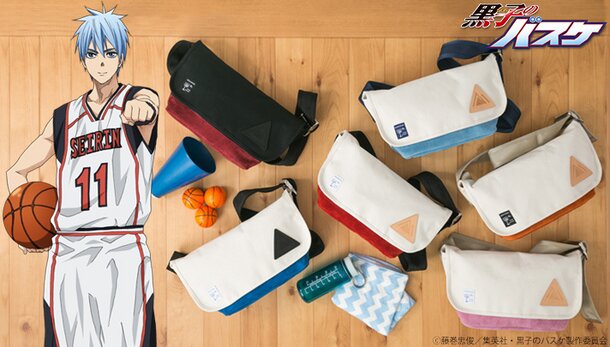 Click here to check out the product homepage!
■ Product Features
These bags are a collaboration between the incredibly popular anime series Kuroko's Basketball and Anonym Craftsman Design, a bag brand that offers stunning items created by Japanese artisans. The lineup of six designs includes Seirin High (the school of the main protagonist Tetsuya Kuroko), Kaijo High, Shutoku High, Too Academy, Yosen High, and Rakuzan High.
Based on a classic messenger bag style, these shoulder bags are made from cotton canvas with suede on the bottom half. The design may be stylishly simple, but there are plenty of details that fans of Kuroko's Basketball will love. Check out the way the fastener on each bag features the uniform colours of one of the schools!
Every bag is made with the utmost care by Japanese artisans, resulting in a beautifully designed bag that's perfect for daily use. The flap of each bag features a tag with the name of one of the schools and a basketball and basketball net in a unique, hand drawn style. The shoulder straps have metal fasteners that can be used to adjust the length of the straps easily, so you can make them shorter or longer to suit any outfit and style. The simple and elegant design of these bags make them the ideal accessory, whether you're a fan of Kuroko's Basketball or not!
■ Product Details
Name: **Kuroko's Basketball** Messenger Bags
Price: ¥10,548 each (including tax, not including shipping and handling)
Recommended Age: 15+
Bag Dimensions (approx.): 20 x 36 x 10 cm | 7.9" x 14.2" x 3.9"
Strap Length (max.): 100 cm | 39.4"
Product Materials:
・Top part of bag: 100% cotton
・Bottom part and base of bag: Suede
・Shoulder strap: PP
・Bag lining: Nylon
・Brand logo patch: Leather
Country of Manufacture: Japan
Available at: Premium Bandai, SuperGroupies, others
Pre-order Period: From 11:00 a.m. on Friday, Jan. 6 to 11:00 p.m. on Monday, Jan. 23, 2017
Estimated Delivery: May 2017
©Tadatoshi Fujimaki / Shueisha / Kuroko's Basketball Production Committee