Shine Co., Ltd., whose Itazura Banks are available for purchase at New York's Museum of Modern Arts store, have released a new photograph of their Pikachu Bank! The Pikachu Itazura Bank is a savings box starring the incredibly popular Pikachu, who appeared in the TV anime series Pokémon the Series: XY & Z and will also be featured in the new anime series Pokémon the Series: Sun and Moon. When you place a coin on top of the Pikachu Bank, Pikachu carefully collects it for you. How cute is that?! The Pikachu Bank is due to be released on Friday, Nov. 18 by sales agency Tomy Company, Ltd.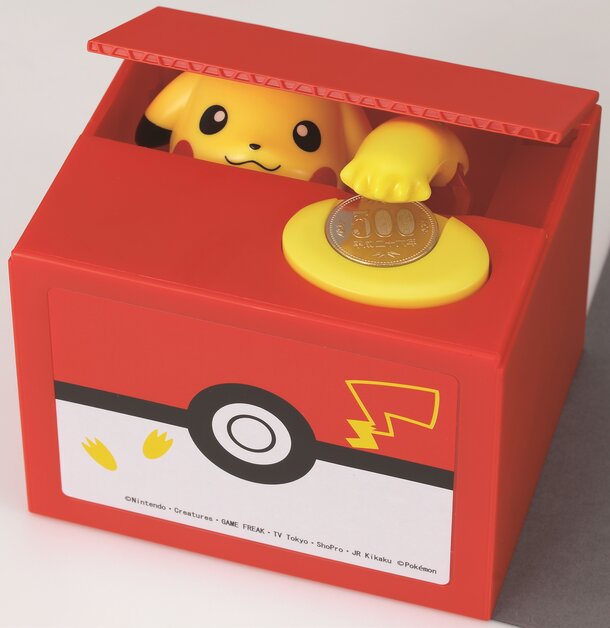 ■ About Pikachu Bank
After you set your coin on top of the Pokéball-like box, you can hear Pikachu's voice as it appears and carefully takes your coin. Pikachu can make 243 different sounds and has a number of actions to go along with them, as well, so you can have a lot of fun enjoying this bank.
■ Future Plans
The Pikachu Bank will be released on Nov. 18, and it will be available for purchase at toy stores in Japan nationwide. It can also be purchased on Amazon.co.jp, and pre-orders are available now. Information about new products is released on Shine's official website and through videos.
For current products, please see this page.
■ Pikachu Bank Summary
Name: Pikachu Bank
Estimated Release: November 2016
Price: 2,980 yen (3,218 yen after tax)
Available Through: Domestic shops and sites dealing with toys and miscellaneous goods
Dimensions: 102 x 126 x 106 mm | 4" x 5" x 4.2"
Required Batteries: 2 AA batteries (sold separately)
Target Age: 6 and older
Sales: Tomy Company, Ltd.
Marketing: Shine Co., Ltd.
*The bank is compatible with all coins used in Japan. Approximately 40 500-yen coins can be stored.*
Check out the Pikachu Bank on Amazon.co.jp!