In rugby, there's no ace striker or 4th batter. Here, anyone can become the star.
There's a massive amount of anime about a ton of different sports including Haikyu!!, The Prince of Tennis, Yowamushi Pedal, Diamond no Ace, Kuroko no Basuke, Free!, and Hajime no Ippo. Heck, even American football has Eyeshield 21! This means that just about anyone who plays a sport can enjoy an anime they can relate to, but rugby hasn't been a common one!
Since it started its serialization in Kodansha's Monthly Morning Two in Jan. 2013, Amase Shiori's rugby manga All Out!! has been the only one of its kind. 8 volumes of manga have been released since then, as well as a drama CD adaptation. Finally, over 3 years since its manga serialization began, its anime adaptation by Madhouse and TMS Entertainment will finally begin airing this October!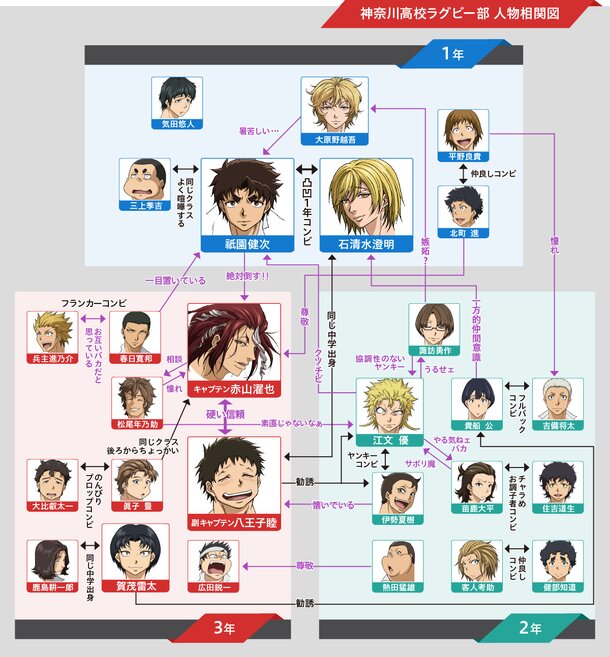 In preparation for that, news has been steadily released since Gion Kenji's birthday on July 1! This has included a ton of character art and casting details!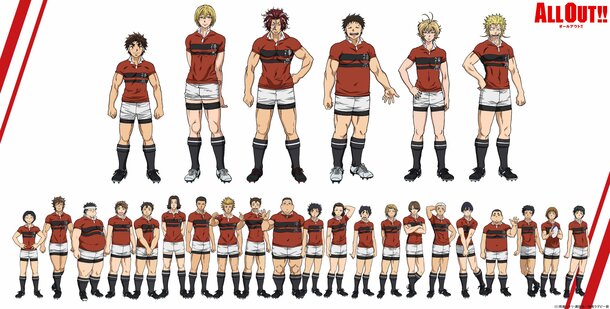 An exciting month is now coming to an equally exciting close with a final illustration featuring all 27 members of the Kanagawa Team, as well as a promo video! It shows the intensity of the cast and rugby, and ends with a seriously awesome cheer of kakatte koi! ("bring it on!") which will get you pumped for this new series.
The anime series will be directed by Shimizu Kenichi with a screenplay by Yokotani Masahiro and Irie Shingo and animation work by studios Madhouse, TMS Entertainment, Telecom Animation Film.
Cast
Chiba Shoya as Gion Kenji
Adachi Yuto as Iwashimizu Sumiaki
Hosoya Yoshimasa as Captain Sekizan Takuya
Osaka Ryota as Vice-Captain Hachioji Mutsumi
Murata Taishi as Ebumi Masaru
Ono Kensho as Oharano Etsugo
(C) Amase Shiori・Kodansha / Kanagawa Rugby Team
Airing on Tokyo MX, MBS, BS11, and others in Oct. 2016!