Fans can't get enough of the the handsome and talented idols from Uta no Prince-sama, and Kotobukiya is happy to oblige! Adorable gel charms with idols from Uta no Prince-sama: Maji Love Revolutions are releasing this September - all illustrated by popular artist Sakurai.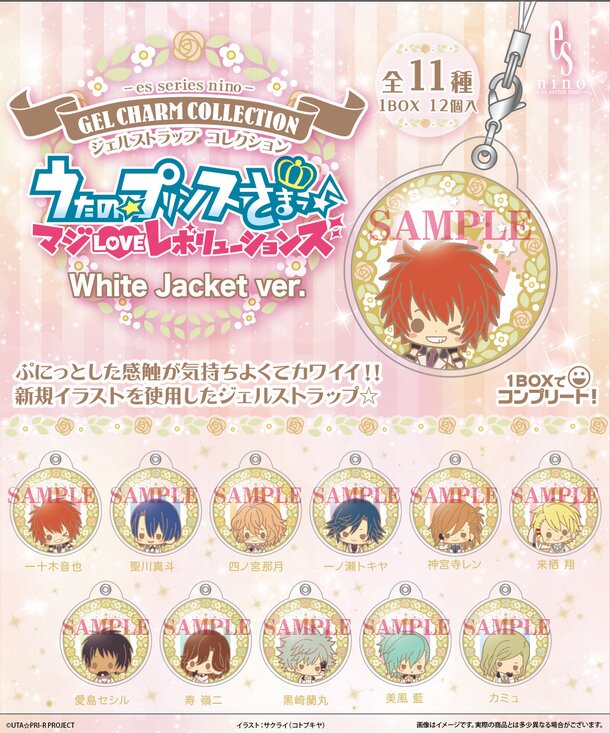 For those wondering exactly who'll be making an appearance on this lovely little straps, it'll be these fan-favorites: Ittoki Otoya, Masato Hijirikawa, Natsuki Shinomiya, Tokiya Ichinose, Ren Jinguji, Syo Kurusu, Cecil Aijima, Reiji Kotobuki, Ranmaru Kurosaki, Ai Mikaze, and Camus~! Totaling 11 characters, fans will have the chance to squish their cute chibi faces in between their fingers.
They're also aesthetically pleasing with their double-sided feature, so you can always sneak a peek at them from whichever direction. With a reasonable diameter of 6 centimeters, these are the perfect size to attach to your smartphones, purses, and anything else you can think of. The straps can also be removed if you can think of another way to use them.
And only at a Kotobukiya shop can you purchase a special box that comes with a limited-edition silver bag chain!
Product Details
Product Name: Uta no Prince-sama: Maji Love Revolutions Gel Charm Collection
Product Size: 6 cm
Price: 1 for 500 yen / Box for 6,000 yen (excluding tax)
Release Month: September 2016
Product Page: http://www.kotobukiya.co.jp/product/product-0000002108/
*This is a blind box set. One box contains 12 random items.*
*Kotobukiya stores are located in Akihabara, Nipponbashi, Tachikawa, and online.