Do you have a piggy bank? Because if not, you might be tempted by this piece: Shine, a toy company whose products are also present at the MoMA Store of the New York Museum of Modern Arts, is releasing Hello Kitty Bank in September! This is the first volume of the renewed Itazura Bank series, a line of cute characters who help you save your money with electronic gimmicks.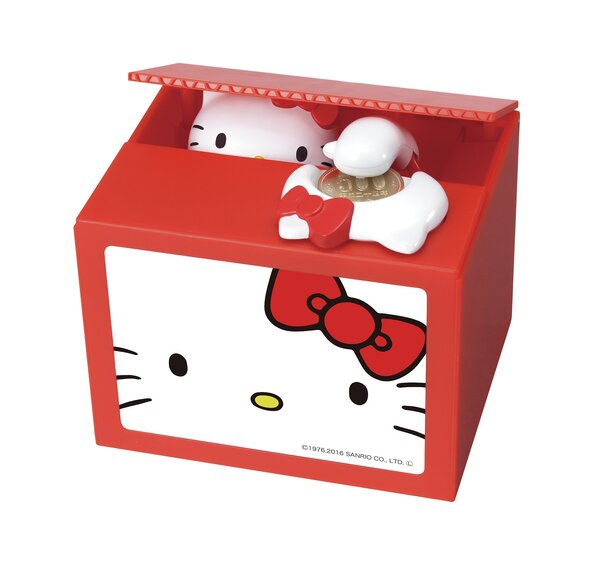 Hello Kitty Bank will be on display at the Tokyo Toy Show 2016 being held from June 9–12 at Tokyo Big Sight along with the Awamoko 3D Pen which uses hand soap to create 3D art and the New Kumamon Bank.
About Itazura Bank
Ever since its release in 2009, Itazura Bank, a series of playful savings boxes, has been loved all around the world, with a total of 500,000 pieces sold and a 200% growth compared to last year.
Itazura Banks can come in shapes of animals and characters, including world-renowned characters such as Kumamon and Godzilla.
Itazura Banks were made on the concept of saving money in a fun way, which goes as follows: When you put a coin on the cardboard tray, an animal or a character will appear with a sound, hide the coin, and a sound plays again. At present, Itazura Banks are not only valued as savings boxes but also as interesting items, which can be seen in the number of Itazura Bank videos uploaded to video sharing sites.
The renewed version called New Itazura Bank will be similar to the original series and keep its popular function, but it will come with a revised design, improved movement, added rare voices (only for the cat types), and it will also be more silent compared to its predecessor. The first piece in the remake series will be Hello Kitty, a character known and loved worldwide.
About the Hello Kitty Bank
The Hello Kitty Bank was designed mostly with Kitty's adult fans in mind. The package and the front feature old school designs of Kitty, just the way her fans have loved her for 40 years. The red box, which was based on the first ever Hello Kitty product, the Petite Purse, and the coin tray will also bring a nostalgic smile to fans with its cute design and color. When you place a coin on it, one of four random tunes will play as Kitty reaches out to grab it.
Information about the Hello Kitty Bank, the New Itazura Banks, and other new products will be introduced on the official Shine website, so it's worth keeping an eye out.
Hello Kitty Bank Details
Release: Early September 2016
Price: ¥2,980 (with tax: ¥3,218)
Sold at: Japanese stores dealing in toys & miscellaneous goods, webshops
Dimensions: 112 x 126 x 106 mm | 4.4" x 5" x 4.2"
Batteries: 2 AA batteries (sold separately)
Recommended Age: 6+
Saving Capacity: 40 ¥500 coins
© 1976, 2016 Sanrio Co., Ltd. Tokyo, Japan
New Itazura Bank Details
Available Models: Calico, Tiger, American Shorthair, Tabby, Panda
Release: Mid-September 2016
Price: ¥2,300 (with tax: ¥2,482)
Sold at: Japanese stores dealing in toys & miscellaneous goods, webshops
Dimensions: 102 x 126 x 106 mm | 4" x 5" x 4.2"
Batteries: 2 AA batteries (sold separately)
Recommended Age: 6+
Saving Capacity: 40 ¥500 coins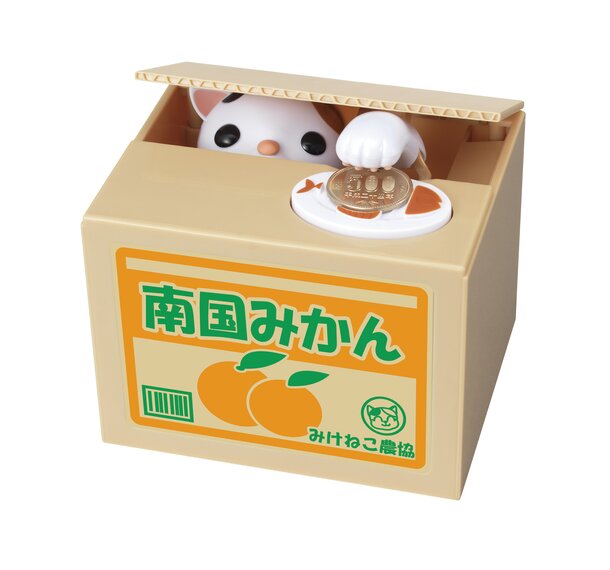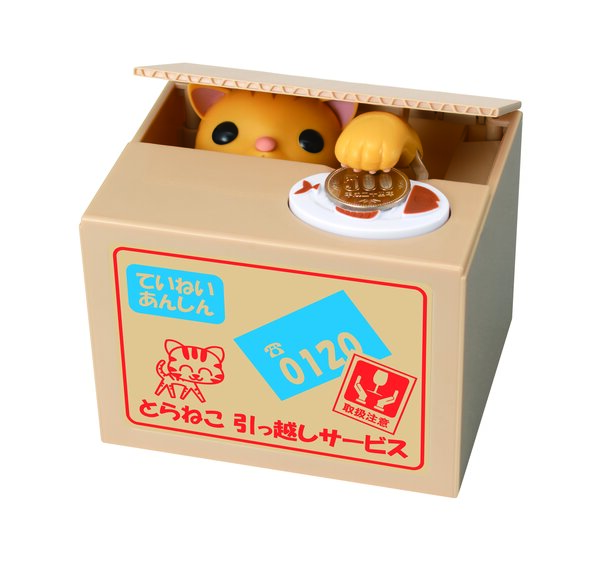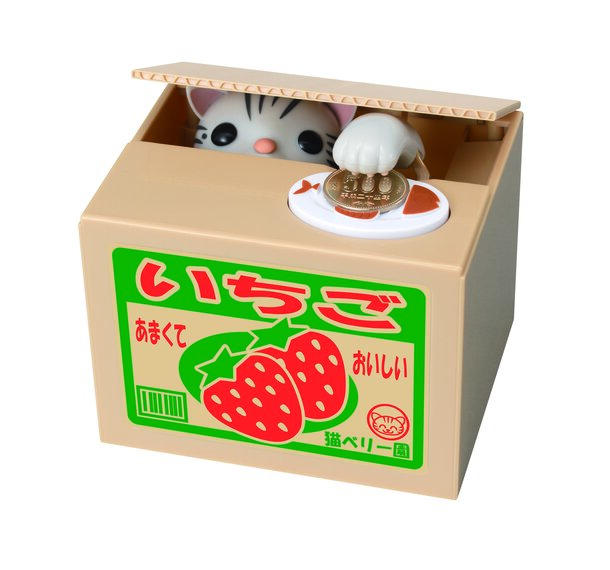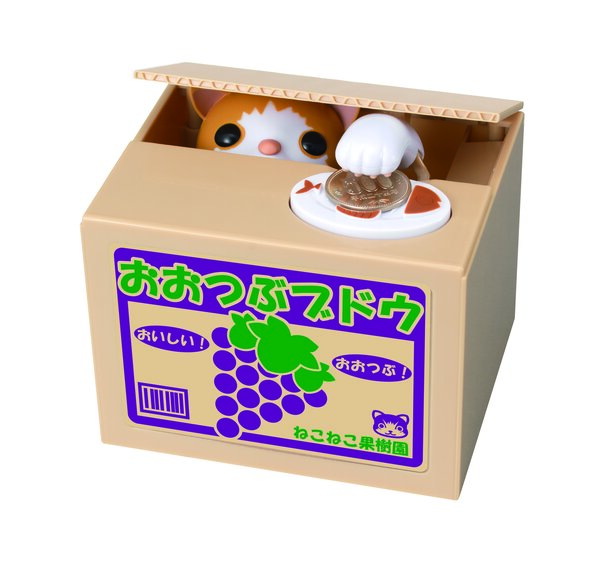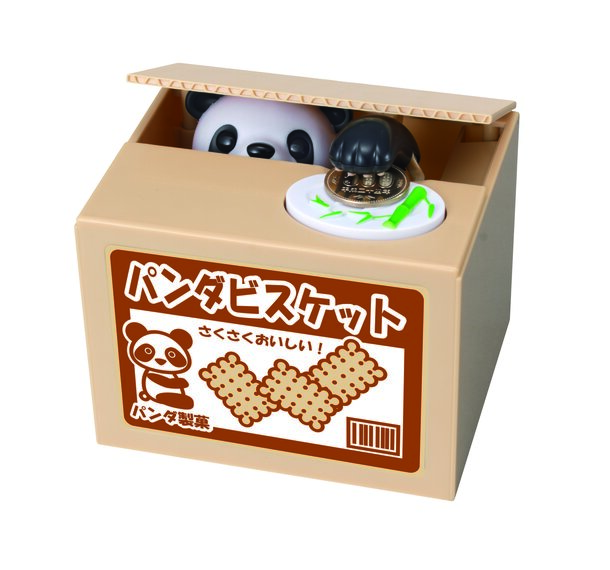 Tokyo Toy Show 2016
Duration: June 9 (Thu.) to June 12 (Sun.), 2016
Items on Display: Toys and related items
Venue: Tokyo Big Sight Halls 1-4 (3-11-1 Ariake, Koto-ku, Tokyo)
Telephone (for event-related inquiries only): 03-3829-2513
Website: http://www.toys.or.jp/toyshow/
About Shine Co., Ltd.
Shine Co., Ltd. is a company that uses an integrated assembly system from planning to production as it strives to always create new and original products without getting bogged down by stereotypes. Shine deals in the production of amusement devices made with a focus on mechatronic technology, toys, the design of miscellaneous goods, development, foreign production, inspection and delivery of goods, and the manufacture and sale of original products.