A must-see collaboration room for fans of Monster Hunter that even has products you can take home with you has been born! A Monster Hunter Cross collaboration room is open for a limited time at Sotetsu Fresa Inn Tokyo-Kyobashi from Saturday, March 12 to Thursday, June 30. Check in and depart on a hunting adventure with your friends!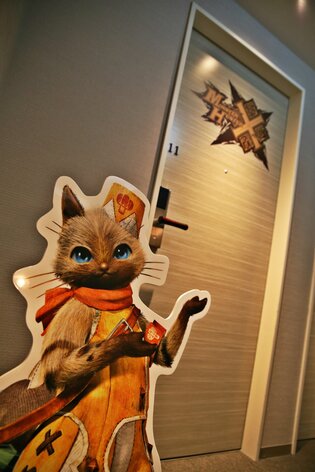 The room's atmosphere is concepted around transporting guests into the world of Monster Hunter Cross. Guests are welcomed by an Airou outside the room, and inside, four monsters—Dinovaldo, Gamuto, Raizex, and Tamamitsune—appear to be breaking through the walls right before guests' eyes. A variety of other characters who color the world of MHX also await guests inside the room, including Nekojo, Nyancook, Fenny, and Nyanta!
Guests can also take home all of the following MHX products after their stay: an originally designed dakimakura cover, cushion, towel, door plate, bag, and original drink cup (medicine design). You'll be able to immerse yourself with fond memories of your stay even at home!
Moreover, the room can accommodate up to four guests, and it's also perfect for hunting parties with Wi-Fi and four extension cords for use in multiplayer. Enjoy hunting with your friends in a Monster Hunter atmosphere never seen before!
Monster Hunter Cross x Sotetsu Fresa Inn Tokyo-Kyobashi Collaboration Room
Available Period: March 12 (Sat.) – June 30 (Thur.), 2016
Reservations: Sotetsu Fresa Inn Tokyo-Kyobashi website or by telephone
Website: http://fresa-inn.jp/kyobashi/
Telephone: 03-5250-2031
Location: Sotetsu Fresa Inn Tokyo-Kyobashi (nearest stations: Kyobashi Station, Takaracho Station, Tokyo Station)
Accommodation Fees:
① Special Collaboration Room Plan
Per guest - ¥18,000 if four guests are staying (tax not included)
Room fee includes six products to take home: a bag, original drink cup, door plate, towel, cushion, and dakimakura cover
② Normal Room (Product-only plan)
Basic room fee + ¥5,000 (tax not included)
Room fee includes three products to take home: a door plate, towel, and cushion
*Pricing may change depending on the day.
© CAPCOM CO., LTD. ALL RIGHTS RESERVED.