The Tokyo International Film Festival (from hereon, TIFF) started on Oct. 22 and is being held for 10 days. This year's anime feature is none other than Gundam. The show's creator, Yoshiyuki Tomino, appeared at the talk show hosted as part of this special project and also found time in his busy schedule to give a combined interview to overseas media.
Yoshiyuki Tomino's Profile
Japanese anime director, scriptwriter, and producer. Born in 1941, he began his activities at the dawn of Japanese anime, taking part in the production of Japan's very first serialized anime Astro Boy and Space Battleship Yamato, among others. Mobile Suit Gundam—which he directed, wrote, produced, made the storyboard, and even wrote lyrics for—became a social phenomenon bringing forth wildly enthusiastic fans. Later, he continued taking part in many of the subsequent shows and films of the currently still ongoing Gundam series. In 2014, he took the seat of supervising director for the first time in 15 years since Turn A Gundam and made Gundam Reconguista in G. He was also involved in numerous anime besides the Gundam series, such as Space Runaway Ideon and Aura Battler Dunbine.
Reality as the Motivating Force Behind Creation
―The Gundam series is one of the special features of this year's TIFF. Please tell us about the appeals of Gundam movie adaptations in comparison to the series.
Yoshiyuki Tomino (T): I basically had the movie adaptations made to make the message easier to get through. In TV size, the content is too fragmented, so I wanted give the fans a more exhilarating feel of the story by summarizing a few episodes, to make them realize, "Oh, so this is what it was about." I thought, even if it was just a compilation, a movie adaptation would be easier to understand and easier to get through to the audience, and this is why I wanted the movie adaptations up through Mobile Suit Zeta Gundam made.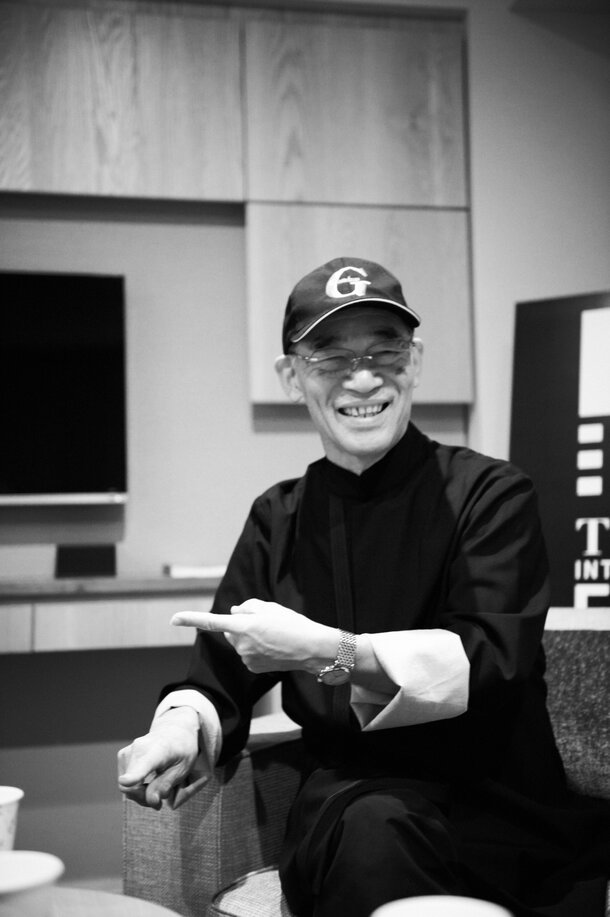 ―In your newest Gundam production, the TV anime Gundam Reconguista in G, you adopted the idea of a space elevator, and, as you mentioned in one of your Japanese interviews, you are also trying to shed the concept of "Newtype." Where do all these new ideas and challenges come from? What's the source of your creative urge?
T: I'm a person who can't make a story in an anime, manga, or novel kind of way, which is why everything real is my motivation.
―Reality is your motivation?
T: For instance, letting the people who came up with the foolish idea of a space elevator know the extent of their foolishness by making them go "What the...?!" Or using my feelings toward certain things such as "What's with the present political system and international situation?!" as motivation and launch a counterattack against them.
T: See, I don't think you can make something like that space elevator in reality. I thought, if we were to make it in the real world, it could only come into existence in the form I showed in Gundam Reconguista in G. I want to say, "Did you think about the transportation infrastructure for making the space elevator? Of course you didn't. It's fine as long as it goes to space. That's stupid!"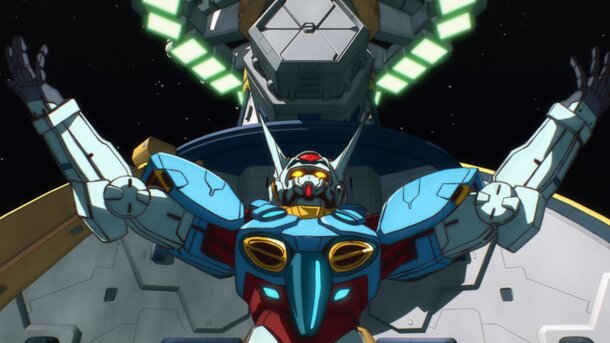 The Gundam Series as Works of Art, as Indicated by the Large Number of Female Fans
―In the 35 years you've been working on the Gundam series, a shift in the audience seems to have occurred. Due to the change in world affairs and the internet environment, people from all around the world became able to watch your works. Is there a special way you would like them to see those works, is there something you would like them to feel?
T: I don't think that's for the creator to say or expect. When making Gundam Reconguista in G, I interacted with fans for the first time in a long while, and I realised that without a doubt, there is such a thing as "present fans," and that different people look at it in a different way. Did you know that most of the early fans of Mobile Suit Gundam, the very first in the series, were girls?
―That's very surprising for a franchise such as Gundam, where you would expect most fans to be male.
T: You didn't know that, right? I witnessed a similar phenomenon this time, too. I realized that I wasn't wrong in my way of making the anime and movies.
―What do you mean by that?
T: Films, anime—that is, art—isn't something that only experts should enjoy watching. If you think like this, you will realize that even if you make something mecha fans would like, it wouldn't necessarily be considered a piece of art.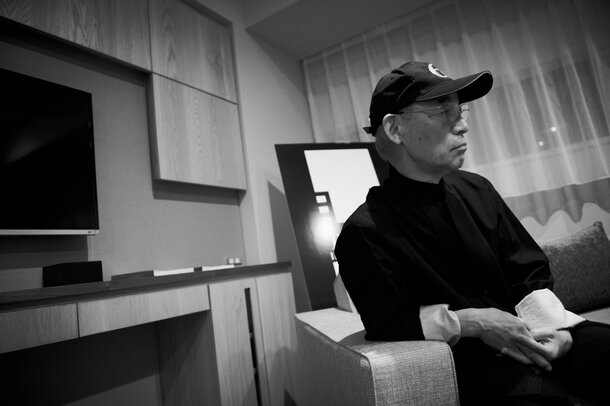 Which is why when I saw the female fans it gathered (and I saw the same kind of tendency this time as well), I thought, "There's no mistake here." I think this might be Gundam's chance to become known worldwide. If its only highlight was the mecha, it could only acquire a narrow base of fans even if it were to spread throughout the world. And if such was the case, it wouldn't be worth going through all the trouble of making a theatrical. It costs too much and it would be a waste of money. I don't want to do such a thing.
―What gave you the impression that there are female fans?
T: It was after production was fully concluded that I saw the signs. When all of it was over, I went to a gathering of those who bought the Blu-ray, and I was surprised to see some girls finally set foot inside. In the beginning, only those who like it in a "Tomino is doing a late night TV anime after 15 years" way came, so I seriously felt like it would be a waste of time. But when I went to a fan gathering after the production, out of the 40 people, about 15-16 were girls under the age of 20.
T: And producers and writers of later Gundam series are too unaware of this sensation. I can't forgive how they so blatantly ignore it. No, it's not really about forgiving, it's more like they have bad intuition. Creating art isn't like that.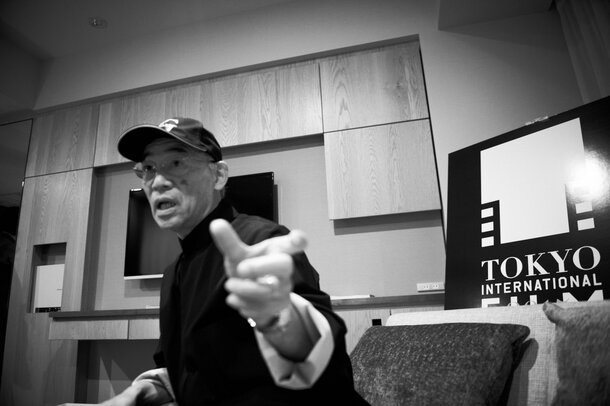 ―So you are saying a creator takes the customer, the audience, more into consideration.
T: Exactly. Still, you can't let someone be a maker who thinks like, "We can make a Gundam so it's fine." In other words, on top of having a sense for liking movies or theater, if no more creators come along, the Gundam world won't be able to expand any further.
On the next page, director Tomino reminisces about the production background of the first generation Mobile Suit Gundam.