The Pokémon Company reveló una nueva estrategia de negocios para su franquicia Pokémon en su conferencia de prensa el día 10 de septiembre. Junto con este anuncio también se reveló su nuevo socio de negocios.
Pokémon X Ingress ¡Despeja el proyecto de Pokémon Go!
[Oficial] Primer video público de Pokémon Go.

En el escenario, durante la conferencia de prensa, Tsunekazu Ishihara el Presidente de The Pokémon Company, Shigeru Miyamoto el Director Representativo de Nintendo, el CEO de Niantic Labs John Masuda, quién creó el juego de estrategia Ingress y Junichi Masuda, miembro de la directiva y jefe del departamento de desarrollo de Game Freak.
Juntos anunciaron el lanzamiento de Pokémon Go, un juego móvil que está siendo desarrollada en conjunto por The Pokémon Company, Niantic Labs y Nintendo.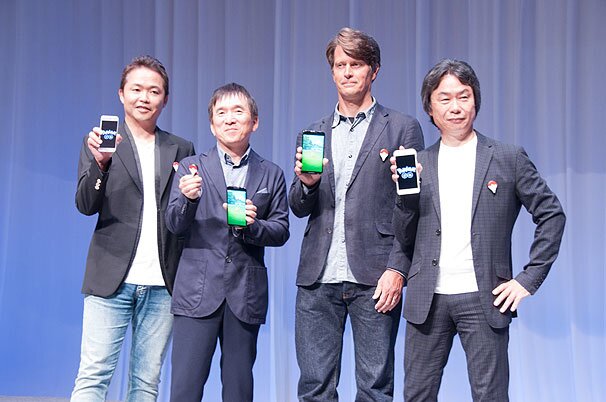 El juego utiliza los servicios de localización del teléfono móvil, dejando que el usuario atrape, intercambie y se enfrente en batallas Pokémon dentro del mundo real.
Un concepto similar llegó a los titulares de Japón en el 2014 gracias a una broma del día de los inocentes llamada "Pókemon Challenge" noticia en la cuál se mencionba que podrías atrapar Pokémon en el mundo real usando Google Maps. El juego Pokémon Go también será en el mundo real y será mucho más interactivo.
El video lanzado muestra a los jugadores atrapando, intercambiando y teniendo batallas Pokémon.
Dentro de la conferencia de prensa también se reveló el lanzamiento de un dispositivo exclusico llamdo "Pokémon Go Plus" que se sincronizará con el teléfono móvil através de tecnología Bluetooth. Sin lugar a dudas Pokémon Go será una colaboración sin precedentes entre Pokémon e Ingress. La aplicación estará disponible para iOS y Android en el 2016.
Fuente: KAI-YOU
Artículo fuente escrito por Tomomi Yonemura