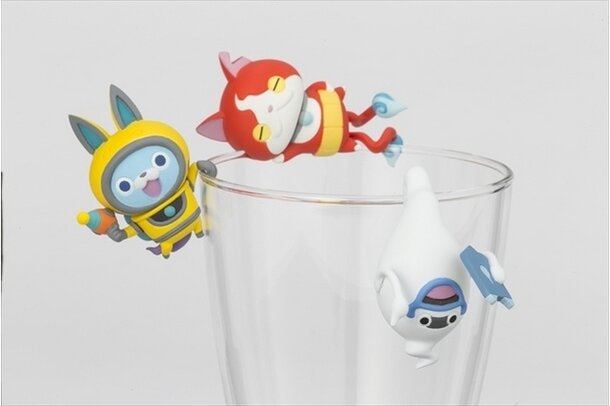 Character from the popular kid's anime series Yo-Kai Watch are stopping by to hang out on the rim of your cup! Kadokawa announced the release of these Yo-Kai Watch toys as part of their Putitto series. They are set to go on sale on Oct. 23, the day before the release of the second Yo-Kai Watch film.
The Yo-Kai Watch anime series features many cute characters, which is probably why the series has become so popular. The series has been adapted into various mediums and generated many character goods, but none of them were fit to be set on the rim of your cup, until now!
The mini figure series, titled "Putitto Series Yo-Kai Watch Cup no Fuchi ni Shoukan!!", features six characters total including the fan-favorites Jibanyan, Komasan, Komajiro, and Whisper. New Yo-Kai Watch character USApyon from the third Yo-Kai Watch video game is also part of the set!
Two Jibanyan toys will be available, featuring the little cat companion eating his favorite food, chocolate, and taking a nap. The Komasan and Komajiro figures are both sitting down eating their favorite treat, soft ice cream. Putting both brothers together side by side on your glass makes them look even cuter! The Whisper figure is positioned upside-down while using the Yo-Kai Pad. These little cup attachments are the best of both Yo-Kai Watch charm, and Putitto series quality.
The second installment of this series, titled "Putitto Series Yo-Kai Watch Cup no Fuchi de Monge-Nonbiri!!", will go on sale Dec. 19. This set will feature Jibanyan, Komasan, Whisper, USApyon, Bushinyan and a secret sixth character!
This long-awaited collaboration is sure to be a hit with Yo-Kai Watch fans! They're so cute you can't help but want to collect them all! Be sure to check back for the latest info on this collectable toy series.