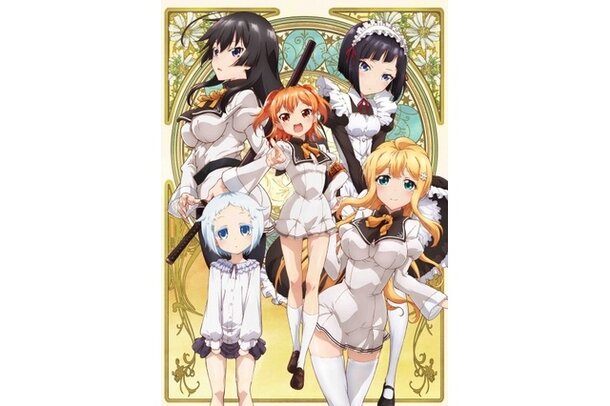 Broadcast information has been revealed for the new TV anime Ore ga Ojo-sama Gakko ni "Shomin Sample" Toshite Gets-rareta Ken (The Case of My Abduction as a "Commoner Sample" by a School for Rich Girls). It will premiere this October on AT-X, BS Fuji, Tokyo MX, Sun TV, and KBS Kyoto. In addition to this, artwork showing the main characters has been posted. The characters are unique students of a school for rich girls.
The TV anime series is based on a novel series of the same name authored by Takafumi Nanatsuki and currently published by Ichijinsha Bunko. The series is a school love comedy in which a perfectly average high school boy is suddenly abducted and taken to a school for rich girls who have had little contact with men where he attends the school as a "commoner sample."
The headshot artwork of the characters presents a varied character lineup, beginning with main character Kimito Kagurazaka. The heroines are all here, there's Aika Tenkubashi - the type of person who spouts out the first thing that comes to mind and as a result finds talking to others scary; Reiko Arisugawa - the class representative who possesses grace, elegance, kindness, and sympathy; Hakua Shiodome - a child prodigy who is in demand by the R&D departments of companies around the world; Karen Jinryo - an extremely serious girl who carries a katana around with her; Miyuki Kujo - Kimito's personal maid; and Rie Hanae - Kimito's childhood friend and an idol voice actress.
The cast includes Atsushi Tamaru as main character Kimito Kagurazaka, Yu Serizawa as Aika Tenkubashi, Rika Tachibana as Reiko Arisugawa, Yuki Kuwahara as Hakua Shiodome, Chitose Morinaga as Karen Jinryo, Saori Onishi as Miyuki Kujo, and Yumi Hara as Rie Hanae. We wonder what kind of dialogue will unfold between them.
Directing the anime is Masato Jinbo who also worked on the second season of the Fate/kaleid liner Prisma Illya series, and producing the animation is Silver Link.
[Staff]
Original Work: Takafumi Nanatsuki's Ore ga Ojo-sama Gakko ni "Shomin Sample" Toshite Gets-rareta Ken (Ichijinsha Bunko)
Original Character Designer: Gekka Uru
Director: Masato Jinbo
Character Designer: Takao Sano
Music: Hiromi Mizutani
Series Composer: Kento Shimoyama
Animation Production: Silver Link
[Cast]
Kimito Kagurazaka: Atsushi Tamaru
Aika Tenkubashi: Yu Serizawa
Reiko Arisugawa: Rika Tachibana
Hakua Shiodome: Yuki Kuwahara
Karen Jinryo: Chitose Morinaga
Miyuki Kujo: Saori Onishi
Rie Hanae: Yumi Hara
Source: animeanime
Source article written by Katsunori Takahashi
© Takafumi Nanatsuki, Gekka Uru, Ichijinsha / Seika Academy