The first half of a two-part film, Wake Up Girls! The Shadow of Youth will hit select theaters on Sept. 25. The title for the second half has also been announced.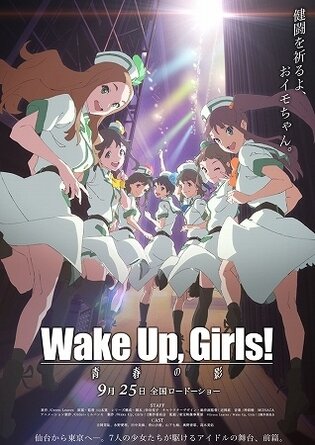 The second full-length Wake Up, Girls! film will be released this year in two parts. It has just been announced that the first part, Wake Up, Girls! The Shadow of Youth, will be released on Friday, Sept. 25. This news, along with the promotional material for the film, was revealed on July 20 at Namba Hatch in Osaka during the "2nd Live Tour 'Ittari Kitari Shite Gomen ne!'" event. It was just the news that Wake Up, Girls! fans had been waiting for.
The promotional poster for Wake Up, Girls! The Shadow of Youth appropriately depicts the Wake Up Girls! members moving from the "shadows" backstage towards the "light" of the stage. The film follows the girls as they make their debut in Tokyo, revealing both their hopes and anxieties about the group's future.
The title of the second part, Wake Up, Girls! Beyond the Bottom, was also announced. It is scheduled to be released in December.
In addition, it was announced that a special "Theater Limited Edition Blu-ray" of The Shadow of Youth and Beyond the Bottom will be sold only in theaters showing the films. These will also include exclusive CDs. These special CDs will include the "bvex Nonstop Mega Mix" released by bvex Records in the film, the original soundtrack, and an audio drama CD titled Chotto dake Monogatari Tsuzuki no Drama CD: Yappa, Kono mama jya Owaranai yo ne!, what takes place after the last scene of each film.
Finally, a limited set of tickets for both films will also be available. These advance tickets will be sold for 2,000 yen at the "2nd Live Tour 'Ittari Kitari Shite Gomen ne!'" event, beginning Saturday, Aug. 1, in Fukuoka's Skala Espacio. These special ticket sets include an illustration of the Wake Up, Girls! characters Mayu Shimada, Airi Hayashida, Minami Katayama, Yoshino Nanase, Nanami Hisami, Kaya Kikuma, and Miyu Okamoto at the Tanabata Festival in Sendai, where the series takes place. Each character is dressed in traditional yukata robes that match the colors associated with them.
As an added bonus, buyers of the presale ticket sets will also get a headshot of one of the Wake Up, Girls! members (eight total). You'll have to pick up your advance tickets at one of the event locations to get your hands on this special item!
Wake Up, Girls! The Shadow of Youth
Showing in select theaters for two weeks beginning Friday, Sept. 25, 2015
Wake Up, Girls! The Shadow of Youth
*Wake Up, Girls! Beyond the Bottom* 
© Green Leaves / Wake Up, Girls! 2 Production Committee