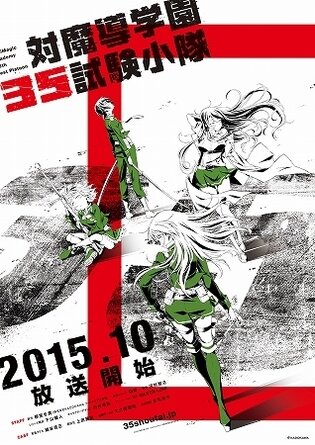 AntiMagic Academy "The 35th Test Platoon", a previously announced TV anime adaptation of a Kadokawa Fantasia Bunko novel, has been slated to broadcast beginning in October. Along with this, additional information was announced for the characters and staff as well. The official site for the anime has an introduction for getting to know the series' world and detailed synopsis of each character.
The series is set in a world 150 years after the end of a witch hunt that unfolded between humans and witches who cast powerful magic that fill people with fear. AntiMagic Academy is an institution that trains Inquisitors of Heretics who crack down on the dwindling witch threat, and its young candidates are zealous about their training. The protagonist of the story, Takeru Kusanagi, is a student who attends AntiMagic Academy.
Yoshimasa Hosoya has been confirmed for the role of Takeru Kusanagi. According to the information on the official site, Takeru is good-natured and cares for his friends, but he loses his cool when anyone makes fun of him for using a sword. Anticipation will build over how Hosoda will play Takeru.
Other cast members include Rumi Okubo who is playing Usagi Saionji, the 35th Test Platoon's resident sniper who has extreme stage fright, And Ryoko Shiraishi who is playing Ikaruga Suginami, the moodmaker of the 35th Test Platoon who possesses a superhuman intellect.
A teaser visual has also been released, and this as well has a highlight to point out. Drawn with a simple touch similar to a sketch, the key visual has an impressive composition that highlights the dark green color of the AntiMagic Academy uniforms. Though the four characters for whom cast members have been revealed are drawn on the key visual, their expressions differ slightly from the original manga, as does the atmosphere.
[Staff]
Original Author: Toki Yanagimi (published by Kadokawa Fantasia Bunko)
Original Illustrator: Kippu
Director: Tomoyuki Kawamura
Series Composer: Kento Shimoyama
Character Designer: Kosuke Kawamura
Animation Production: Silver Link
AntiMagic Academy "The 35th Test Platoon"
© 2015 Toki Yanagimi, Kippu / KADOKAWA / AntiMagic Academy 35 Production Committee