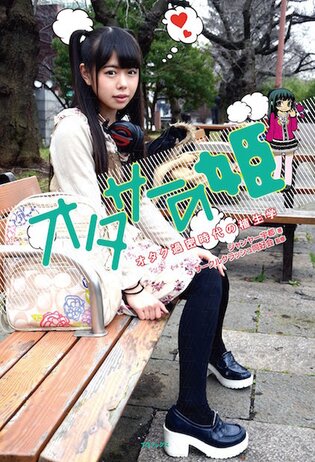 "Otasa Princess" is a name given to the few or lone females in cultural clubs and circles usually dominated by males.
The princess hairstyle is long, straight, black hair with straight bangs. Images showing either a gothic lolita fashion style or coordinated in a neat and sweet manner have spread around the Internet, and several uploaded illustrations have attracted interest.
So does this "Otasa Princess" who gains access to the inner circle in the blink of an eye really exist? In grappling with that question, I'd like to introduce a book which focuses on this phenomenon, Otasa no Hime - Otaku Kamitsu Jidai no Shokuseigaku (Otasa Princess: Ecology in the Age of Overcrowded Otaku).
Otaku love from the perspective of an "Otasa Princess"
Otasa Princess: Ecology in the Age of Overcrowded Otaku, is authored by freelance writer Janya Udo, and supervised by an unofficial "circle crash" society of Kyoto University that studies the phenomenon of "circle crashes." The book was recently released on April 15.
Through various episodes detailing girls who love card games like tabletop RPGs or Magic the Gathering, girls in scientific fields, girls who love anime songs, popular fujoshi on social networks, mahjong gals, and amateur radio girls, the author closes in on the truth about the "Otasa Princess." While touching on the otaku men who struggle for the hearts of these princesses, as well as the phenomenon of the "circle crash," this book exposes the real love lives of otaku men and women.
Furthermore, a diagram entitled "Princess Directory" is included that illustrates the various characteristics of the "Fake Lolita Princess," the "Science Princess," and the "Anime Song Girl."
Through various true stories, this book will give the reader an insight into the otherwise-unknown behaviour of the otaku and the "Otasa Princess."
Source: KAI-YOU
Source article written by Kodak Kawaguchi