We're going to introduce you to a cool new gadget that has many features built in: Shuriken Tools! You can make it through almost any situation if you have this one "shuriken"! Probably…!?
The Shuriken Tool fits in the palm of your hand, and is inspired by traditional Japanese small-bladed concealed weapons known as shuriken. With around 20 different functions, including a ruler, screwdriver, and bottle opener, all packed into this small tool, it makes for quite the surprising product! The idea was first proposed by product designer fuuuwa who aims at making it a commercial product with the help of Team Tsukuruyo, which carries out projects to create things that everyone wants. Currently, they are looking for supporters on crowdfunding sites like Indiegogo.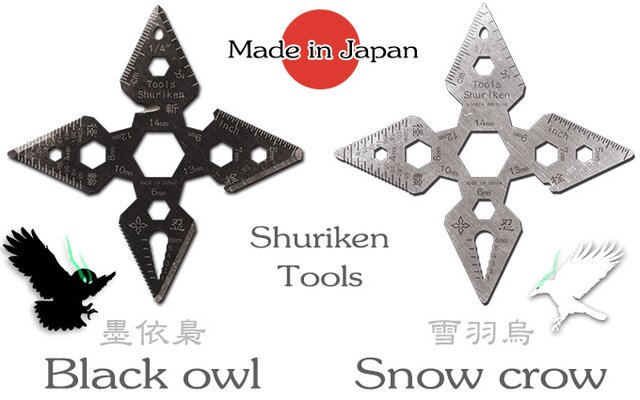 There are two versions of the Shuriken Tools: the "Black Owl" (Sumi-e Fukuro) version focuses on quality, while the "Snow Crow" (Yuki Ugarasu) version balances quality with cost. The "Black Owl" has 24 functions, and its form closely resembles that of a shuriken. On the other hand, the "Snow Crow" has 19 functions, and its edges are less sharp with the intent of being the safer option. As for prices, "Black Owl" will be 8,000 yen, while "Snow Crow" is expected to be 3,000 yen. Also worth mentioning is that all the steps in the production of the Shuriken Tools will take place in Japan.
Shuri Oshimono, age 16, is a character designed in the image of the Shuriken Tools.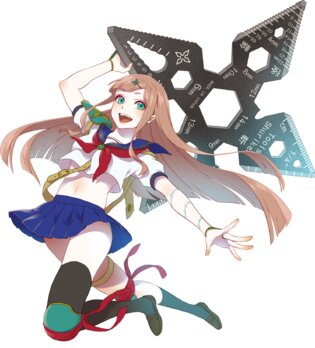 Check out this illustration by artist ako. The energetic girl definitely makes an impression! It seems like we'll see more development with this character in the future, and we're looking forward to it.
In addition, Moa Tsukino, one of the members of the Kamen Joshi girl idol group, was appointed as the live-action model for Shuri-chan.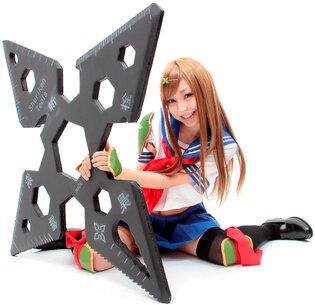 The Shuriken Tools have a wide variety of functions. You'll likely be the envy of all your friends with such an interesting and useful product as this! This handy tool is currently in the fundraising stage on crowdfunding sites to prepare for the production phase. To anyone who wants to lend a helping hand, how about offering some support? Check out the site below for more on production support and other details!
In addition, the Tokyo Otaku Mode Premium Shop is working to offer these Shuriken Tools too. To all those who want a super convenient shuriken-shaped multi-tool, stay tuned for further updates!