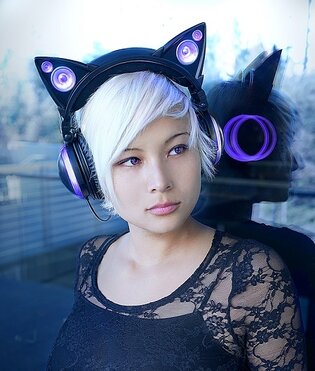 A wide-scale release has finally been confirmed for Axent Wear, cat ear headphones equipped with external speakers that became massively popular through raising funds on overseas crowdfunding services.
Pre-orders for the headphones began on the online shop Domore Shop on Thursday, Jan. 8. Pricing is currently 22,000 yen with the pre-order discount, but this will increase to the general price of 27,000 yen on Wednesday, Jan. 14 (Both prices exclude tax.).
Axent Wear - Cat Ear Headphones Indiegogo

Headphones Equipped with Cat Ears that Even Have External Speakers!


Axent Wear was invented by Wenqing Yan and Victoria Hu, both graduates of UC Berkeley in California.
The two launched a fundraising project on the U.S. crowdfunding service Indiegogo and the response was tremendous. The fundraising closed at 2.93 million USD (about 350 million JPY).
The headphones' LED lights captivate the eyes, and its stylish design and cute form have gathered ardent support from female fans.
The ears of the headphones are also equipped with external speakers, meaning you can use them not just as headphones for your own enjoyment but as a way to share music with those around you with the toggle of a button. That's what makes Axent Wear unique.
Now, finally, Axent Wear is releasing on a wide scale. The first shipment will be sent out in September 2015.
Source: KAI-YOU
Source article written by Nao Niimi