We received a lot of votes for Tokyo Otaku Mode's "Which winter 2015 anime are you excited about the most?" survey! Thank you all for contributing. And now, here are the results!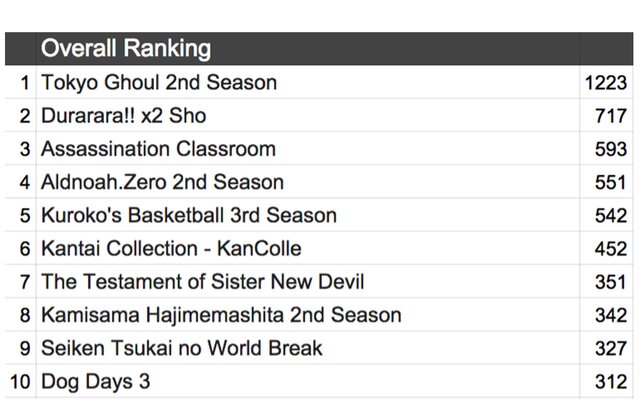 Tokyo Ghoul 2nd Season came in strong and topped the overall rankings in first place, being the only one to have over 1000 votes. It was ranked number one by many regardless of genders, age groups, and regions, with a great number of votes from males under 20. It looks like the great reviews from the first season carried over directly to the high expectations of the second season.
Durarara!! x2 Sho came in second place overall, with a large female fanbase, as well as viewers of ages 10 to 29. Regionally speaking, it placed second in North and South America, as well as Europe. The return of the anime after five years is probably one of the main reasons behind fans' eager anticipation.
Third in overall rankings is Assassination Classroom. Although this is the first time it's been made in to an anime series, it's well known for its serialization in Weekly Shonen Jump. The series has a greatly anticipated by fans from a range of generations and regions.
* Aldnoah Zero 2nd Season*, which came 4th overall, is actually 3rd in rankings by male viewers as it has a dominant male fanbase. On the other hand, Kuroko's Basketball 3rd Season which came 5th overall, is greatly popular among female viewers, and falls closely behind the 3rd ranked series by only a difference of 10 votes.
Looking at the different categories of rankings, The Testament of Sister New Devil, Seiken Tsukai no World Break, and other anime originating from light novels are highly anticipated by male viewers or those under 20, while Kamisama Hajimemashita 2nd Season, Sailor Moon Crystal 2nd Season, and other shojo anime have an eager female fanbase as expected.
While the great popularity among male viewers for "anime with many female characters" like Kantai Collection - KanColle is not surprising, it's also interesting to see that other anime series of the same category such as Love Bullet: Yuri Kuma Arashi and The Rolling Girls are also highly anticipated by females.
The regional category rankings show that there is no big difference in terms of popularity for the top ranked anime series. It seems that hugely anticipated works are the same across borders. With that being said, it's interesting to note that while basketball is a huge part of North America, Kuroko's Basketball is on the lower end of the rankings for that region. Just because it's the birthplace of basketball, doesn't mean the popularity of the sport transfers over to the anticipation of the anime.
The overall trend for the rankings seems highly dependent on whether the anime series is new or a continuation of a previous season. While the sequels with already established fanbase received a lot of votes, new series with little information for review did poorly. With this in mind, we hope everyone will choose an anime they want to watch using the rankings as a reference!
This is a Tokyo Otaku Mode original article.