Both the manga and TV anime Attack on Titan are hugely popular, and a live-action movie adaptation of the series has even been announced. Up until now, Lawson, a popular convenience store chain that has expanded abroad from Japan, has announced several tie-in products to such popular anime. Now, Lawson has decked out several stores in original decorations that recreate the world of Attack on Titan.
Three Attack on Titan themed Lawson locations in Tokyo, three in Oita, and one in Osaka have opened! This tie-in campaign is running from Dec. 26 to Jan. 6, 2014.
It's natural that Attack on Titan fans will want to visit these themed stores, but actually setting foot in one will ramp up the excitement to a whole nother level!
Noteworthy Point 1: Get an original coaster with the purchase of qualifying products!
(limited quantities)
Each store is giving out different original coasters to customers with every Karaage-Kun purchased at the Shinjuku Eastside Square Lawson and Tokyo Dome City Lawson or with every two onigiri or chukaman purchased at the Haneda Airport Terminal 2 Lawson! Quantities are limited, so make sure to hightail it to one or all of these stores to get your coasters before they're gone.
Noteworthy Point 2: These Attack on Titan themed Lawsons have original products!
(limited quantities)
・Chimi Chara Rusk (¥1,200)
・Chimi Chara Notebook (¥800)
・A3 Clear Poster (¥1,000)
・Chimi Chara Key Chain (¥1,500)
Four products are available at the themed Lawsons! If you count the two colors the "Chimi Chara Rusks" come in, it's actually five! Fans will surely want to get all of them. By the way, the cute, tiny characters are called "Chimi Chara."
Noteworthy Point 3: Get an original bag with the purchase of Attack on Titan products!
(quantities are limited, customers are limited to three bags)
Even these original bags are cute! The bags come in Levi, Mikasa, and Eren versions, and each store is giving away a different version.
Noteworthy Point 4: The first 1,000 people to visit will receive a "Chimi Chara Poster"!
The first 1,000 customers who purchase more than ¥1,000 (before tax) worth of Attack on Titan related products from the Shinjuku Eastside Square Lawson, the Tokyo Dome City Lawson, and the Haneda Airport Terminal 2 Lawson and present these receipts at the register in the Haneda Airport Terminal 2 Lawson will receive an original "Chimi Chara Poster"!
The Tokyo Otaku Mode Editorial Team had a blast traveling to these stores respectfully themed after Wall Sina, Wall Rose, and Wall Maria!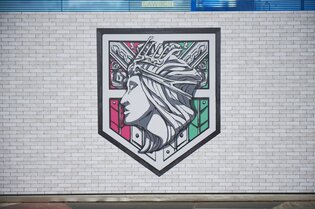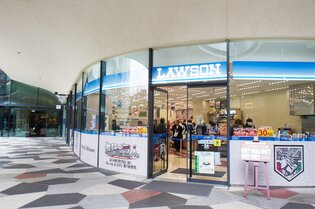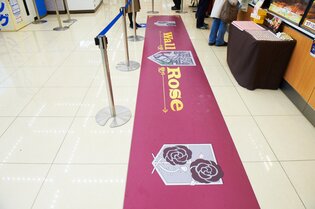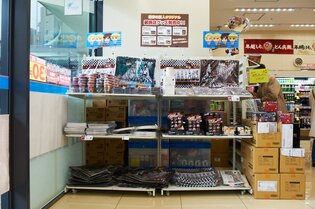 First up, we arrived at the Shinjuku Eastside Square Lawson at 10 a.m. on Dec. 26 by taking the Oedo Line from East Shinjuku Station. The store was decorated after Wall Sina, and what caught our eye in particular was the mock red carpet laid out in front of the register. On-hand at this location were tons of exclusive campaign goods and Lawson original goods.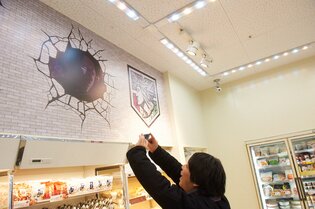 I couldn't help taking a picture of the Captain Levi decoration with my cell phone, but I held back so as to not inconvenience any of the other customers. Nevertheless, taking pictures around the store was a fun experience.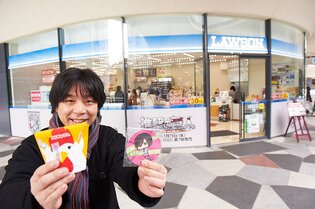 The first thing I bought was a Karaage-Kun, and I got an original Mikasa coaster as a bonus! I was overjoyed! Since it was cold out, I ate the Karaage-Kun right then and there.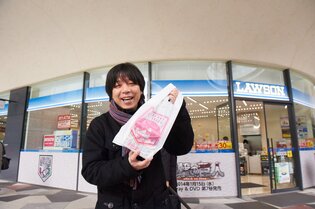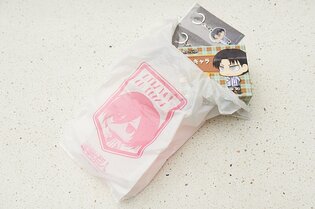 While there, I also got a box of the "Chimi Chara Rusk" and the "Chimi Chara Key Chain" (came to ¥2,700), both of which are original goods limited to the Attack on Titan themed Lawson locations. Of course, I also got an original bag to put it all in! Even if goes without being used, this is a collectible that fans will be happy about.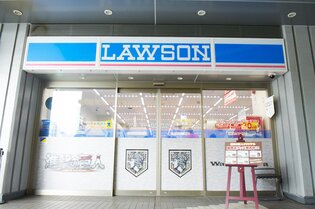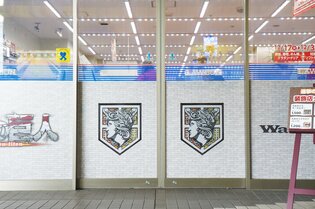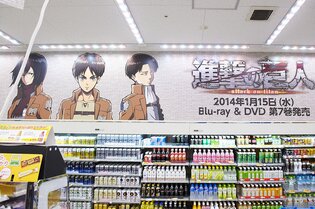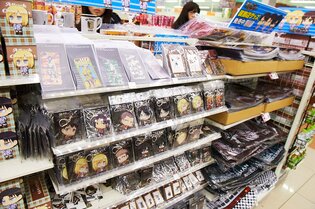 Next, we hopped on the Toei Oeda Line bound for JR Iidabashi at East Shinjuku Station to Suidobashi Station. After about a 20-minute trip time, we arrived at our next destination: Tokyo Dome City Lawson. This location is themed after Wall Rose. Inside the store, we were happy to find a huge array of Attack on Titan related goods laid out, much more than what can be normally found in a convenience store.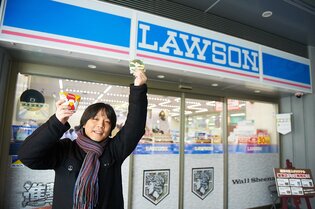 Here as well, I bought a Karaage-Kun, but this time, I got an original Levi coaster as a bonus! I was so happy! I then ate my second Karaage-Kun on the spot. I was most excited to get the original Levi coaster.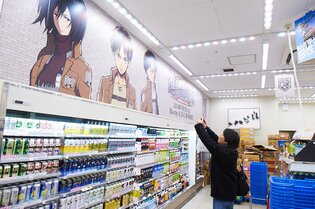 Naturally, Levi decorations were put up in this location too, and I again got snap-happy with my cell phone! I no longer cared what other people thought!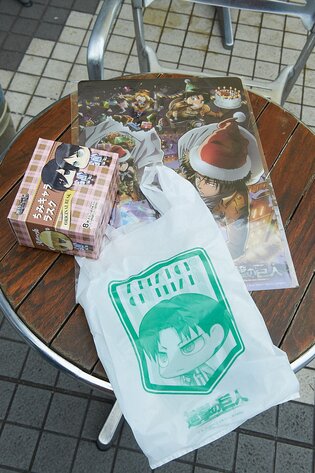 The spoils I got from this location were a box of "Chimi Chara Rusk" in a different color than the last one and the "A3 Clear Poster" (came to ¥2,200). After photographing the original bag themed after Levi that I received with my purchase, it goes without saying that I carefully folded it and put it away.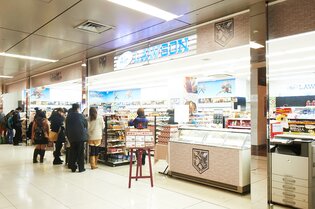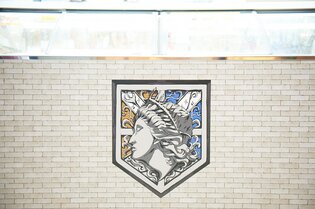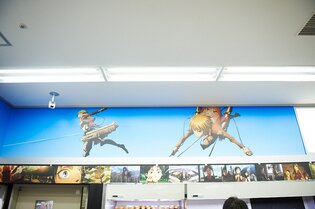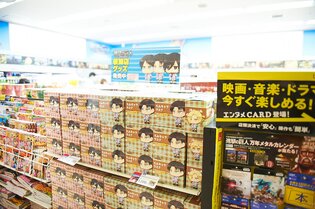 We then headed to our next stop: Haneda Airport. From Suidobashi Station, we took the Toei Mita Line and transferred to the Keihin Electric Express Main Line on the Toei Asakusa Line Direct at Mita Station. From there, we arrived at the Haneda Airport Domestic Terminal Station. The trip time was about 50 minutes in total. As soon as we passed the ticket gates, we saw the Haneda Airport Terminal 2 Lawson. Differing from the previous two stores, this one was decorated with illustrations of Eren and Mikasa flying through the air using their 3D Maneuver Gear.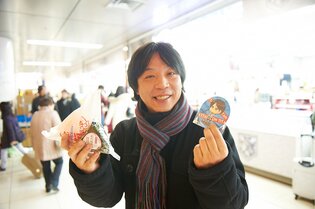 At this location, I bought onigiri and chukaman and got the Eren version of the original coaster! The Chimi Chara version of Eren is so cute!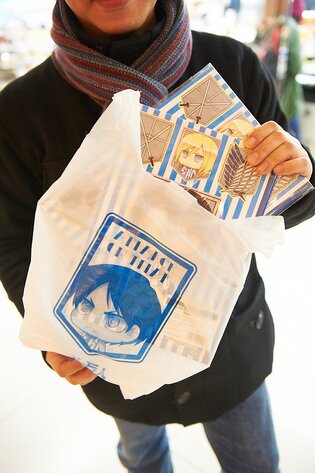 I also picked up two "Chimi Chara Notebooks" for¥1,600. Buying two so that I could preserve one as a collector's item is a must for otaku! The original bag I received for my purchase was the Eren version. After photographing this one, it too was folded neatly and tucked away.
It was time for our final mission: to show at the register that we had bought over ¥1,000 worth of related merchadise at the three Tokyo Attack on Titan themed Lawson locations. We did so, and we got the "Original Chimi Chara Poster"! The feeling upon receiving it was indescribable! But, I contained my excitement because there were other people around and jumping for joy would have been embarrassing!
Our entire trip time to go to these three Lawson locations was about three hours. We recommend this little excursion for those who will be visiting Tokyo during the New Year's holiday.
Similarly to Tokyo, three Attack on Titan themed Lawson locations are also open in Oita. Why Oita? It's the hometown of Attack on Titan creator Hajime Isayama, of course! One of our reporters flew down to Oita to check it out! The following is his report:
===========================
Three Lawson locations in the city of Hita, Oita Prefecture have been unmistakably decked out in Attack on Titan decorations. When I started my journey in the dead of a midwinter night at 4 a.m., there were about 10 ardent fans on standby in the train. When 8 a.m. rolled around and the store opened, fans flooded in to buy the limited goods. I was told that each of the three locations were swarming with fans all throughout the morning on the first day of the campaign.
Each of the three Lawson locations had a large "Colossal Wall" panel that featured a different character––the Lawson in front of Saiseikai Hita Hospital had Eren, the Hita Inner City Lawson had Levi, and the Hita 12-Cho Lawson had Mikasa. During the first day, over 100 fans visited each store and took pictures. According to the store managers, there were even hardcore fans who came in the afternoon dressed as a Titan and had a mini photo shoot in front of the wall panels.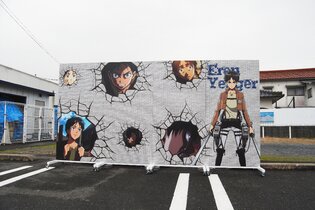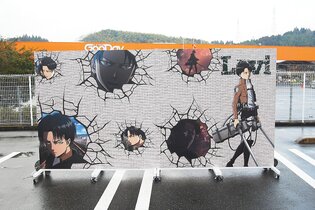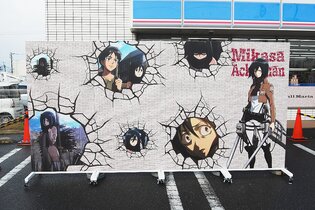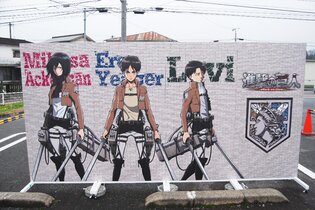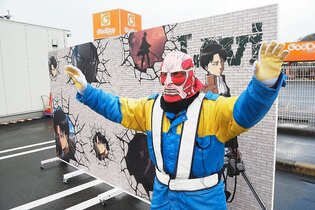 Many of the fans who stopped by were female fans, and many came in groups of two or three. I was told that some even took the day off of work and came from Miyazaki Prefecture (about 170 kilometers away) to visit the stores.
Among the many goods prepared, some of the most popular were a special printed glass of either Eren, Mikasa, or Levi that was given to those who purchased three bottles of Lipovitan D (a nutrition drink), a special coaster that was also given out, and the Karaage-Kun.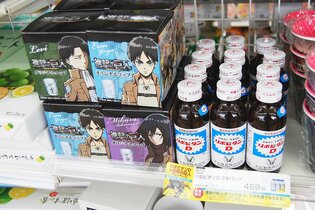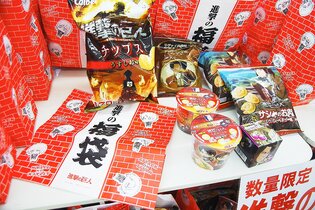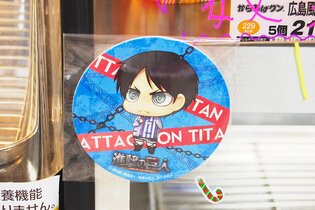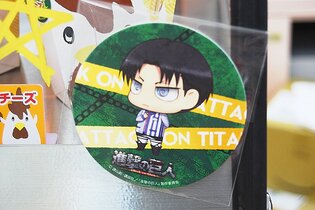 Original fukubukuro (grab bags) limited to the three Lawson locations in Hita were also being sold. Because each location's fukubukuro had a different design, passionate fans could be seen walking around the store with their arms full of them. Many fans also picked up the special poster that is being given throughout the campaign to those who purchase over ¥1,000 worth of Attack on Titan related goods at each of the three Lawson locations in Hita.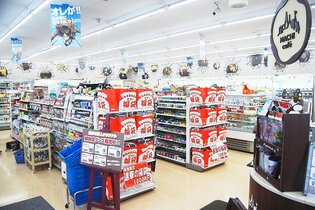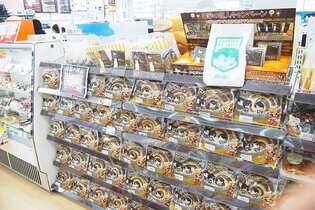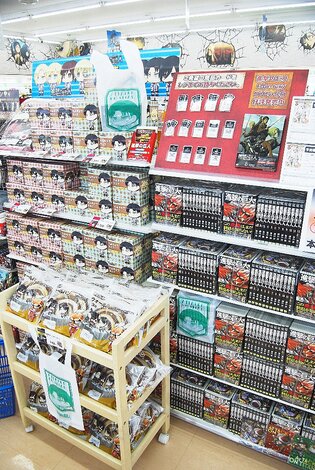 ===========================
Huge wall panels and original fukubukuro––it seems the Lawson locations in Hita have gone all out to capture the excitement of Attack on Titan.
Nowadays, with so many real-world settings used in anime becoming seichi junrei destinations, this kind of campaign has the potential to spread excitement to other areas outside of Tokyo and Oita as well.
For now, the collaboration campaign between Lawson and Attack on Titan is limited to Japan. But since Lawson has expanded overseas, will the campaign as well? Will the exclusive goods in this campaign be made available online? Will they come out with even more Levi goods? There is much to speculate about, so keep this collaboration between Lawson and Attack on Titan on your radar!
***************
A winner selected in a drawing who read this article and click "SUKI" will receive a gift of "Attack on Titan" goods.
Application Period is until Jan 16, 2014
*******************
This is a Tokyo Otaku Mode original article
Written by: Nobuyuki Hayashi
Translated by: Jarrett Meuser
Photos by: Tetsuya Hara