We had a hands-on demo with Mach Storm, a soon-to-be-released arcade game.
With great anticipation, I stepped into the large, round game machine.
The game uses a dome screen that completely fills the 180° field of vision that humans have. Having your field of vision taken up by the screen is vastly different than playing a game on a TV screen. I felt like I was actually in the cockpit of a jet fighter.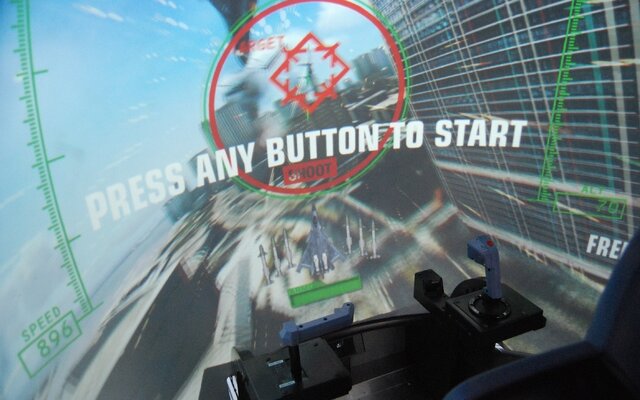 The lever on the left controls speed and the one on the right controls movement and missiles. That is all there is to it; there are no complicated controls to remember, so you can jump in and start having fun right away.
Alright, let's get this show on the road.
Air from the fan located under the screen hits my face and the cockpit vibrates with every move of the control lever. Even though the graphics look amazing, it's the atmosphere and the small touches––the wind and vibration––that make this truly feel like a real experience.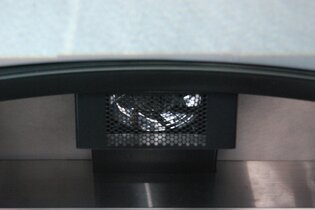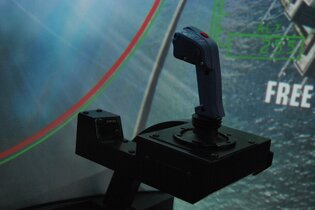 However, there is no time for me to dawdle and enjoy a leisurely flight about a realistically represented cityscape. I am soon set upon by enemy fighters and must dodge incoming missiles. Fire, fire, take 'em down! The excitement of shooting down enemy fighters left and right is exhilarating.
Squeezing through tight gaps in buildings, performing loops and barrel rolls - I freely flew through the skies. By the end of the short play time, my knuckles were white.
Mach Storm will soon be debuted in arcades throughout Japan, and it will begin being introduced to arcades in overseas countries in February 2014. This is likely to become an exciting game among many arcade-goers everywhere.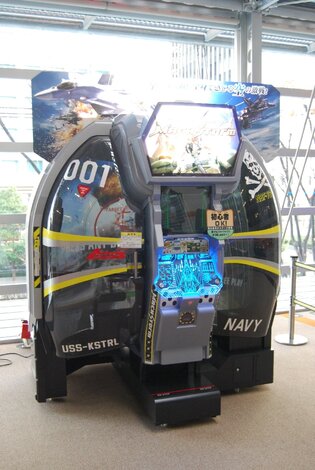 © 2013 Namco Bandai Games Inc.
© DigitalGlobe Inc.
© Japan Space Imaging Corporation
This is a Tokyo Otaku Mode original article.