A taiko controller that includes a taiko drum and drumsticks for use with the iOS app Taiko no Tatsujin has been announced. Pre-orders for the controller are currently being accepted on Premium Bandai. The controller costs 8,715 yen.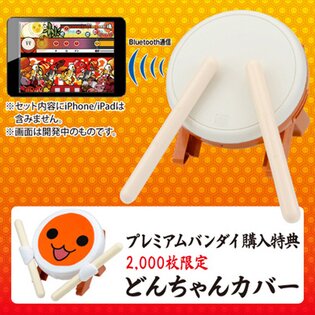 The set includes a taiko drum and two drumsticks that work with the app via Bluetooth connectivity. Now, gamers can fully enjoy playing Taiko no Tatsujin from the comfort of their homes. The first 2,000 people to pre-order the controller on Premium Bandai will also receive a limited taiko cover of the mascot character Don-chan!
The controller takes three AA batteries and works with the iPhone 4S, iPhone 5, third and fourth generation iPads, and the iPad mini (as of November 2013). It will be shipped in mid December.