Not to be outdone by model kits and my new favorite Figma
From the Japanese mobile game this is the main heroine's Alternative 4-Star (highest) form. I think Max Factory has really outdone themselves with this one with its custom-ability. Particularly with the recreation of the character's ultimate summoning 6 drones. The larger base offers a solid foundation while the clear part suspension for the drones offers versatile positioning.

Weapons this time are completely pre-prepared in contrast to the original's Figma's where they had to cut out of an injection runner system. The material is lighter too it is easier to position when being held in the figure's hand.

The Mechanical leg joints open and clos...Read moreClose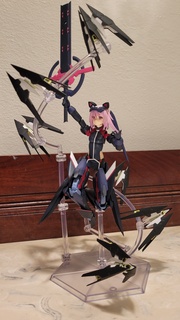 Art and print are good, but poor thread choice at top.
Print quality is good as I have come to expect from the Tom Creator Tapestries. The only thing I found annoying was the thread color choice the used across the top. They chose a black that went well with the dark browns and even the reds on the left and right but created a dark line across the girl's lighter hair and forehead at the center. I'd have preferred a grey tone like they did in the sample picture to balance to light and dark areas across the top without being too distracting.
Delete Review
Are you sure you want to permanently delete this Review?