jjdonis's Review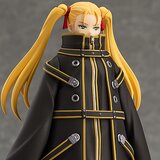 I really like this figma, it is a stunning example of the line and I'm glad I picked it up. the only issue i have with it is the data rings they are kinda wonky and sag weirdly. I am a big fan of the secondary body with the coat it is one large piece with little articulation, but it is a cool part of the character and I'm glad it was included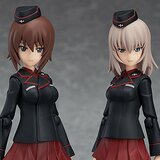 I really like this set of figma, but I would have liked a few more accessories for the price paid. nothing on the level of the Angler fish team ones, but maybe an extra expression for both girls, we get poker face for both, then yelling slightly embarrassed for Maho and Erika respectively. other than that its two throat mics and one pair of binoculars. and it just doesn't feel like enough. The bodies are also Identical, witch i think just comes back to kinda poor character design, God just throw one of them in stocking or something. but the hair and faces look as good as usual. so if your a big fan of GuP like I am its a must have, but if you just have a passing interest or just like fi...Read moreClose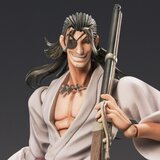 It's an OK articulated figure, and I'll be the first to say that I'm not the biggest fan of articulated figures Over all it looks good but some of the connections could have been though out a bit better. the place where the lower body meets the upper body is probably the worst offender. its a ball joint and it has a fit so bad that once you get it in place any sort of movement will pop it out. The lower arms will also are fixed inside the sleeve, so when you get him in some poses the sleeve densest look right. I like the figure because I like the Drifters as a source materiel and if they ever put Yoichi up for pre-order Ill pick him up too, but if that is anything like this on...Read moreClose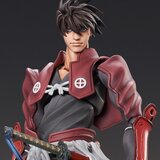 The detail and articulation on this figure is amazing. everything fits together well and all of the individual parts and well made, posing this figure is a little tricky and to achieve some of the cooler action poses is going to take some time and effort, I would suggest this to any one who likes the source material, articulated figures or just fans of samurai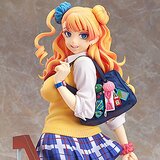 So... This figure is a lot taller than is listed. its listed at 10.8", however this does not include the base stair case she is standing on. she is around 13-14" all assembled so plan accordingly for your display. Personally I had to drop a shelf down to accommodate her. Other than that she is a beautiful figure. her glasses are a the only optional part and they are very small and fragile , so if you're going to store them put them some place safe. I also thought mine were broken, but the right side of the glasses do not have the ear hook on them they simply rest against her hair like the hear hook is under the hair. If you have a place to display this i would recommend this...Read moreClose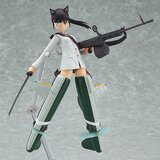 tons of display options as usual with figmas, it even includes come figure specific parts, like a hand holding her eye-patch. the sword scabbard strap is a but weak and one end came detached, but some superglue fixed it with no deformation or screwing up of the plastic. its a good figma and I'm happy to have it in my collection.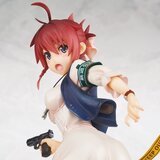 So I love rail wars! love the LN love the anime just love it. and I have been wanting this specific figure for a while now but its always been sold out. so I was super exited when I was able to get it here. This is a great figure and its worth the price tag. It's a fun action shot and reflects the character it a very true way. her eagerness to take action and her run and gun attitude to her security position. most action poses have only one ideal but this one because there is so much to see you can ideally show it from any side where you can still see her face from her directly looking at you to just about to run into you. I like it so the platform edge ( the side with the yellow part)...Read moreClose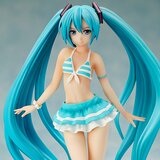 this is a nice little figure, however it's not the best. first off some details are like the 01 on her arm is missing, its a very minor thing and you can see it in the photos but it didn't really bother me, but it may bother someone who is a big vocaloid fan. my only other complaint is the base, its shown with a clear round base, how ever mine has a teal base that has tooth or cog like pattern on the outside, I'm not to found of it I would have preferred the clear base, if it was yellow it would have looked like a sun witch may have gone with the swimsuit design but the I don't thing the color would have matched very well. Over all its a cute figure that would make a good...Read moreClose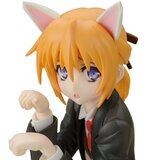 So i have loved this figure for a long time, so when i saw it come back in stock i had to jump on it. first off it comes in a metal tin. I was very surprised that is wasn't another cardboard box, however it plays into the the figure. When I opened up the tin I found a bunch of pieces of Subaru. You have to assemble this figure. now years of miniatures games have prepared me for this, so I bust out my 2 part epoxy and went to work. She went together with no problems everything it notched so it will only fit one way and you cant mix up left and right. The only part I didn't permanently attach was the legs to the her torso, the fit for both sets of legs fit tight enough that I didn&ap...Read moreClose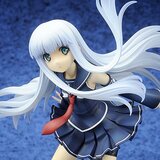 this is a great looking figure, the sculpt is beautiful and the quality is worth the price. The base is very cool and keeps with the sailing action of the manga and show, they could have gone with a plain black or white base but they did put some work into it and they did a good job. However due to the pose I had to display higher than I would normally, she is slightly bent over. When set next to figures of similar size you get a lot of the top of her head, It isn't the best viewing angle. It would look best on a shelf that is about your eye level or one that you can view form slightly below.
This would be a great addition to anyone's collection.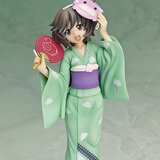 As soon as I un-boxed this Figure I knew that it needed to be front and center of my collection. I love this figure, every touch really keeps with the character, like the pattern on the Yukata being tanks and tank tracks, then when paired with Ms. Nishizumi it really finishes it nicely. they really look like they are enjoying themselves at a festival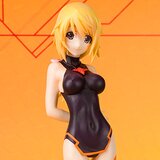 Charlotte is my favorite character for <IS> and this figure capture her perfectly. my only problem is the same as the one I had with Figuarts Zero Infinite Stratos Cecilia Alcott, the base is too large for how tall the statue is. its 3x5" and takes up a lot of space for the size of the statue. but over all I really love this figure.