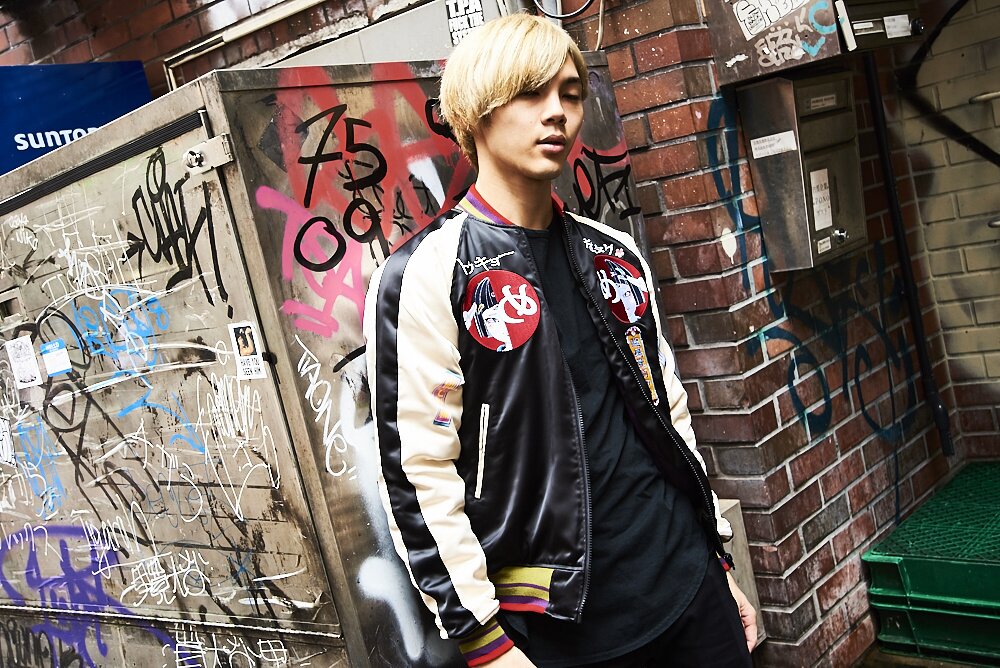 Staying true to the Sukajan's quality and history
We want our Tokyo Sukajan to be loved by everyone who is into fashion and Japanese culture! To make that a reality, we put as much effort and attention into the details as we possibly could.
The featured graphic is an original drawing by Hiroyuki-Mitsume Takahashi, and it will be accurately embroidered on the Tokyo Sukajan. In order to make the jacket work for both men and women, we have slimmed down the silhouette and also increased the length of the ribbed details by 1.5 times! Neat Japanese amulets will be featured on the sleeves, and they are set to be created as badges that will be sewn on. We definitely think that the Tokyo Sukajan will be cool on the gents and cute on the ladies!
Oh, did we mention that we're also using a shiny satin fabric to really show off the gold and the black?
Featuring a Vivid Embroidered Graphic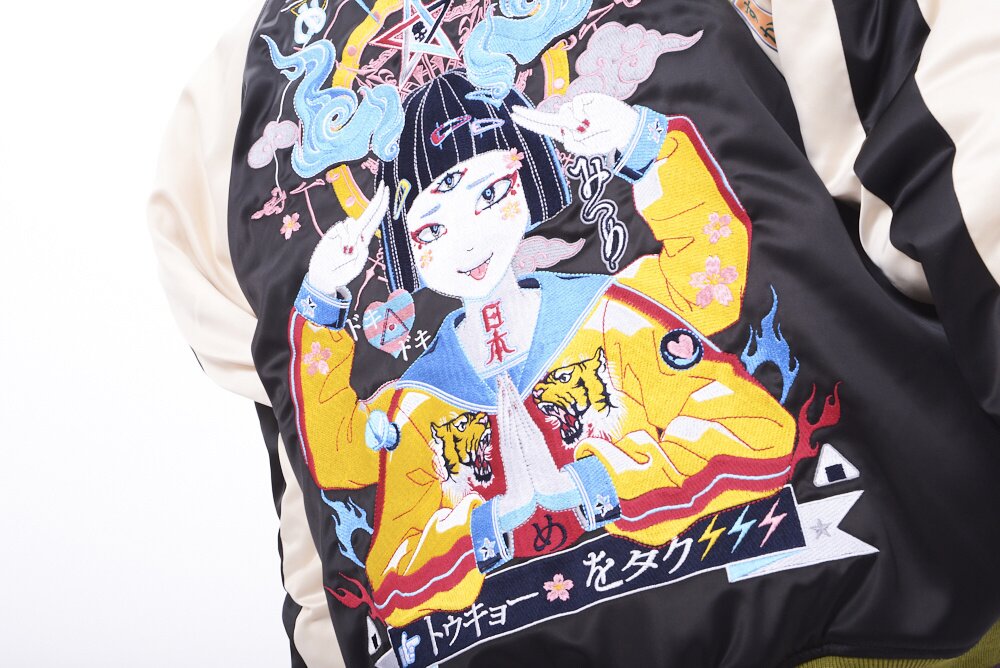 As previously mentioned, the main feature of the Sukajan is definitely its embroidered graphic on the back. In the case of our Tokyo Sukajan, we have done everything we could to show Hiroyuki-Mitsume Takahashi's splendid design as accurately as possible. The character is intriguing, the colors are vivid, and the presence of the embroidered graphic is as audacious as any other jacket - if not more.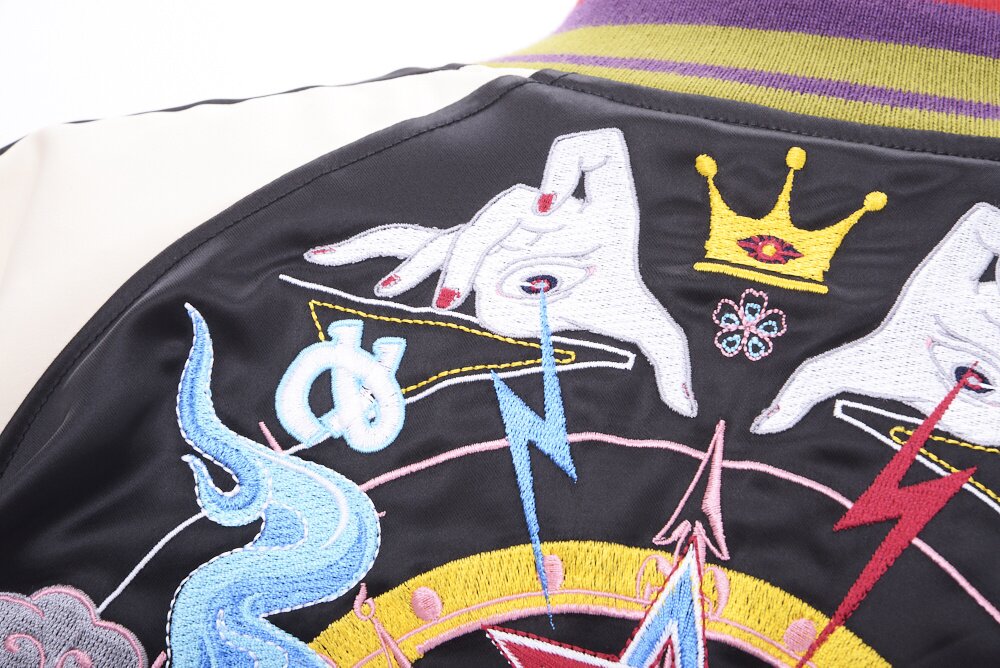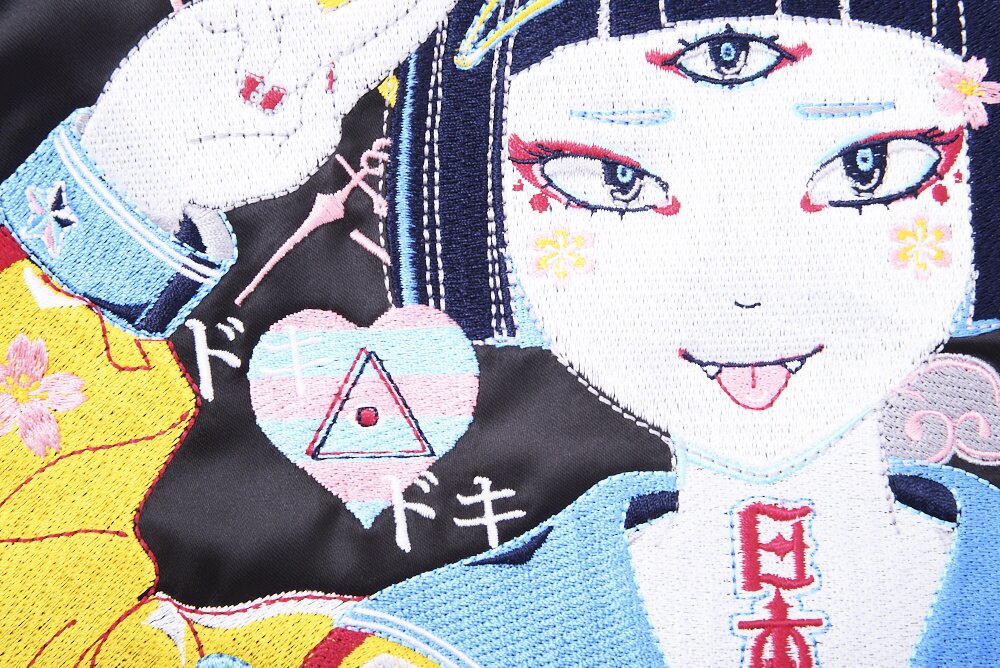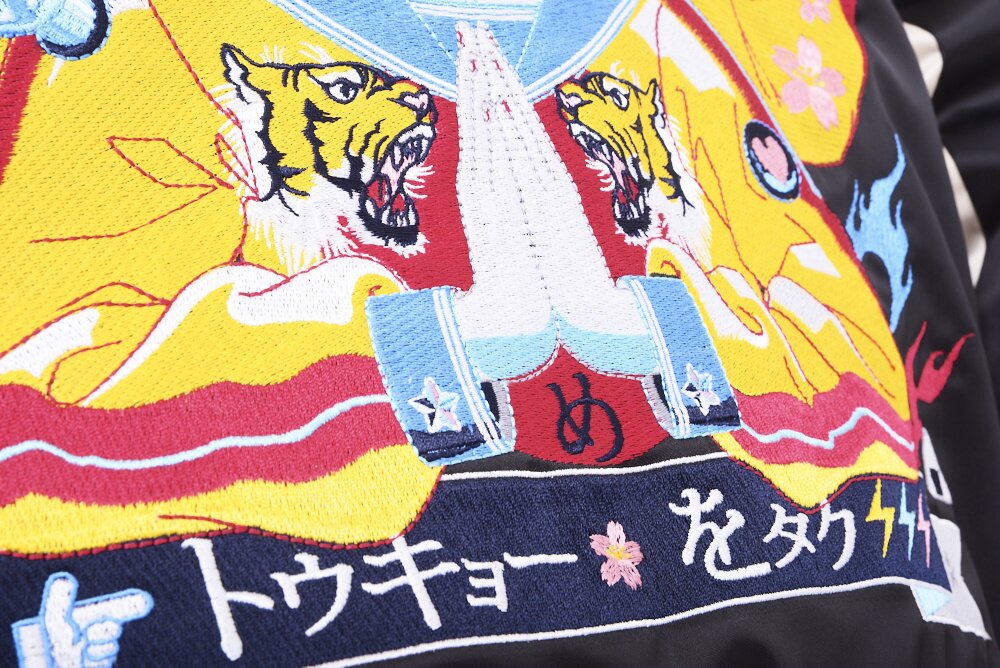 Making all the colors match the original design was a difficult task, but we are all very proud of the result!
Making a Statement With Powerful Designs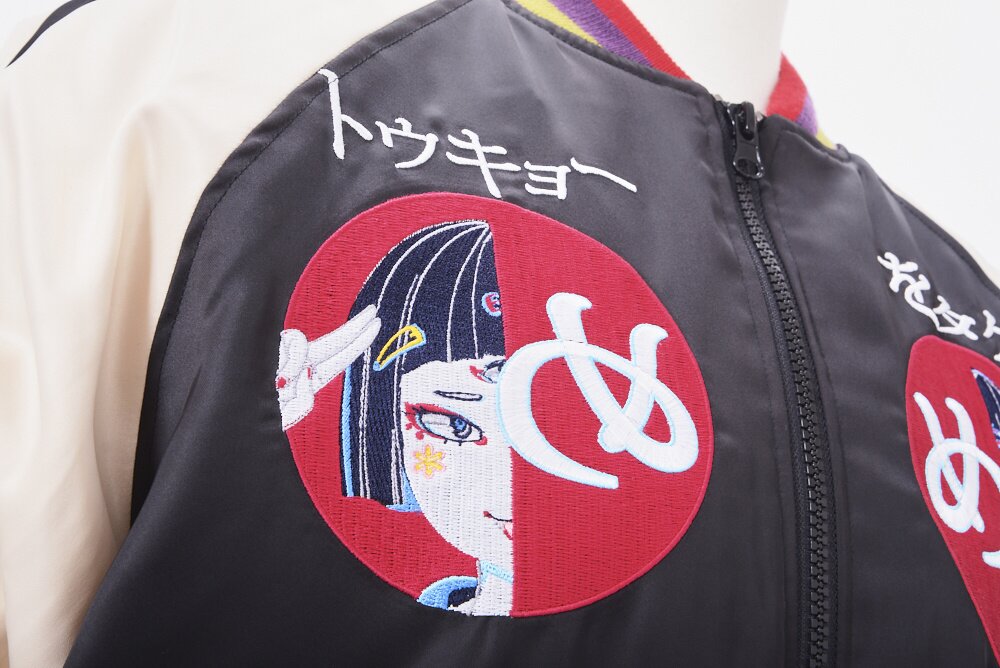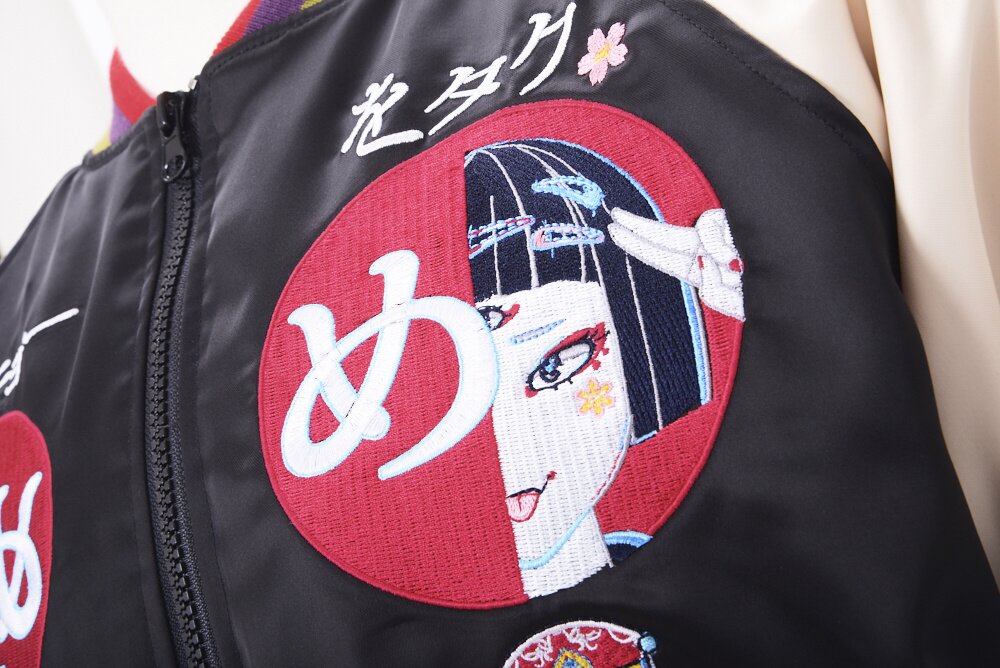 The embroidered designs in front give off a uniquely oriental aura, making the Tokyo Sukajan eye-catching from just about any angle.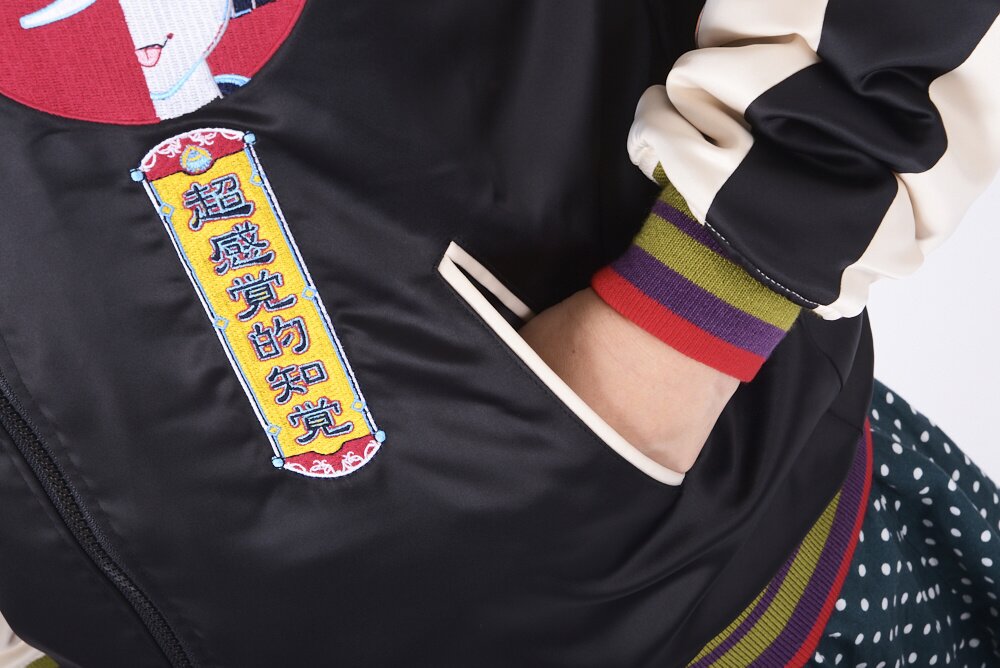 The badge featured on the left is finely embroidered with incredible attention to detail.

Exquisite Colors and Elongated Ribbing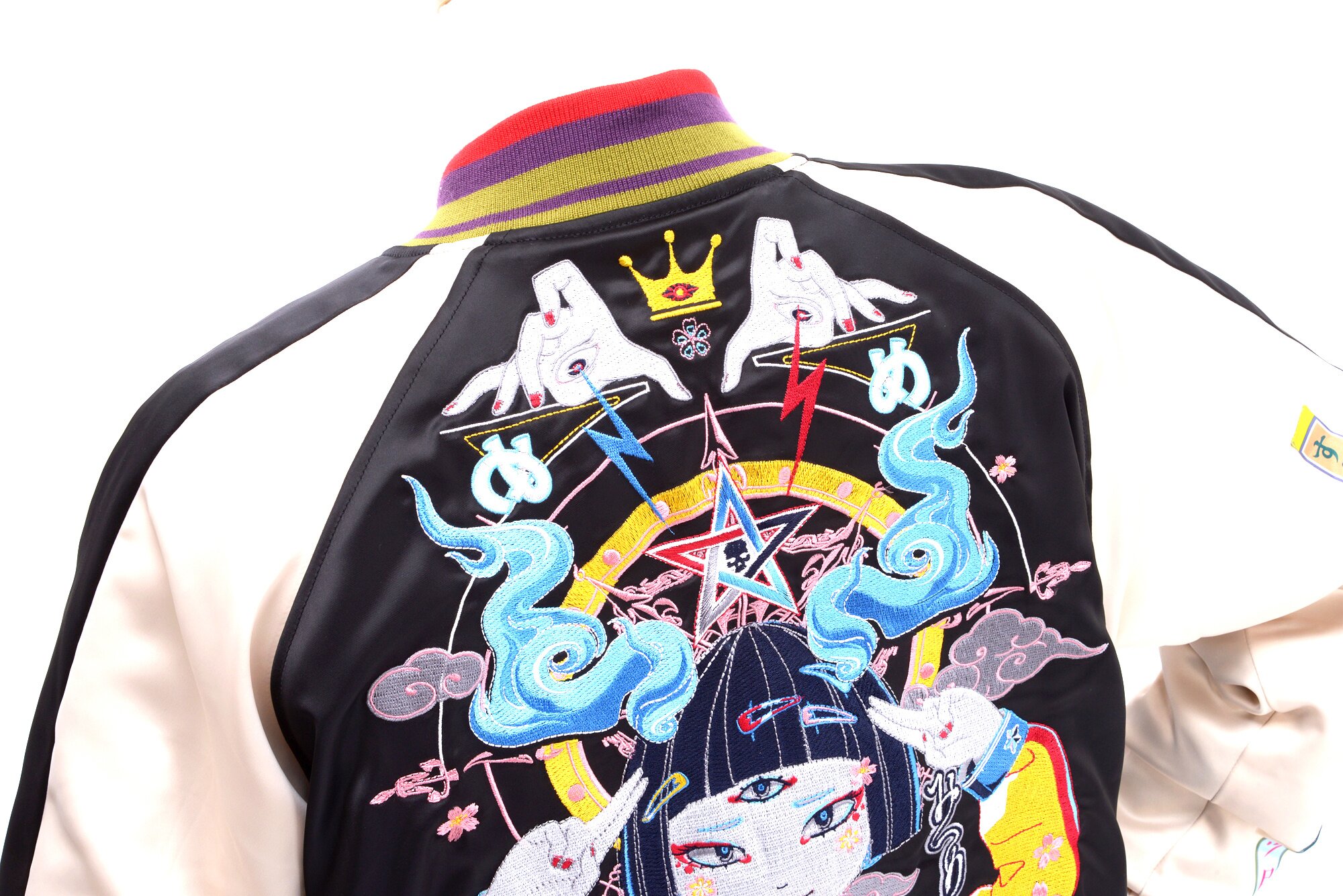 An exquisite and unique color combination is used on the ribbing, expressing Hiroyuki-Mitsume Takahashi's exceptional sense of beauty to the fullest. The ribbing is elongated for a stylish effect.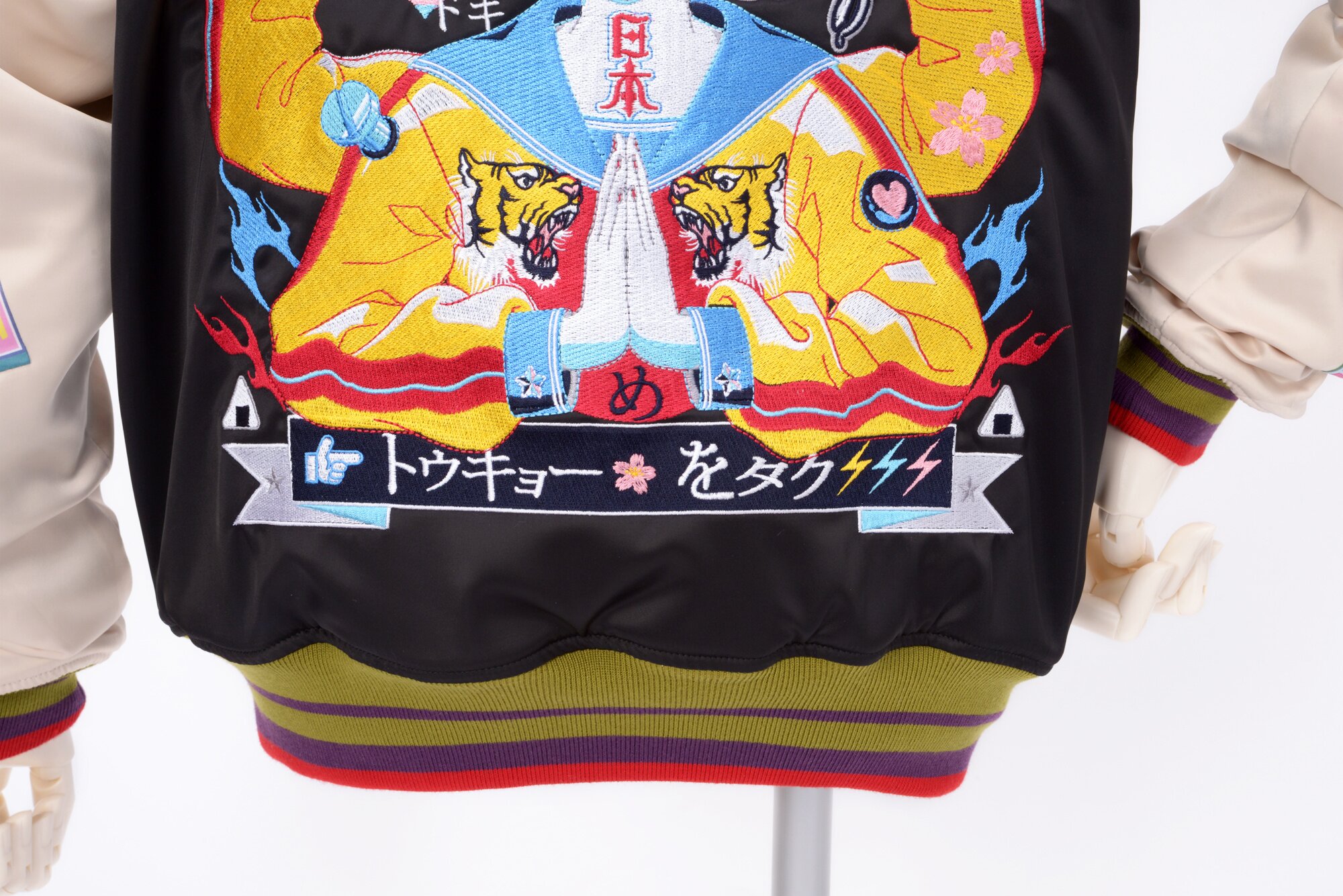 Gold and Black for a Luxurious Shine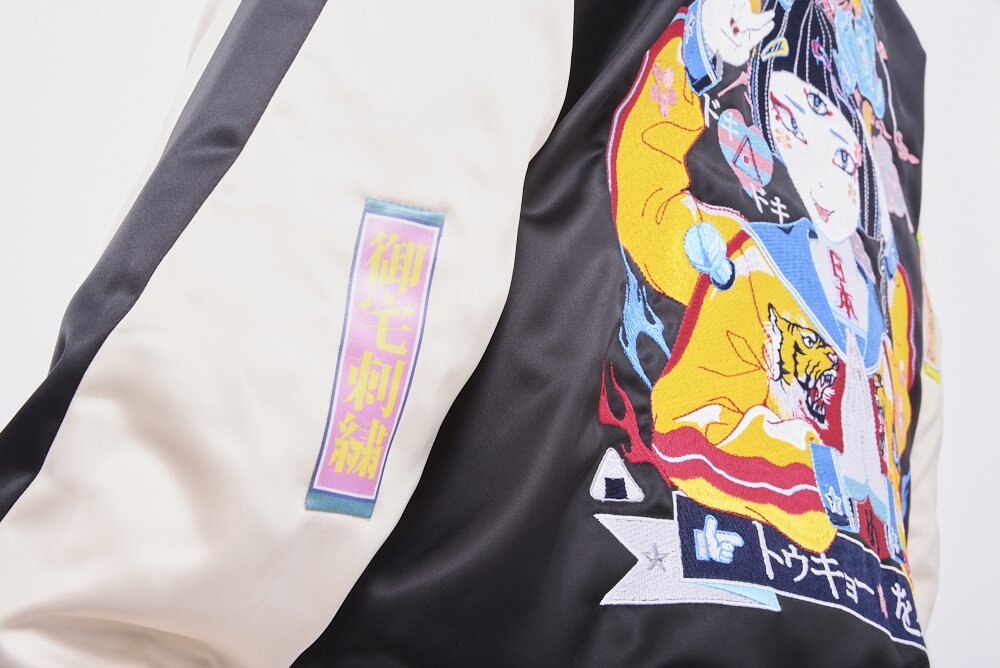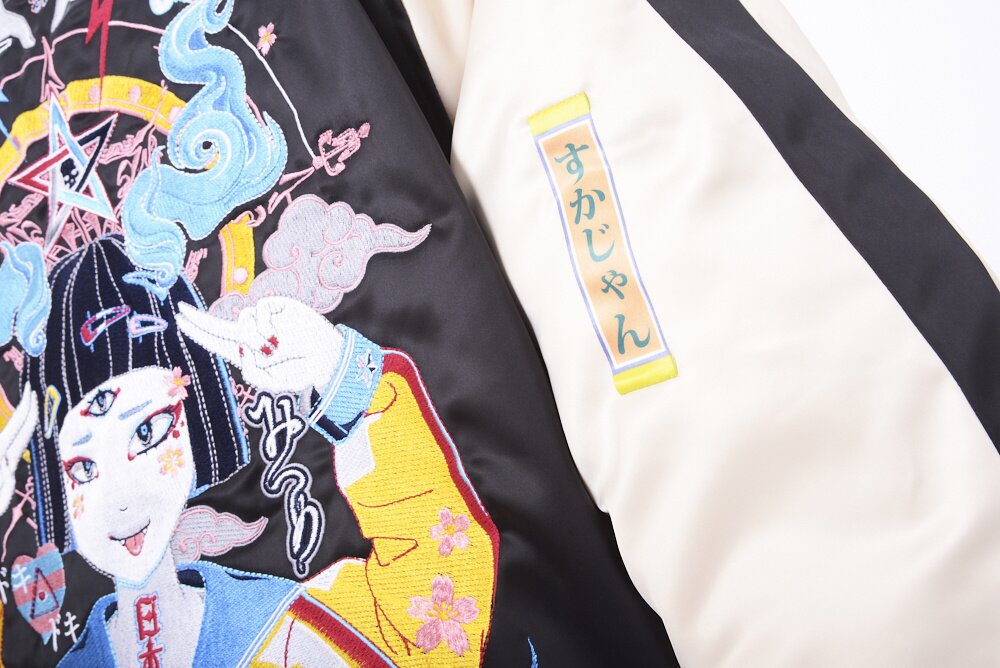 The contrasting gold and black featured on the body was also specifically chosen by Hiroyuki-Mitsume Takahashi. This classic combination brings out the charm of the embroidery, while also adding a luxurious shine to the overall image.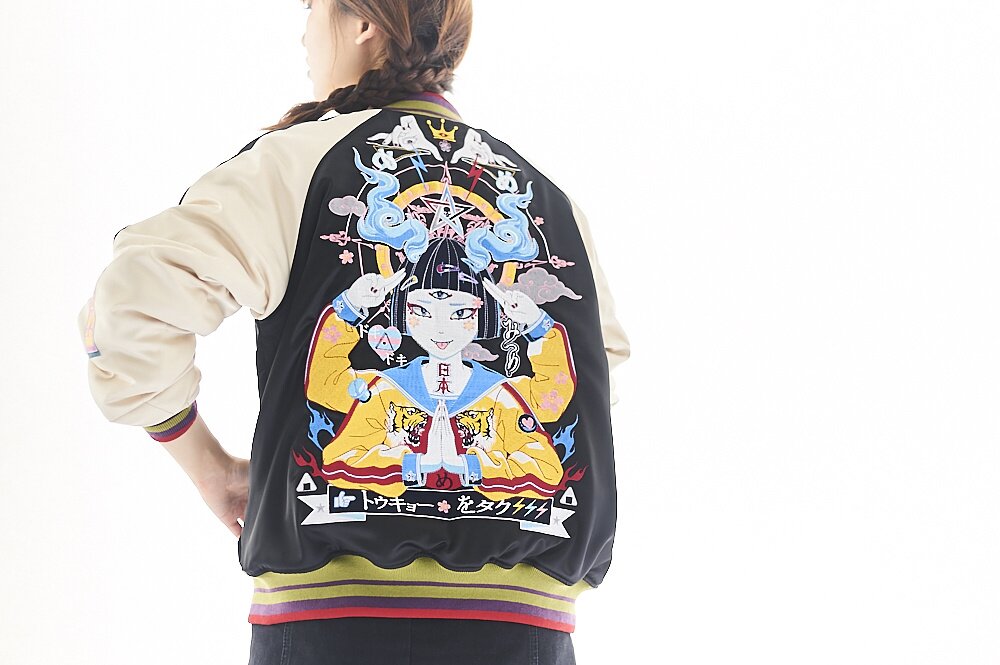 A variety of sizes are available for both men and women. Add the Tokyo Sukajan to your wardrobe, and enjoy wearing this signature piece that is sure to make a statement!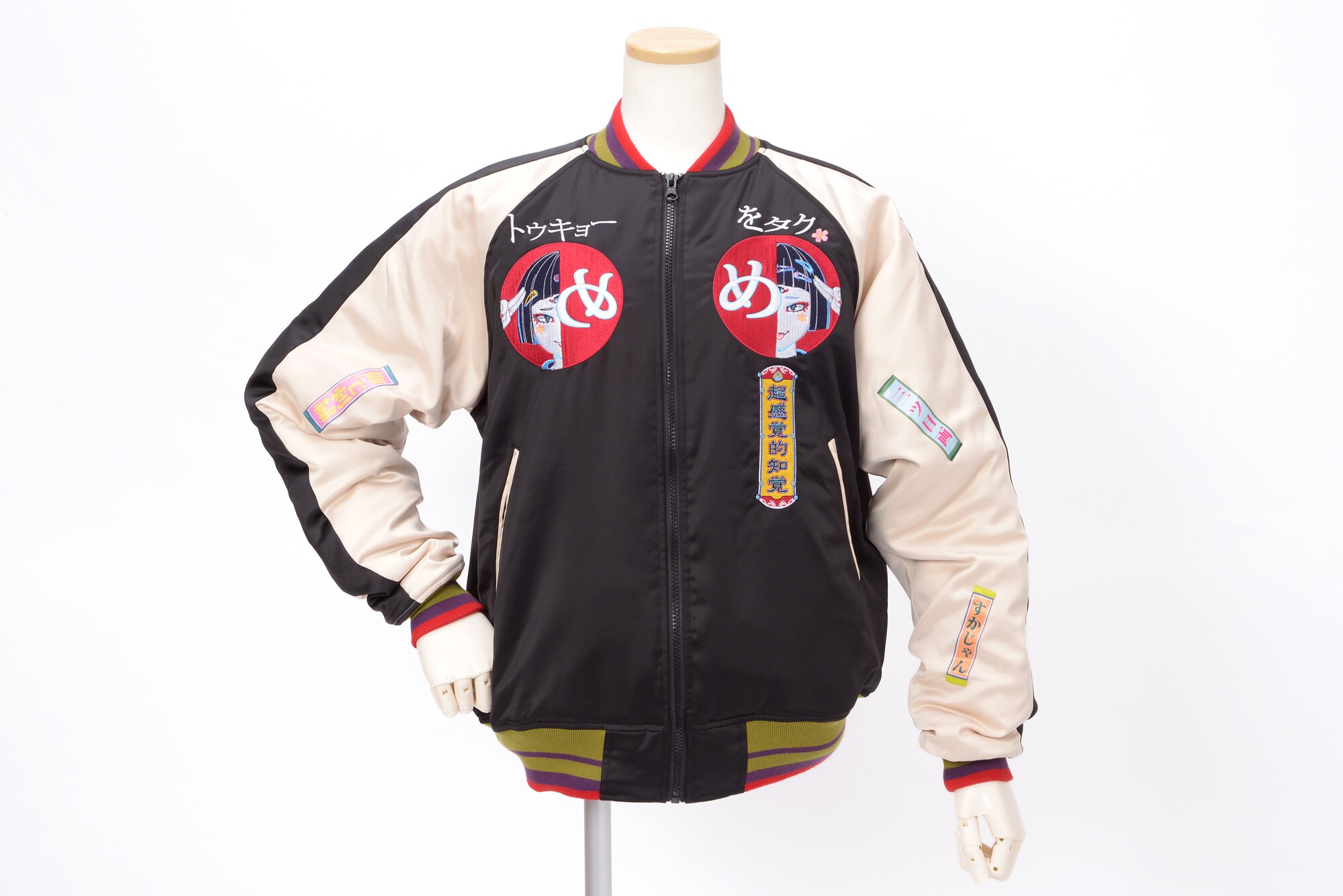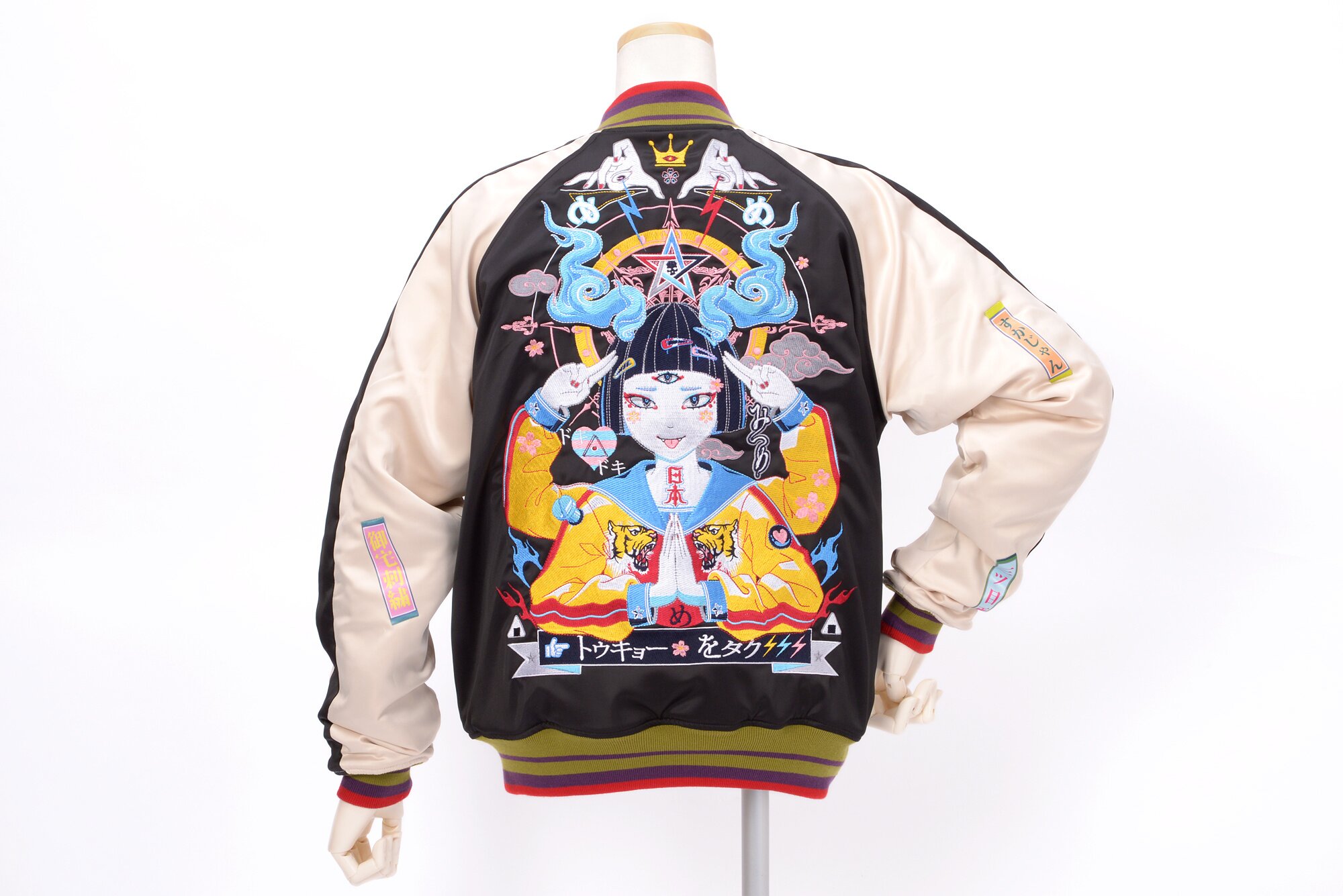 - Transfer printing is used for the badges on the sleeves. The badges are not embroidered.
- The Tokyo Sukajan worn by the models in the photos are samples. Actual products may vary, and any changes made will be announced on the Project page.
- The version with blue/black ribbing is not available.
Lookbook with additional photographs available here