2 entirely new films are opening in the Hibike! Euphonium series in 2018, but before that, an online announcement video for the film Hibike! Euphonium the Movie ~Todoketai Melody~ was released!
Hibike! Euphonium is a Kyoto Animation anime following high school girls who have been swept away by wind instruments. ~Todoketai Melody~, which is set to premiere Sept. 30, will be directed by Ogawa Taichi. Looking back on the second season of the anime, it's framed around protagonist Oumae Kumiko "inheriting" the wishes of senior Tanaka Asuka.
Despite less than 2 minutes long, the newly released video is thoroughly packed with Kumiko and Asuka. It will have fans excited again to see how the relationship between this pair evolves and develops as they come to understand one another!
There will also be a commemorative theater greeting tour beginning on Sept. 30, followed by repeat appearances on Oct. 1, 7, and 8. The main cast will make appearances including Kurosawa Tomoyo (Kumiko), as well as director Ogawa. Details about getting tickets will be posted on the official site on Sept. 15.
Hibike! Euphonium the Movie ~Todoketai Melody~ Theater Greeting Tour
Sept. 30 (Sat.)
Location: Shinjuku Piccadilly, Cinema Sunshine Ikebukuro, Yokohama Burg13
Guests: Kurosawa Tomoyo, Asai Ayaka, Toyota Moe, Anzai Chika, Kotobuki Minako, Ogawa Taichi (planned)
Oct. 1 (Sun.)
Location:MOVIX Sendai, MOVIX Utsunomiya, MOVIX Saitama
Guests: Kurosawa Tomoyo, Asai Ayaka, Toyota Moe, Anzai Chika, Kotobuki Minako, Ogawa Taichi (planned)
Oct. 7 (Sat.)
Location: MOVIX Shimizu, TOHO Cinemas Hamamatsu, Midland Square Cinema
Guests: Kurosawa Tomoyo, Asai Ayaka, Toyota Moe, Anzai Chika, Ogawa Taichi (planned)
Oct. 8 (Sun.)
Location: Osaka Station City Cinema, Namba Parks Cinema, MOVIX Kyoto
Guests: Kurosawa Tomoyo, Asai Ayaka, Toyota Moe, Anzai Chika, Ogawa Taichi (planned)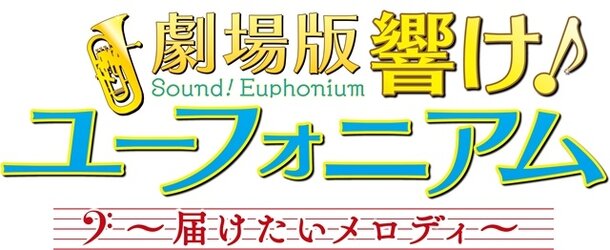 Hibike! Euphonium the Movie ~Todoketai Melody~
Premieres nationwide on Sept. 30, 2017
(c) Takeda Ayano・Takarajimasha / Hibike! Production Committee