Planning a trip to Tokyo and overwhelmed by all the places to visit in the otaku capital of Akihabara? We sat down with some experts at sightseeing -
Japanese language students currently attending the Intercultural Institute of Japan (near Akihabara!), for some insider tips on where to visit!
Say hello to our senpai for the day - Alessia, Andrei and Jeep.


They are super qualified otaku themselves - each decked out in all the cool swag you can find in Akihabara, so you know you're in good hands here. Check out their awesome collections!



Top 5 Insider Otaku Spots in Akihabara
1. Gachapon Kaikan


If you're a fan of gachapon machines, is this the place to go. The shop is lined with rows and rows of machines from vintage to the latest. You can spend hours in there! Gachapon is usually around 200~300 yen so it's easy on the poor student's wallet too!

Jeep: There's immense impact in seeing the interior filled with gacha machines all over. Anyone can enjoy gacha machines, and the prizes are really good too. I always go once a week. However, it can take a lot of money playing gachas before I get a prize of my favorite idol. My wallet becomes empty in the blink of an eye.

Where:3-15-5, Sotokanda, Chiyoda-ku, Tokyo, 101-1021, JAPAN
Hours: 11:00-20:00(Monday-Thursday)11:00〜22:00(Friday, Saturday, days before public holidays)11:00〜19:00(Sunday, public holidays)
2. Volks Dollpoint Akihabara


While figures are popular with anime fans, dolls are quickly gaining popularity, as they are highly customizable, and you can dress them up however you like. Volks is one of the most famous dollmakers in Japan best known for their collaboration with well-known anime characters. The Dollpoint in Akihabara is a treasure haven for doll fans!


Jeep: Another of my recommended spots is Volks Doll Point Akihabara located on the eighth floor of Radio Kaikan which is right near Akihabara Station. Being a huge fan of Hatsune Miku, I have a collection at home that includes CDs, figures, and more. My most cherished item among them, though, is a Hatsune Miku doll, which I also brought with me to Japan.

Jeep: Volks Doll Point Akihabara has a substantial doll photography space, so I hope everyone who likes dolls definitely stops by. Of course, they also have tons of doll-related items, so I'd recommend it to anyone interested in dolls.


Where: Radio-Kaikan 8th floor, 1-15-16, Sotokanda, Chiyoda-ku, Tokyo, 101-1021, JAPAN
Hours: 11:00-20:00(Monday-Friday) 10:00~20:00(Saturday, Sunday, public holidays)
3. Places Where You Can Meet Idols


Meet your idols in person!
AKB48 Theater in Akihabara is home to the worldwide idol phenomenon and where it all began. Even now, live performances are held regularly. Another place where you can meet idols is the "AKIHABARA Backstage Pass", where you can enjoy close encounters with cute idols.

Alessia: My recommendations are, without question, the AKB48 Theater and Akihabara Backstage Pass where you can see idols live. I can only basically see idols online overseas, so being able to see them up close and personal is truly a precious experience.
AKB48 Theater
Where:
Don Quijote Akihabara 8th floor, 4-3-3, Sotokanda, Chiyoda-ku, Tokyo, 101-1021, JAPAN
Hours:
17:00-21:00 on weekdays/12:00-20:00 on Sat. Sun. and holidays
*Opening hours are subject to change.
AKIHABARA Backstage pass
Where:
AKIBA Cultures ZONE 6th floor, 1-7-6, Sotokanda, Chiyoda-ku, Tokyo, 101-1021, JAPAN
Hours:
11:00-23:00
4. Idol Shops and Cafe


Idol fans mustn't miss out on the AKB48 Cafe&Shop right next to the Akihabara train station, where you can enjoy themed menus and the latest merch. Another place to hit up is the Hello! Project Official Shop to stock up on goods for groups such as Morning Musume and ℃-ute!
Alessia: When I first came to Japan in particular I would go to the Hello! Project Official Shop almost every day! I bought a ton of products, and they have huge monitors that play videos of idol concerts - just seeing that would make me so happy. There are also a lot of fans inside the store, and it's fun to also listen to what they're talking about!
Most Hello! Project fans are male, and from their point of view, being a foreigner and female on top of that, when I'm inside the store I get looks from people like "What the heck?" When I came to Japan, my Japanese was still poor and I couldn't talk, so it was hard even conveying to staff what products I wanted. But lately I've been getting praise from staff for how good my Japanese has become, which makes me really happy!
​AKB48Cafe & Shop
​Where:
1-1 Kanda Hanaokacho, Chiyoda-ku, Tokyo, 101-0028, JAPAN
Hours:
Cafe area
Monday - Thursday 11 a.m. - 10 p.m. / Friday & days before public holidays 11 a.m. - 11 p.m. / Saturday 10 a.m. - 11 p.m. / Sunday 10 a.m. - 10 p.m./ Public holidays 10 a.m. - 10 p.m.
Shop
Monday - Thursday 11 a.m. - 10 p.m. / Friday & days before public holidays 11 a.m. - 10 p.m. / Saturday 10 a.m. - 10 p.m. / Sunday 10 a.m. - 10 p.m. / Public holidays 10 a.m. - 10 p.m.
​Hello Project Official Shop
​Where:
Sakai Suehiro Bilding 6th floor, 6-14-2, Sotokanda, Chiyoda-ku, Tokyo, 101-1021, JAPAN
Hours:
Monday - Friday 12:00~20:00
Saturday & Sunday & public holidays 10:00~20:00
5. Kanda Myojin Shrine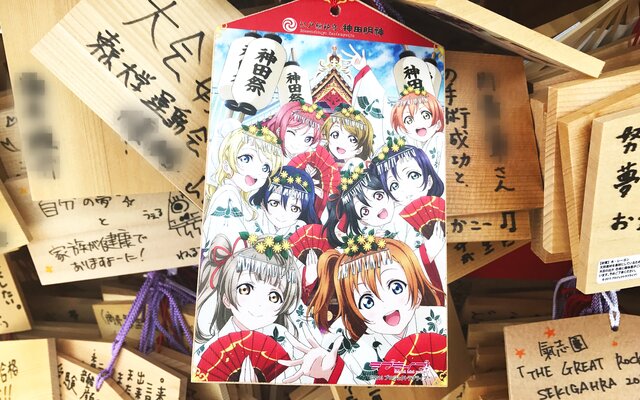 Kanda Shrine has over 1,000 years of history, and as a venerable shrine it's visited by many tourists from all over Japan and the world and is one of the most popular spots in Akihabara. Since it's also a location that's shown countless times in the anime Love Live! it's undoubtedly referred to by fans as a "holy spot" and is one that all Love Live! fans definitely need a pilgrimage to.


Andrei: Though not related to an exact spot, I always look forward to the Love Live! fan events that are held in Japan frequently. For fans who will be coming to Japan, it might be a good idea to check beforehand whether or not there will be an event for your favorite anime or video game held during your stay. Also, when I go to doujinshi events there are so many different kinds of doujinshi and fan goods that I end up buying way too much. And with fan events there are tons of people gathered who like the same thing, and even as a foreigner participating I'm treated very kindly which makes me really happy.
Where: 2-16-2, Sotokanda, Chiyoda-ku, Tokyo, 101-1021, JAPAN​
On studying abroad in Japan
Andrei, Alessia and Jeep weigh in on how they came to study in Japan.
Intercultural Institute of Japan is a popular choice for its proximity to Akihabara, but that's of course not the only reason (or so they claim =P).
Alessia: That's one reason, but, of course, it's not the only one. I, of course, considered other schools as candidates as well, but the Intercultural Institute of Japan is full of conversational classes and I thought they would be an easy way to improve my Japanese. There are also many other overseas students from Italy there, which also gave me peace of mind.
Andrei: I also looked into many schools prior to studying abroad. Among them, a big reason why I chose the Intercultural Institute of Japan is without a doubt its closeness to Akihabara. Being close to Akihabara also means having good access to different areas of Tokyo, so I recommend it to those who want to stroll through different areas and experience Japanese culture.
Jeep: The deciding factor for me was also that it's close to Akihabara. There are events related to anime and video games held in Akihabara just about every week. Being able to attend events right after class ends motivates me every day, and being in contact with Japanese people allows me to study native, everyday Japanese. I think that without a doubt the shortcut to improving your Japanese is making Japanese friends.

On getting into a language school
Andrei:: When I talked with a Swedish friend of mine living in Japan about studying abroad he introduced me to the Go! Go! Nihon service. By using the service I've been able to easily take care of the process for studying abroad and the contract with the school, which has allowed me to focus solely on my studies.

Alessia: I also used Go! Go! Nihon. It's a really popular service in Italy and Sweden, and I think that currently every Italian attending the Intercultural Institute of Japan uses it too. Periodically students studying abroad who used the service will get together to hold an event, and there are even videos of them on YouTube so there's a real sense of security.
Jeep: I'm happy with just studying Japanese so close to Akihabara, so I haven't run into any problems in particular! If there was one thing, maybe it would be that from the viewpoint of being Thai, Japan's winters are extremely cold [laughs].

So what do you think? Even with each of the three students we interviewed having differing otaku interests, they can each enjoy what they like in the world's best otaku district - Akihabara. And what is astonishing is that even though their Japanese is at differing levels they're still able to enjoy having otaku discussions in Japanese! Even from different countries, otaku can become friends right off the bat!
We hope this interview will be a helpful reference to those who will be traveling to Japan. If you have your own recommended spots to share, leave a comment and let otaku all over the world know about them!