Gakken Sta:Ful, a group company of Gakken Co., Ltd., will release Osomatsu-san greeting cards in March.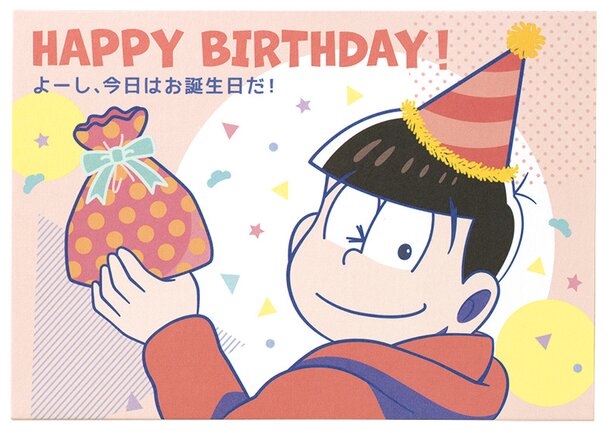 Osomatsu-san is as popular as ever!
Osomatsu-san aired at night on TV Tokyo from October 2015 through March 2016 in honor of Fujio Akatsuka's 80th birthday and was a massive success. It continues to be popular even outside of anime fans, earning support from men and women of all ages. Even now that the broadcast has ended, it continues to appear in a variety of collaborations, special programs, and goods.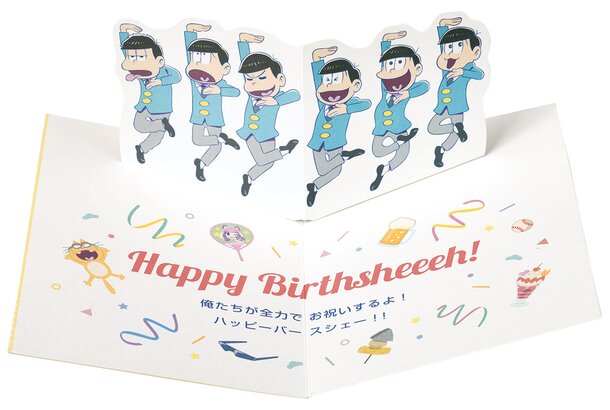 This will be their first appearance on greeting cards! Designed using the greeting card know-how of Gakken Sta:Ful, these gems capture the charm of Osomatsu-san.
Each card features a line from the respective character, capturing their charm!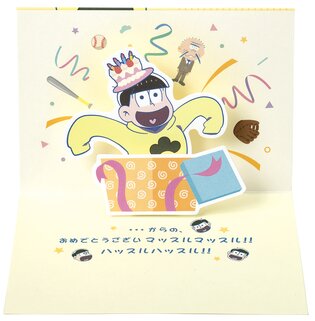 The world of Osomatsu-san is brought to life through this fun design - when you open the card, the character will pop out to greet you! In addition to designs for each of the six brothers, there are also two versions that feature all of them for a lineup of eight versions total. You'll be captivated by their colorful and cute designs, and they're a great way to liven up a happy birthday.
Each character is carefully captured, with not only the artwork done in their character color but also the text! Each line featured is also one that you won't find written anywhere else.
These are great for sending to Osomatsu-san fans! You can also choose a character that's like you to send to someone who hasn't seen the show, or a character that suits the receiver, or if you just want to send something with humor! They're also a must-have for collectors!
Product Details
● Name: Osomatsu-san Birthday Pop Cards (8 versions)
● Material: Paper
● Price: ¥340 (plus tax)
● Estimated Release: Late March 2017
● Lineup: Osomatsu, Karamatsu, Choromatsu, Ichimatsu, Jyushimatsu, Todomatsu, Group (2 versions)