The Gakken Holdings Co., Ltd. group company Gakken Plus will be releasing the February 2017 issue of Otomedia on Jan. 10! (1,148 yen plus tax).

**★ A Special February Issue in Honor of Valentine's Day!**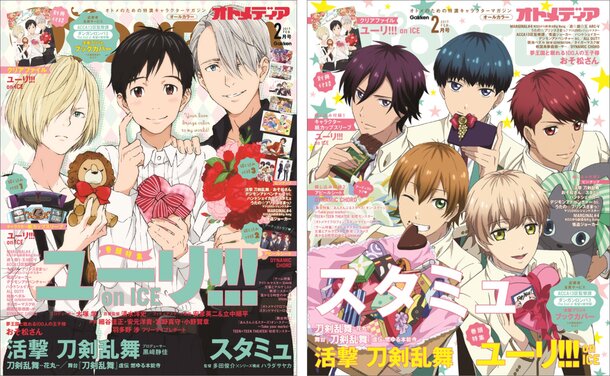 ★ Yuri!!! on Ice Featured on Cover and Opening Page!
Featured are lots of comments from the cast of Yuri!!! on Ice about Valentine's in the figure skating world! There are staff interviews with producer Otsuka Manabu, sound director Yoji Shimizu, and figure skating key animators Eiji Abiko and Junpei Tachinaka, as well as cast comments from Yoshimasa Hosoya, Hiroki Yasumoto, Mamoru Miyano, and Kensho Ono, and a Wataru Hatano free skate live report commemorating the release of the ending single from November and December, "You Only Live Once." This special is fully loaded with other must-read content, as well, including a course on how to do character nails based on Yuri Plisetsky, as well as news about an Animate Cafe!
★ Second Special: Touken Ranbu
● Interview with Katsugeki Touken Ranbu producer Shizuka Kurosaki
● Touken Ranbu -Hanamura- dialogue with Mitsuhiro Ichiki and Toshiki Masuda
● Repeat showing of Touken Ranbu: Kyoden Moyuru Honnouji

**★ Third Special: Star-Myu**
● Team Otori Valentine's comments
● Dialogue with director Shunsuke Tada and series composer Sayaka Harada
■ Product Details
Title: Otomedia February 2017
Price: 1,148 yen plus tax
Release Date: Tuesday, Jan. 10, 2017
Format: A4 wide
Publisher: Gakken Plus