Charaletter is revamping their children-focused Pokémon-themed letters to reflect the new design of the Pokemon Sun & Moon anime series! Releasing Dec. 1, not only will they be updated in appearance, but their messages will be tweaked as well!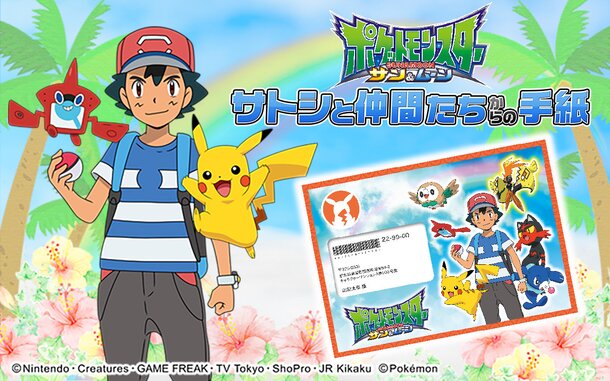 Now labeled "Pokémon - Letter from Ash & Friends," the updated Charaletter will show everyone's beloved protagonist Ash Ketchum, familiar companions, and new ones straight from the Alola region! As always, the mood will be extra lively so children will find the letter (plus photo card and puzzle seal) immensely enjoyable!
With four different types of Pokémon-themed Charaletters, there'll be a perfect one available for every kind of occasion!
Four Types of Letters!
[Happy Birthday] Let Ash and his friends wish you a happy birthday!
[Special] For a super special day or brightening up a normal one!
[Merry Christmas] Let Ash and his friends wish you a Merry Christmas!
*Accepting orders until mid December 2016.*
[Congratulations on Your School Acceptance] For encouraging children entering a new phase in life!
*Orders planned to open around February 2017.*
Every letter can be picked in either full hiragana, or a mix of hiragana and kanji.
■ Product Details
Name: Pokémon - Letter from Ash & Friends
Design Origin: Pokémon Sun & Moon anime
Price: 1,512 yen (tax included, shipping and handling separate)
Location: Exnet Online Shopping Portal
Availability
"Happy Birthday" and "Special" are available starting Dec. 1, 2016.
"Merry Christmas" is already available for pre-order.
Set Contents
・A5-size envelope
・Stationery with slot to write name or nickname
・Photo card
・Puzzle seal
■ About Charaletter
Charaletter is a service that delivers letters to children, straight from their all-time favorite characters, making their dreams come true and bringing smiles to their faces! Since their invention, they've already surpassed over 250,000 orders and are quite popular among parents and relatives that love sparking their children's imagination and happiness.
There are four different types of letters that can be chosen in either all hiragana or a mix of hiragana and kanji, perfect for complementing the child's age and reading level. Seeing characters they've grown up with will encourage children to use the letters as reading practice. For those who can't read yet, parents can spark the willingness to learn by reading the letters to them! An adult version of Charaletter was also made available at the start of May 2015.
©Nintendo, Creatures Inc., GAME FREAK Inc, TV Tokyo Corp., ShoPro, JR Kikaku
©Pokémon