"ArtFX J Red with Pikachu," the first in Kotobukiya's series of Pokémon figures, is set for release next month! Kotobukiya will be holding an exhibition event to celebrate the release of the iconic figure of the legendary Pokémon trainer Red from Nov. 11 to 17 at the third floor event space in the Kotobukiya Tachikawa-Honten store.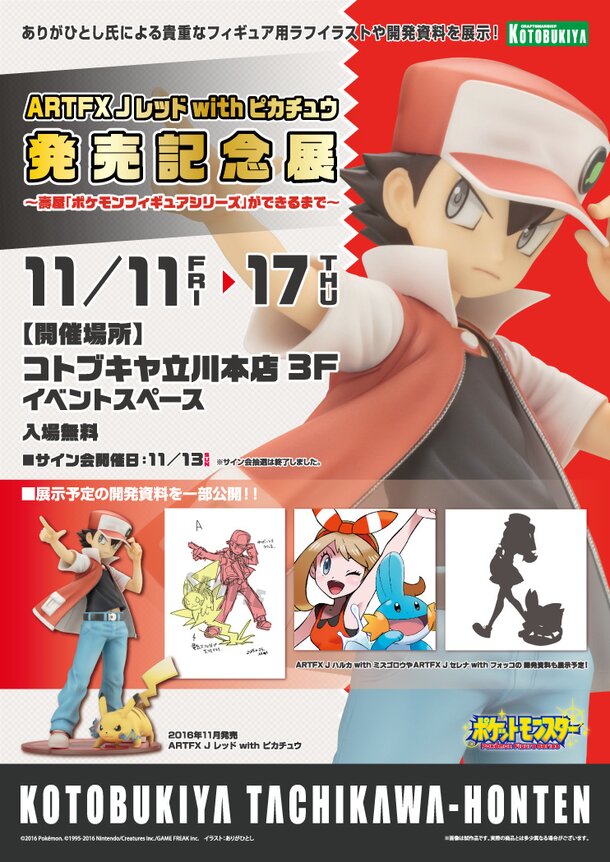 Pre-orders are currently open for the first figure in Kotobukiya's Pokémon figure series, "ArtFX J Red with Pikachu," which will be released in November 2016. At the celebratory exhibition event at Kotobukiya Tachikawa-Honten, rough illustrations for the Kotobukiya Pokémon figures and a variety of other illustrations by the famed Pokémon illustrator Hitoshi Ariga will be on display. There are also rumours that mysterious items will be announced for the first time at the event... So if you're in Japan while it's taking place, make sure you don't miss it!
Click here to check out the event homepage!
Event Details
Name: ArtFX J Red with Pikachu Release Celebration Exhibit at Kotobukiya ~Until the Pokémon Figure Series Is Complete~
Dates & Times: Friday, Nov. 11 to Thursday, Nov. 17, 2016
・Weekdays: 11 am to 8 pm
・Weekends and National Holidays: 10 am to 8 pm
Signing: Sunday, Nov. 13
Location: Kotobukiya Tachikawa-Honten 3F event space
*Entry to this event is free.*
*The lottery for admission to the signing event has already ended.*
© 2016 Pokemon
© 1995-2016 Nintendo / Creatures Inc. / GAME FREAK Inc.