Black Butler was first adapted into a TV anime starring the perfect butler Sebastian Michaelis and young master Ciel Phantomhive back in 2008, and now after four TV incarnations the series is finally headed to the big screen. Black Butler: Book of the Atlantic will adapt the popular Luxury Liner arc from the original manga and is scheduled for release in cinemas across Japan on Jan. 21, 2017. The poster image and latest trailer have now been released, and the second round of advance ticket sales, additional casting information, and news on merchandising have also all been announced too.
All new main visual designed by character designer and chief animation director Minako Shiba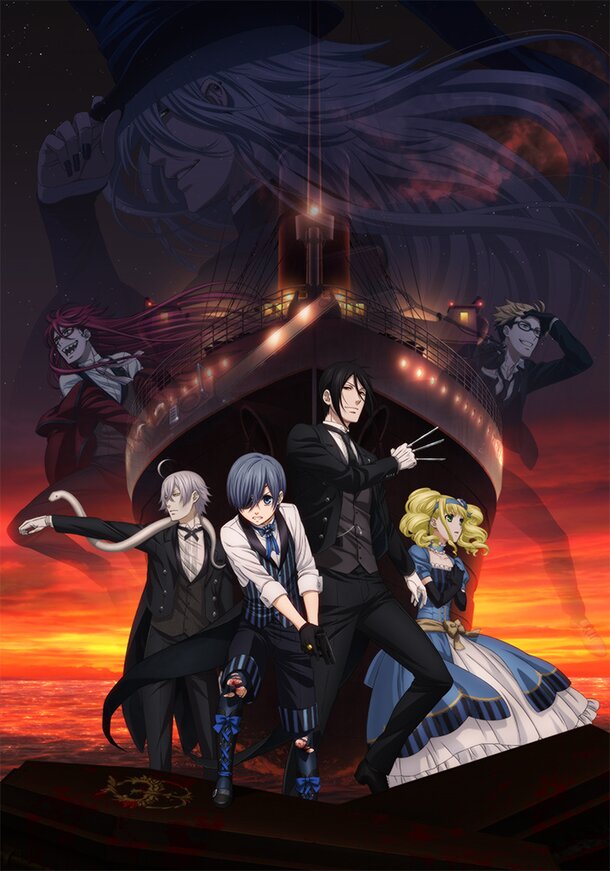 Brand new trailer PV for anime movie unveiled! Features theme song by Sid
Second round of advance ticket sales begins Oct. 29, special purchase bonus commemorative ticket available nationwide
Commemorative tickets featuring Minako Shiba's main visual will be available across Japan. As a special purchase bonus, each ticket will come with a limited edition B2-size theatrical poster.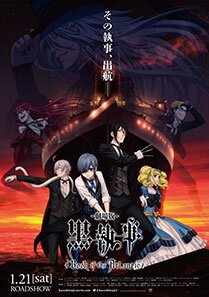 Advance Ticket Price: 1,500 yen (tax included)
Same Day Tickets: 1,800 yen
Tickets available from: Cinemas across Japan
*Only one type of commemorative ticket is available.*
*The B2 size poster is a limited edition item and is only available while stocks last.*
Additional cast announced!
Charles Grey: Ryohei Kimura
Charles Phipps: Tomoaki Maeno
Viscount of Druitt: Tatsuhisa Suzuki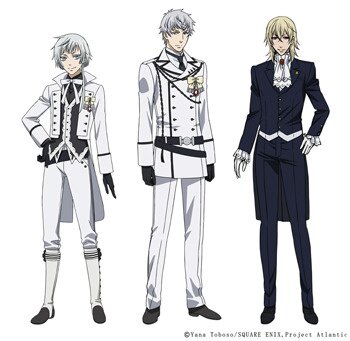 Unlike in the original Luxury Liner arc in the manga, the two Charles are getting onboard for the movie. You'll have to wait until you see the film to find out just what it is they're doing there!
Animate Girls Festival 2016 Appearance Information
*Black Butler* will be making an appearance at the Animate Girls Festival to be held at Ikebukuro's Sunshine City from Nov. 5-6 in the Aniplex booth where there will be brand new Black Butler: Book of the Atlantic merchandise available featuring SD illustrations of the characters from the movie.
A4 Clear File Set: 800 yen (including tax)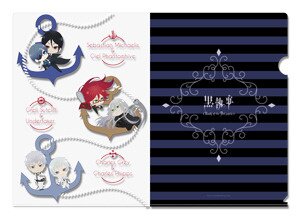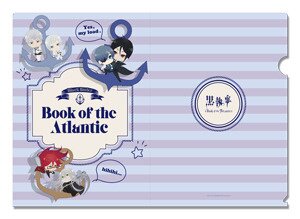 Lunch Tote: 1,200 yen (tax included)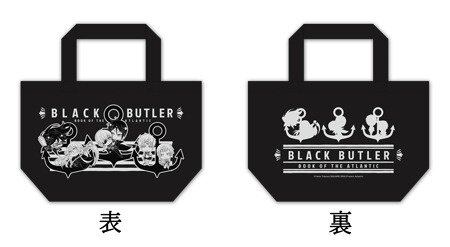 Sliding Acrylic Charms: 1,000 yen (tax included)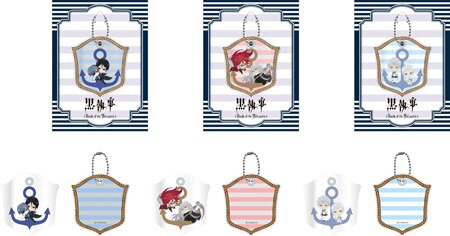 Story
Butler Sebastian Michaelis and the 13-year-old master of the elite Phantomhive household, Ciel, investigate shady goings on in the underworld of 19th century England where they are known as the Queen's Watchdogs. Hearing credible reports of the dead rising, Ciel and Sebastian board the luxury liner Campania. Just as they suspected, there is something lying in wait for their arrival…
Creative Team
Original Author: Yana Toboso (originally published in Square Enix's G Fantasy)
Director: Noriyuki Abe
Screenwriter: Hiroyuki Yoshino
Character Design/Chief Animation Director: Minako Shiba
Sub-character Design: Chisato Kawaguchi
Prop Design: Manami Fukuyo
Background Art: Yukihiro Watanabe
Art Setting: Kanichi Morioka
Color Setting: Kanako Hokari
Cinematography: Yukihiro Matsumoto
CG Director: Takahiro Chaya
Editing: Masahiro Gota
Music: Yasunori Mitsuda
Development: A1 Pictures
Distribution: Aniplex
Production: Project Atlantic
Cast
Sebastian Michaelis: Daisuke Ono
Ciel Phantomhive: Maaya Sakamoto
Elizabeth Midford: Yukari Tamura
Undertaker: Junichi Suwabe
Grelle Sutcliff: Jun Fukuyama
Ronald Knox: KENN
William T. Spears: Noriaki Sugiyama
Snake: Takuma Terashima
Baldroy: Hiroki Tochi
Finian: Yuki Kaji
Mei-Rin: Emiri Kato
Charles Grey: Ryohei Kimura
Charles Phipps: Tomoaki Maeno
Viscount Druitt: Tatsuhisa Suzuki
Official Twitter Account: @kuroshitsuji2
© Yana Toboso / SQUARE ENIX, Project Atlantic