Spik Vanstar's subsidiary company Spik Kobo launched their official car wrapping service titled Official Itansha Project on Sept. 9! In collaboration with the otaku store Animate, Spik Kobo will be offering fans their first Hatsune Miku car wrap in an effort to support the popular itasha trend (where people decorate their cars with characters from anime, manga, games, and more).
Luckily, this company has been in good standing since their conception 85 years ago, so those considering an otaku-esque makeover can have peace of mind and put their confidence in this veteran printing company.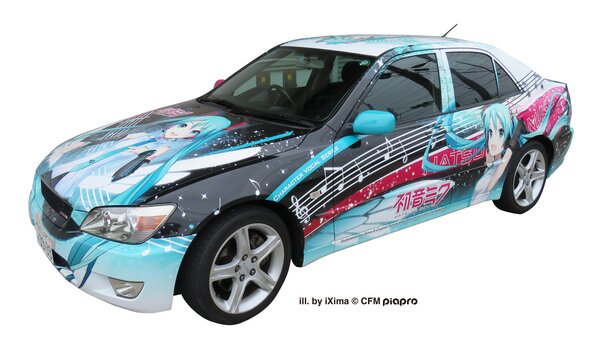 For those who aren't completely sold on the idea, Spik Kobo is debuting this car wrap at Magical Mirai 2016 from Sept. 9 to 11. This event is being held at the Makuhari Messe convention center outside of Tokyo, where attendees can experience the culture of all things Hatsune Miku.
■ About the Official Itasha Project
Gorgeous designs by illustrator iXima were used for the car wrap. iXima is also an official illustrator for Vocaloid who designed the package illustration for the singing synthesizer Hatsune Miku V4X.
This commission took into consideration the body of the car, so that Hatsune Miku's positioning would match it for the most aesthetically pleasing look. Adjustments in calibration for the best possible look can also be done.
The shortest time that the car wrap can be installed by a worker is 3 days - but those who trust themselves the most or love a challenge can also choose to do it themselves!
Click here to see a video tutorial on how to install the wrap.
At Spik Kobo, those interested in the Hatsune Miku car wrap can choose it as is or even make smaller adjustments, like to the color, or they can bring in their own original design and have it installed instead!
Reference Prices (Pre-Tax):
◇ Full Wrapping - M Size (Regular-size Car): 480,000 yen
◇ Full Wrapping - L Size (Medium-size Car): 620,000 yen
◇ Portion Hood Section - M Size (1 x 1.3 m) - 75,000 yen
◇ Portion Double Door Section - M Size (1.3 x 2 m) - 110,000 yen