The shop for New York's Museum of Modern Art was the chosen shop for Shin Co., Ltd.'s Itazura Banks, and these cute banks just got a lot cuter with an appearance by Pikachu based on its appearance in Pokémon XY & Z and the hit film Pokémon the Movie: Volcanion and the Mechanical Marvel!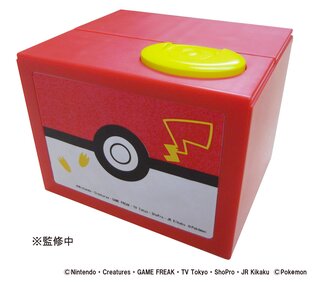 ■ About Itazura Bank
Itazura Banks were released in 2009, and have since been adored by their users with more than 500,000 sold. That love isn't slowing down, either, with a 200% increase from last year!
Itazura Banks are designed based on a variety of animals and characters including favorites like Kumamon, Godzilla, and Hello Kitty.
Itazura Banks were designed to make saving fun. As you put a coin on a spot on top of the cardboard box-like design, a voice is heard from within the box and a character or animal comes out, bringing the coin back into the box with them as they make another noise. They're now enjoyed not only as banks, but as fun toys, and Itazura Banks pop up a lot in videos all over the internet.
Find the original Itazura Bank here!
■ About Pikachu Bank
After you set your coin on top of the Pokéball-like box, you can hear Pikachu's voice as it appears and carefully takes your coin. Pikachu can make 243 different sounds and has a number of actions to go along with them, as well, so you can have a lot of fun enjoying this bank.
**■ About Pokémon XY & Z
This extremely popular anime series appears on TV Tokyo every Thursday at 6:55 p.m. Nearly 20 years have passed since the anime first began airing in April 1997, and it has been broadcasted in 93 countries and regions. Pikachu is the best-known Pokémon in the series.
©Nintendo, Creatures Inc., GAME FREAK Inc., TV Tokyo Corp., ShoPro, JR Kikaku
©Pokemon
■ Pikachu Bank Summary
Name: Pikachu Bank
Estimated Release: November 2016
Price: 2,980 yen (3,218 yen after tax)
Available Through: Domestic shops and sites dealing with toys and miscellaneous goods
Dimensions: 102 x 126 x 106 mm | 4" x 5" x 4.2"
Required Batteries: 2 AA batteries (sold separately)
Target Age: 6 and older
Sales: Tomy Company, Ltd.
Marketing: Shine Co., Ltd.
*The bank is compatible with all coins used in Japan. Approximately 40 500-yen coins can be stored.*
■ Future Plans
Pikachu Bank will be on display at the 2016 Fall Osaka Toy Fair, Christmas Toy Trade Fair 2016, and 2016 Nenmatsu Juchukai in Kawada (2016 end-of-the-year product ordering event).
Information about new products are released on the site's page and through videos.
For current products, please see this page.
■ About Shine Co., Ltd.
With "from planning to creation" as its theme, Shine emphasizes creating new things, carefully bringing each project from its start to its finish. It uses mechatronics for design, production, overseas manufacturing, inspection, and sales of amusing tools, toys, and miscellaneous goods.