On Friday, May 6, Hatsune Miku made her hotly anticipated return to LA, 1 year and 10 months on from 2014's Miku Expo.
This year's Miku Expo took the aquamarine-haired Vocaloid on a massive tour of North America, featuring 15 live shows in not only the US but also Canada and Mexico, making it her biggest foreign tour yet.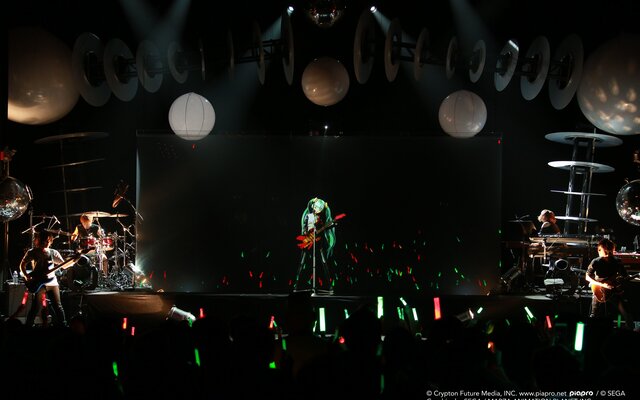 A record 12,000 excited fans flocked to her Seattle, San Francisco, and LA shows. So to round up the twin-tailed star's West Coast shows, let's take a look at what went down in LA!
TOM's US office is located in LA, and although the show started at 7:00 pm, we saw eager fans lining up from 4:00 pm to get their hands on Hatsune Miku merchandise!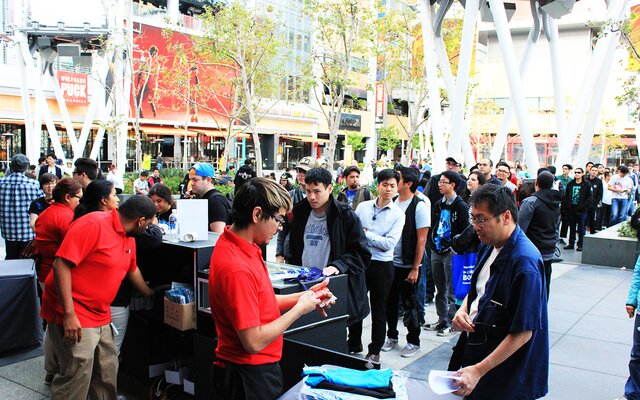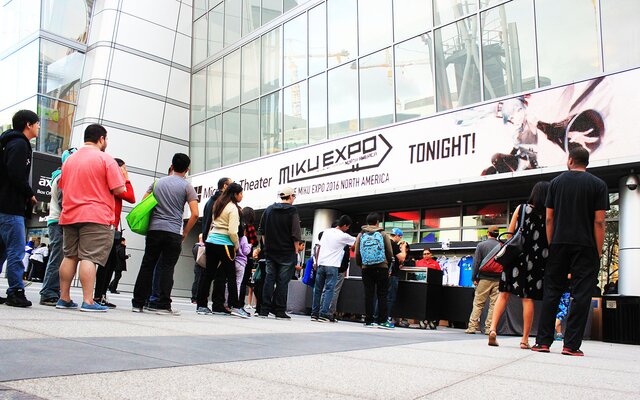 Cosplay is definitely one of the biggest aspects of the unique culture of the Vocaloid series.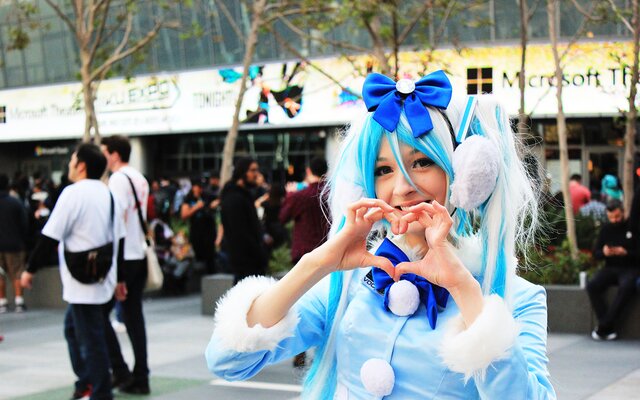 A lot of Miku Expo attendees back in 2014 had also arrived in their finest cosplay. Before the doors opened, fans were naturally gathering together and holding their own photo sessions.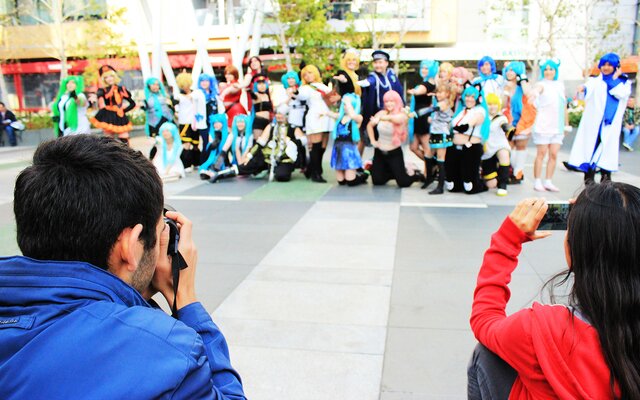 Before we knew it, about 30 cosplayers had suddenly grouped together.

Fans gathered around and an impromptu photo session began, with fans calling out countdowns while snapping shots.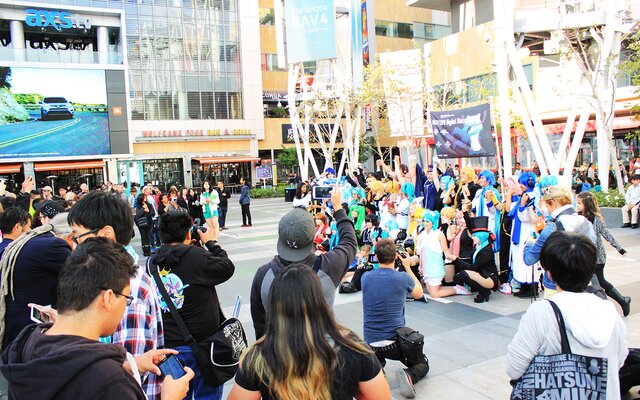 This year's concert was even more impressive than 2014's LA concert, and the collaboration with Anamanaguchi let fans see a different side of Hatsune Miku.
Sadly the tour is already over, but check out the link below for awesome Hatsune Miku features, including the winning submissions of the Miku Expo Song Contest and the Hatsune Miku Expo 2016 Official Music Video for "Blue Star feat. Hatsune Miku (MIKU EXPO ver.)"!
Hatsune Miku Expo 2016 North America
**Setlist (Spoiler Alert)**
1. The World Is Mine feat. Hatsune Miku (by ryo(supercell))
2. Disappearance of Hatsune Miku feat. Hatsune Miku (by cosMo@BouSou-P)
3. Two-Faced Lovers feat. Hatsune Miku (by wowaka)
4. Unhappy Refrain feat. Hatsune Miku (by wowaka)
5. World's End Dancehall feat. Hatsune Miku & Megurine Luka (by wowaka)
6. magnet feat. feat. Hatsune Miku & Megurine Luka (by minato)
7. Weekender Girl feat. Hatsune Miku (by kz(livetune) x Hachioji P)
8. Shinkaisyoujo feat. Hatsune Miku (by Yuyu)
9. Glass Wall feat. Hatsune Miku (by GuitarHeroPianoZero)
10. Snowman feat. KAITO (by halyosy)
11. Change me feat. MEIKO (by shu-t)
12. Tokyo Teddy Bear feat. Kagamine Rin (by Neru)
13. Butterfly on your Right Shoulder feat. Kagamine Len (by noripy)
14. remote controller feat. Kagamine Rin & Len (by WONDERFUL OPPORTUNITY!)
15. Koi Ha Sensou feat. Hatsune Miku (by ryo(supercell))
16. Last Night, Good NIght (Re:Dialed) feat. Hatsune Miku (by livetune)
17. Ten Thousand Stars feat. Hatsune Miku (by CircusP)
18. Just Be Friends feat. Megurine Luka (by Dixie Flatline)
19. Himitsu Keisatsu feat. Hatsune Miku (by Buriru)
20. The Intense Voice of Hatsune Miku feat. Hatsune Miku (by Storyteller with Bousou Orchestra)
21. Sekiranun Graffiti feat. Hatsune Miku (by ryo(supercell))
22. Tell Your World feat. Hatsune Miku (by livetune)
23. Blue Star feat. Hatsune Miku (by Hachioji P)
Encore 1: Sharing the World feat. Hatsune Miku (by BIGHEAD)
Encore 2: 39 feat. Hatsune Miku (by Anamanaguchi)
Encore 3: MIKU feat. Hatsune Miku (by sasakure.UK x DECO*27)
Encore 4: Fragments of Stars feat. Hatsune Miku (by Eiji Hirasawa)
Photos by Sachiko Kanai & Daiki Nakata
*Article by Crazy D*