Creating something new together with fans and taking on an overseas crowdfunding project for Samurai Armor Hoodies.
STUDIO696 and TOM are collaborating on the Samurai Armor Hoodies crowdfunding project which is just about to launch. The main producer of this project is none other than the vocalist of the anisong band milktub, Bamboo. In this interview, we asked him about his feelings and fixations regarding the project.
 

——These samurai hoodies are unbelievably cool.
**Bamboo (B):** Thank you.
——As the designer of these hoodies, what gave you the idea to create them?
**B:** About three years ago, I found an article on the internet about a hoodie based on Western armor. I thought it was cool, so I bought it right away. When I held it in my hands, I liked it, so I thought, "If there is Western armor, there should be a Japanese version, too, I'll get that next time." But no matter how hard I looked, where and how I searched, there was simply no such product.
——If it doesn't exist, why not do it yourself, right?
**B:** Exactly.
——According to what I heard, you are neither a fashion designer nor do you intend to specialize in apparel.
**B:** That's right. Although I also make apparel, originally, I'm an active musician. I'm the vocalist in a rock & roll band called milktub, we perform anisongs mostly. I am also the representative of a game production company and the indie label STUDIO696, which has its own recording studio. Besides my own tunes, I also produce music for anime and games, and even act as a radio personality. I work in a wide range.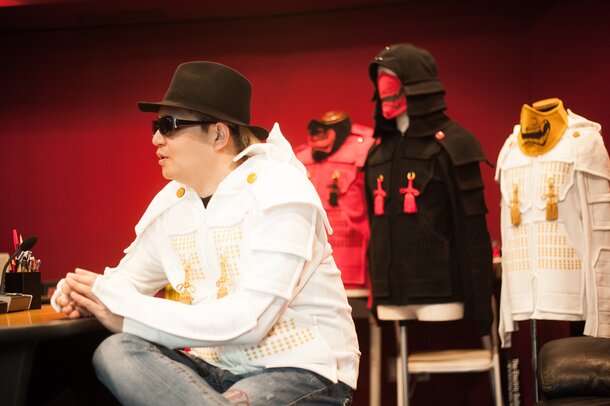 B: As of late, I'm not even sure what I am anymore. I've been living my life chasing after fun stuff, and before I knew it, I became like this (laughs sarcastically).
——When did you enter the apparel world?
**B:** About 10 years ago. At first, we were selling printed T-shirts and stuff which was a direct extension from band merchandise, but we were so self-conscious about making something that can't be found elsewhere that we made the pattern for the body itself and started making them ourselves. The concept was that when a guy looks at it, it's cool, but when a girl looks at it, it's cute. This way, it's easy to use and interesting to wear. The Suspicious Person Hoodie series, which you could say was the starting point for the Samurai Armor Hoodies, was born while seeking clothing like that.
——Suspicious Person Hoodie, that's some very interesting naming there!
**B:** We made different style hoodies to achieve our goal, which was to become a suspicious person when you put it on. For example, making it full zip to hide your face or making separate left and right parts so that you can match different colors together. It sold better than expected.
——And the latest addition to the Suspicious Person Hoodie series would be the Samurai Armor Hoodies.
**B:** That's right. Although there was a period when we didn't release a new item in two years, I wanted to make something for the 10th anniversary of the Suspicious Person Hoodies, and those are the Samurai Armor Hoodies. No matter how hard I looked, I couldn't find a Japanese armor hoodie. I thought that if that was the case, why not create one and commemorate the 10th anniversary with it? That's how the Samurai Armor Hoodies were born.
——Have you been considering selling them overseas from the beginning?
**B:** Not at all, I have to admit. Our intention was simply to sell them to fans of our band. But when I was walking in Asakusa, where our company is located, wearing the prototype, a lot of overseas tourists came up to me and asked about it. "Where did you get that?", "You made it yourself? Crazy! (laughs)", "So cool! Sell it to me!"—they were all so curious and showed positive reactions. I thought, "Oh? Maybe if we took it overseas it would sell well", and this was one of the reasons we decided to do so. Also, it was so much more popular overseas compared to Japan, so this convinced us to start the crowdfunding project.
——Do you have experience with crowdfunding?
**B:** I've done it a few times in Japan for projects including games, CDs, album production, movies, or support for our overseas tour; they were all successful. This is my first time doing crowdfunding overseas, though. And it's my first time doing it for apparel, too! In that sense, regardless of whether it sells or not, this is a great challenge for taking a new step forward, and the first volume of that is the Samurai Armor Hoodies. I'm curious to see how people overseas will view our project.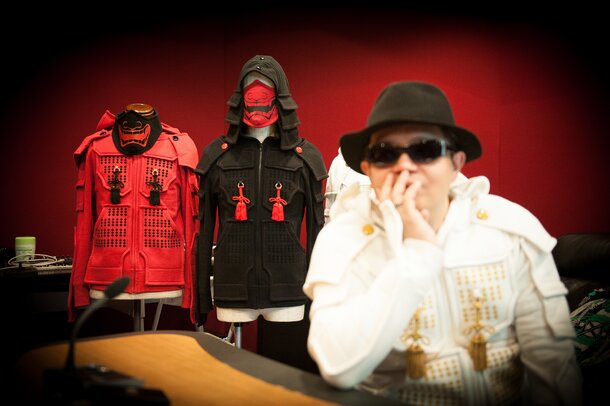 ——What are the selling points?
**B:** The first is practicality. Although it looks like it was made for cosplay, we made it for everyday wear. You can also wash it normally in a household washing machine. It's warm and has good protection against the cold. It's also very breathable, so you won't be swimming in sweat even indoors. It's very easy to match, too: It comes in red, black and white, which basically go well with any kind of clothing. To make it more similar to real armor, we used a sturdy build with two layers of fabric. Some of our customers have even used it for survival games, and I heard some people use it instead of snowboard wear. Some of them even customize their Samurai Armor Hoodie. Anything is possible. After seeing various people wear it, I have the impression that it suits largely-built people more, which is why I'd love people overseas to wear it.
——Please tell us, what kind of changes did you make for the prototype?
**B:** First of all, we only intended to sell one color in Japan, black, but instead, we decided to make three different color versions. In shape it's basically the same, but we made it even more comfortable and stylish. We extended our lineup up to 3XL, which is not sold in Japan as there are more larger people overseas.
In terms of design, we made it a bit simpler so that even people overseas can have fun while using it as everyday wear, and we added the kanji 武, bu, from the word bushi or samurai on the back for a playful twist.
Anyhow, we'd be happy to hear your opinions and impressions. The apparel line that started from the Suspicious Person Hoodies has grown reflecting the voices of fans. We hold fan meetings regularly where we exchange our opinions and use them in production later. If the voices of our overseas customers reached us, we'll be able to offer even better items.
——Your crowdfunding project starts from March 25. Is there anything you are particularly enthusiastic about?
**B:** Crowdfunding is loaning confidence, and until the product arrives on everyone's doorstep, that's the battle. We want to provide a service to overseas customers that only we can, and we will give it all our might without losing focus. The other day, we filmed a video for the Samurai Armor Hoodies near the Asakusa Temple, and TOM shared shots on their Facebook page. It had an unbelievable amount of page views. Before that, we only wanted to sell them to niche fans in Japan, but this was off by a digit, and to be honest, I still can't wrap my head around it (laughs). Still, I'm seriously happy and I know it's an amazing achievement, which is why I want to engage it positively.
——Lastly, please tell us about any plans or goals you have for the future.
**B:** To be honest, we are not a dressmaker's shop, and since wanting to spread interesting stuff is our behavioral principle, we don't really have a business goal. Of course, I'd be happy if the Samurai Armor Hoodies sold well, but my biggest wish is for the people who wear them to laugh and stay happy. I also want to do a big event. It would be super interesting if all the warriors wearing original customized hoodies gathered in the same hall, about 3,000 people from all around the world (laughs). Maybe even organize a contest and present the winner with a full-body golden version, that would be awesome.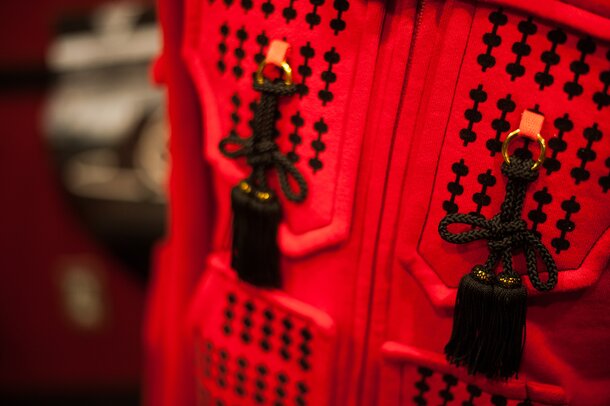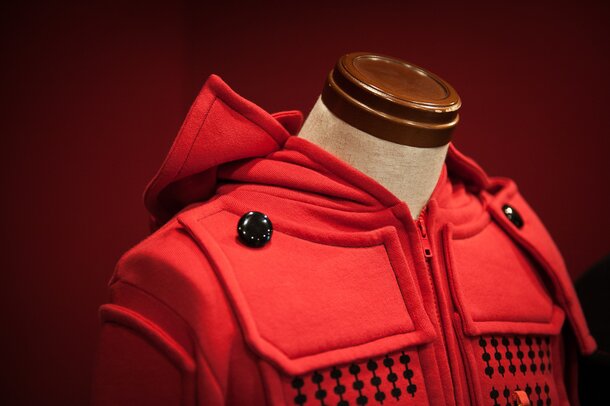 Bamboo and co. preparing to launch the crowdfunding project on Indiegogo on March 25, and it's already receiving great reviews. Check the links below for the latest project updates!
STUDIO696
An indie label that owns a recording studio in Asakusa, Tokyo. They do artist management, operate the recording studio, and even plan and produce artist merchandise. Their travel adventure game Go! Go! Nippon! ~My First Trip to Japan~ that allows users to experience sightseeing in Japan is currently available on Steam.
Bamboo (milktub)
The vocalist of milktub, a rock & roll unit operating on the concept of "fast, silly, and stylish." The unit is affiliated with Lantis, a music production company specializing in anime and games. They are popular for their crazy fast songs with intense punk and rock & roll sounds, with their range including music for bishoujo games, anisongs, and even original music. Bamboo is also the representative of the PC game brand OVERDRIVE and STUDIO696, a music and goods production studio, and he is active in a variety of fields, from producing music for bishoujo games and anime to working as a radio personality.
Milktub performed the ending theme of the TV anime Baka and Test in 2010 and also held a live performance at Animelo Summer Live 2010 at the Saitama Super Arena. They released their third album 20step voltex in August 2011, commemorating the 20th anniversary of their formation.
In 2013, they released "Uchoten Jinsei," the opening theme to the TV anime The Eccentric Family. Bamboo also participated in Endohkai, a unit centering around Masaaki Endoh from JAM Project, as a vocalist. During this collaboration, he wrote the lyrics to and sung "Kenzen Robo Daimidaler," the opening of the TV anime Daimidaler: Prince vs Penguin Empire.
In January 2014, the group released their fourth album titled Haru Natsu Fuyu Rock 'n' Roll. Milktub actively holds live concerts all around the world, after successfully performing in Taiwan, Guangzhou, and Germany, they also performed at Lantis Festival 2015 concerts in Las Vegas, Hong Kong, and Taipei.
This is a Tokyo Otaku Mode original article.