Monogatari Series fans were pleasantly surprised with an early gift for the holidays as Aniplex of America announced today their plans to release Kizumonogatari Part 1: Tekketsu (lit. Wound Story Part 1: Iron Blood) in select U.S. theaters starting Feb. 26, 2016. Aniplex of America has also launched the official U.S. website that features the newest English subtitled trailer of the film at: www.Kizumonogatari-USA.com. They also plan to announce on their website the details on the participating theaters at a later date. Part 1: Tekketsu is the first chapter in a three-part film series and will be featured in the original Japanese language with English subtitles by the distribution company, Azoland Pictures.
Kizumonogatari Part 1: Tekketsu features the origin story of the highly popular Monogatari Series originally created by author NisiOisiN and is a direct prequel to the Bakemonogatari television series. The story follows the protagonist Koyomi Araragi and his encounter with the horrifying vampire, Kiss-shot Acerola-orion Heart-under-blade A.K.A. the "King of Apparitions." Koyomi saves Kiss-shot who was fatally wounded by offering his blood to her in exchange for his own life as a human. This highly anticipated film will be bringing together an all-star creative staff team including Director Tatsuya Oishi (Series Director of Bakemonogatari), Character Designer Akio Watanabe, who worked on the entire *Monogatari series, and Chief Director Akiyuki Shimbou ( Madoka Magica, *Monogatari Series, *Nisekoi). Studio Shaft will be responsible for the anime production.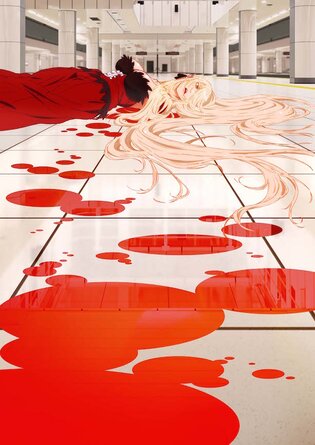 STAFF:
Original Work: NisiOisiN's Kizumonogatari (Kodansha Box)
Chief Director: Akiyuki Shimbou
Director: Tatsuya Oishi
Character Design: Akio Watanabe, Hideyuki Morioka
Sound Director: Yota Tsuruoka
Music: Satoru Kosaki
Animation Production: Shaft
Produced by: Aniplex, Kodansha, Shaft
CAST (Japanese):
Koyomi Araragi: Hiroshi Kamiya
Kiss-shot Acerola-orion Heart-under-blade: Maaya Sakamoto
Tsubasa Hanekawa: Yui Horie
Meme Oshino: Takahiro Sakurai
© NisiOisiN / Kodansha Ltd., Aniplex Inc., Shaft Inc.