The Akiba idol group Moso Calibration (known as MoCali) collaborate with the project to extend the zettai ryoiki (absolute territory) that has been talked about all over the Internet, Hikaru Skirt.
As their collaboration video, the music video for their new song "Mahou no Juice," to be released on April 7, will be available online on March 15. In the music video, each of the six members are wearing Hikaru Skirts, and the song and lights are in sync.
Moso-kei Idols x The Talked-About Wearable Device!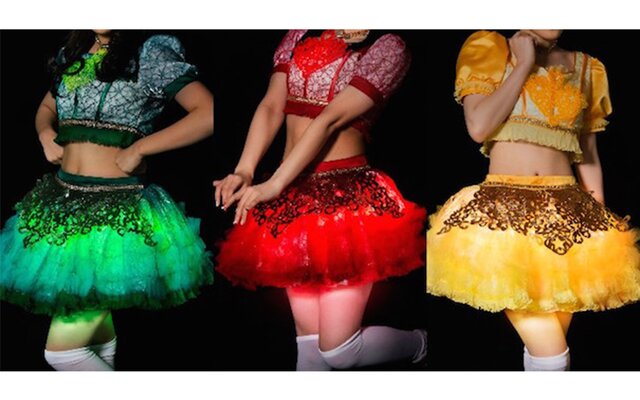 Moso Calibration is an idol unit born from the live house & bar, Akihabara Dear Stage, where girls who are aiming to become idols and anime song artists perform and wait tables.
The group consists of six members: Mahiru Kurumizawa who joined the group at the time of their debut in March 2013, Usa Sakurano, Nae Futaba, and Nia Hoshino who all three became members in June of that year, and new members Iori Amemiya and Mizuki Yumeko who joined the group in October 2014.
Hikaru Skirt is a wearable device designed by the Kayac engineer Kiyoyuki Amano which illuminates and emphasizes the "absolute territory" between a girl's skirt and knee-high socks by emitting a glow from the inside of the skirt. The launch of the Hikaru Skirt website in January also became a hot topic.
Thanks to the collaboration with these skirts, the scenes from the "Mahou no Juice" music video pull viewers into the imaginative world of these magical girls.
With the daily developments and progress of this wearable device, we can expect more collaborations that increase the cuteness of girls, from idols and artists to models, to look forward to hereafter.
Source: KAI-YOU
Source article written by Kodak Kawaguchi